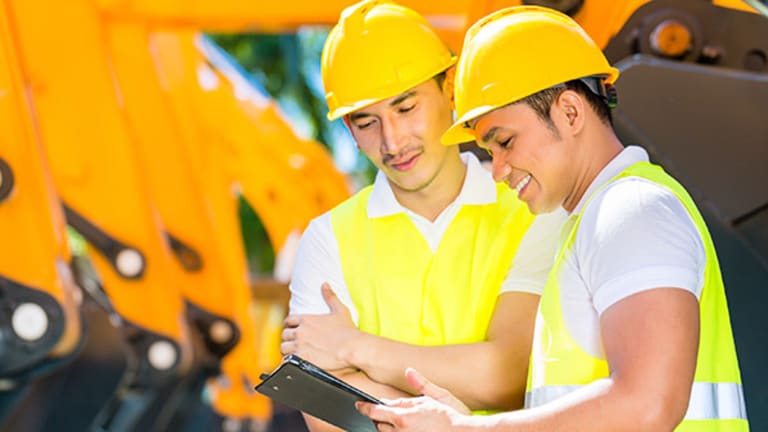 Latest Jobs Numbers Released, Construction Sees Labor Shortage, CNBC Reports
The Labor Department has reported that there is a shortage of skilled workers in construction.
NEW YORK (TheStreet) -- If you live in a major metropolitan area you may be used to seeing and hearing the seemingly unending construction work going on all around you, but it might surprise you to learn that construction is one area of the U.S. job force that is suffering a labor shortage.
The Labor Department released the latest monthly jobs report figures for August on Friday morning. The economy added 151,000 jobs last month, below the 275,000 added in July. Economists surveyed by the Wall Street Journal had forecast for an addition of 180,000 jobs. The unemployment rate remains at 4.9%.
Construction jobs have declined 13% from a year ago, CNBC's Diana Olick reported on "Squawk Box" today.
"It's not that there aren't enough jobs it's that there aren't enough workers," Olick reported. "Two-thirds of construction firms report they're having a hard time filling positions for skilled workers. This according to a survey of nearly 1,500 firms by Associated General Contractors of America."
The shortage of skilled construction workers is highest in the Midwest, where 77% of contractors are having difficulties filling jobs. The South and West are close behind at 74% and 71%, respectively.
The Northeast is showed the least amount of difficulties as that region has a lower rate of residential construction, but still, 54% of construction firms are seeing a shortage of skilled workers.
"This as demand for construction grows. Construction employment expanded in 239 out of 358 metro areas that the association tracked between July of last year and this year, according to the Labor Department," Olick added.
The shortage is forcing firms to revamp the way the pay current employees, offering greater compensation, better benefits and even giving employees incentives and bonuses. One firm told Olick they offered employees football tickets in an effort to do "anything to get these jobs filled," she said.