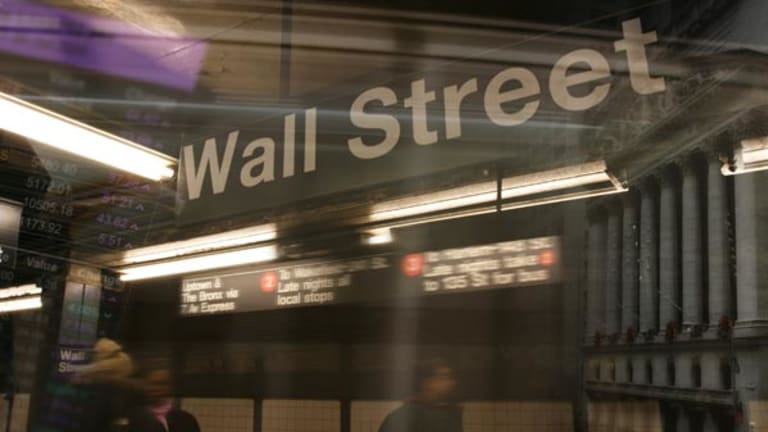 Late Selloff Squashes Rally
A reversal in oil prices and violence in Iraq cut short a tech-driven run-up in stocks.
Updated from 4:08 p.m. EDT
The bulls abandoned the stock market in the last hour of trade amid reports of more violence in Iraq and a resurgence in oil prices, turning a session that looked like it might complete a long-awaited two-day rally into a flat-to-lower finish.
The
Dow Jones Industrial Average
sank back below its 10,000 level, closing down 30.80 points, or 0.31%, to 9937.71; the
S&P 500
lost 2.81 points, or 0.26%, to 1088.68; and the Nasdaq, which surged over 2% in the morning, was left with a gain of only 0.35 points, or 0.02%, to 1898.17.
The 10-year note traded down 9/32 to yield 4.77%, while the dollar was weaker against the yen and the euro.
Weakness materialized with about two hours left in the trading session, around the time that reports from the
Associated Press
of a U.S. helicopter firing on a wedding party in western Iraq and killing more than 40 people, according to Iraqi officials, hit the wires. The U.S. military said it couldn't confirm the report and was investigating the reports. Also, after a brief pullback, crude oil futures for July delivery climbed $1.08 to $41.50 a barrel on the New York Mercantile Exchange.
"I think maybe these two factors have cut into our rally," said Peter Cardillo, chief market analyst at S.W. Bach & Co. said as the market started its slide.
However, Arthur Hogan, chief market analyst at Jefferies, didn't draw many conclusions from the late-day fizzle. "The fact that we couldn't hold really doesn't say a whole lot," he said. "It's not like we're building a trend. This would've been the second up day in a row, but the trend is down, so I don't think this means we have to change our philosophy at this point.
"We're working through some major concerns in the marketplace," he added. "The price of oil is right up there, and of course the specter of higher interest rates is probably number one in everyone's hearts and minds. Then, obviously, the whole overlay of all this is the geopolitical concerns."
Richard Dickson, senior strategist at Lowry's Reports, said the key to Wednesday's session was building on Tuesday's rally, a goal the market couldn't fulfill. He pointed out that Tuesday's session was flawed by light volume, with upside trading at about 76% on the
New York Stock Exchange
and 77% on the Nasdaq. "We'd like to see something between 80% and 90% to show some really strong demand in the market," he said.
On Wednesday, volume was stronger, with over 1.5 billion shares trading on the NYSE, where advancers edged out decliners by about 5 to 4. On the Nasdaq, over 1.8 billion shares changed hands, and advancers beat decliners by about 10 to 9.
Investors took heart early in the session after oil prices retreated from recent record highs in the morning. They surged, however, after the Department of Energy said oil inventories were down 1.1 million barrels, or 0.4%, for the week ended May 14, but gasoline production was up 1.2 million, or 0.6%. Imports rose by 980,000 barrels, or 1%, the report said.
Early strength in tech stocks began in Europe, after
STMicro
(STM) - Get STMicroelectronics NV Report
raised its forecast for global chip sales. That followed better-than-expected results from
Hewlett-Packard
after the bell Tuesday, when the tech leader reported a 34% jump in second-quarter profit and issued a second-half revenue forecast that exceeded analysts' expectations.
H-P blew past analysts' estimates for second-quarter revenue, while meeting the earnings consensus. The computer maker earned $884 million, or 29 cents a share, in the second quarter, compared to $659 million, or 22 cents a share, in the year-ago period. In addition, H-P said it could see an extra $1 billion in revenue in the second half of 2004. Its stock closed up 72 cents, or 3.6%, to $20.55.
In corporate news Wednesday, insurance brokering giant
Marsh & McLennan
(MMC) - Get Marsh & McLennan Companies, Inc. Report
agreed on Tuesday to buy
Kroll
(KROL)
, a corporate security company that once helped find hidden assets of Saddam Hussein, for $1.9 billion. Marsh & McLennan will pay $37 a share for Kroll, a 32% premium to yesterday's closing price of $28.10. Its shares closed up 26 cents, or 0.6%, to $43, while Kroll's shares shot up $8.46, or 30.1%, to $36.56.
Cardinal Health Care
(CAH) - Get Cardinal Health, Inc. Report
said it will pay $2 billion, or $22.35 a share in cash, to buy
Alaris Medical Systems
(AMI)
. Shares of Alaris closed Tuesday at $18.88. They closed up $3.37, or 17.8%, to $22.25. Cardinal's shares ended down 32 cents, or 0.5%, to $67.20.
Goodyear Tire & Rubber
(GT) - Get Goodyear Tire & Rubber Company Report
narrowed its fourth-quarter losses from a year ago, aided by strong sales and a decline in one-time charges. The tiremaker had a net loss of $434.4 million, or $2.49 a share, compared to last year's loss of $1.2 billion, or $6.96 a share. Its shares closed up 40 cents, or 4.9%, to $8.56.
Also,
Big Lots
(BLI)
reported a lower first-quarter profit but beat expectations, earning $6.7 million, or 6 cents a share, down from last year's $10.2 million, or 9 cents a share.
Overseas markets posted gains Wednesday, with London's FTSE 100 closing up 1.3% to 4472, while in Germany, the Xetra DAX was 2.2% higher at 3872. In Tokyo, the Nikkei posted its second day of gains, closing 2.4% higher at 10,967, and Hong Kong's Hang Seng rose 3.6% to 11,464.
On Thursday, the Labor Department is expected to report before the opening bell that initial jobless claims rose to 326,000 during the week ended May 14, up from 331,000 reported for the previous week. At 10 a.m. EDT, the Conference Board will release the April results of its index of leading economic indicators, expected to rise 0.2%, down from 0.3% reported for March. At noon, the Federal Reserve Bank of Philadelphia will report the May results of its regional manufacturing index, expected to decline to 32.5 to 31.
Also, earnings releases are scheduled for Thursday from
Navistar
(NAV) - Get Navistar International Corporation Report
,
Hormel Foods
(HRL) - Get Hormel Foods Corporation Report
,
Nordstrom
(JWN) - Get Nordstrom, Inc. Report
and
Gap Stores
(GAP)
.