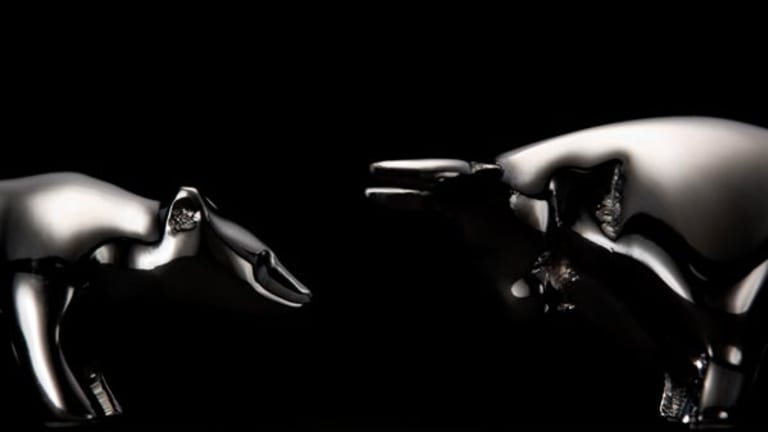 Late Selling Sinks Stocks
Shares fall after the president's Iraq speech and budget remarks by Greenspan.
Updated from 4:07 p.m. EDT
Late-session selling took stocks sharply lower Thursday as tough talk from President Bush and Alan Greenspan left investors with few catalysts to seek bargains in a volatile session.
The
Dow Jones Industrial Average
ended down 201.76 points, or 2.4%, at 8379.41. The
Nasdaq
fell 35.80 points, or 2.7%, at 1279.65, and the
S&P 500
fell 22.55 points, or 2.5%, at 886.90. Thursday's decline erased a healthy portion of this week's gains. Once up as much as 3.8%, the Dow's gain is now just 1.1% since last week.
Bush told the U.N. that the U.S. is prepared to act alone if nothing is done to prevent Saddam Hussein from securing weapons of mass destruction. "The just demands of peace and security will be met -- or action will be unavoidable," said Bush. "And a regime that has lost its legitimacy will also lose its power."
In recent weeks, concerns about Iraq have boosted the price of oil, which has been climbing steadily toward $30 a barrel, something that could hurt earnings for airlines, chemical companies and transportation firms. October oil futures closed down 92 cents at $28.85.
Meanwhile, Greenspan pushed Congress to get its fiscal house in order, a swat at Republican rumblings for another tax cut. "Returning to a fiscal climate of continuous large deficits would risk returning to an era of high interest rates, low levels of investment and slower growth of productivity," he said. (To read his comments,
go here.)
As
TheStreet.com's
Aaron Task pointed out,
neither speech moved the market , disappointing traders who hoped for an intraday move. "These were two blockbuster speeches -- Bush and Greenspan on the same day -- that gave us very little in the way of new catalysts," said Larry Wachtel, chief market analyst at Prudential Securities, who noted that the beige book foreshadowed Greenspan's economic comments and Bush's speech was delivered as expected. "There were absolutely no surprises. What could have been dramatic turned into the same old stuff."
Anemic volume helped exaggerate the late-day selloff, but internals were decidedly negative. Decliners beat advancers by a 3-to-1 margin on 1.18 billion shares traded at the Big Board. On the Nasdaq, 1.05 billion shares traded and decliners topped advancers 2-to-1.
Twenty-nine of the 30 Dow components ended with losses.
IBM
(IBM) - Get International Business Machines (IBM) Report
,
3M
,
GM
(GM) - Get General Motors Company (GM) Report
,
McDonald's
(MCD) - Get McDonald's Corporation (MCD) Report
and
Procter & Gamble
(PG) - Get Procter & Gamble Company Report
were the notable losers.
International Paper
(IP) - Get International Paper Company (IP) Report
was the lone bright spot, up 1.2% to $37.33.
"We're in a twilight zone here in September. At the end of October, once we get into third-quarter earnings, there will be more to talk about," said Wachtel. "Right now there's nothing to draw the investor off the sidelines. We're not oversold. So, why bother?"
Also Thursday, Dennis Kozlowski and two other former
Tyco International
(TYC)
executives were
indicted on new charges , including larceny and enterprise corruption. In a news conference, Manhattan District Attorney Robert Morgenthau alleged that Kozlowski and former finance chief Mark Swartz received millions of dollars in unauthorized compensation from Tyco. On the news, Tyco dipped 0.1% to $17.79.
Meanwhile, the Labor Department said the number of U.S. workers filing first-time jobless claims rose to 426,000 in the latest week from 407,000 the week before. The level is the highest in almost five months, and it indicates that the economic recovery remains sluggish. This follows the Fed's beige book report Wednesday, which showed that sporadic growth continues in various regions and industries, although it has slowed in recent weeks -- particularly the manufacturing sector.
Pressuring tech shares
was a warning from
Philips Electronics
(PHG) - Get Koninklijke Philips N.V. Sponsored ADR Report
, a big maker of chips for
Nokia
(NOK) - Get Nokia Oyj Sponsored ADR Report
cell phones. The company expects semiconductor sales to fall as much as 15% in the third quarter from the second, due in part to currency swings. Philips had previously estimated a 5% decline. Philips stock dropped 7.9% to $17 on the news, while Nokia shares fell 4.4% to $13.97.
The
Philadelphia Semiconductor Index
, which has been rallying on light volume over the last few sessions, was feeling pressure from U.S. Bancorp Piper Jaffray. The brokerage slashed 2003 estimates for three semiconductor-equipment stocks,
Applied Materials
(AMAT) - Get Applied Materials, Inc. Report
,
Entegris
(ENTG) - Get Entegris, Inc. Report
and
FSI International
(FSII)
. The index dropped 6.1%. Applied Materials fell 7.1% to $12.74, Entegris dropped 8.2% to $9.12, and FSI slid 25.5% to $4.12.
Elsewhere,
Georgia-Pacific
(GP)
postponed a plan to divide itself in two and sell new stock in its consumer and packaging segment. It cited market conditions. Georgia-Pacific dropped 8.9% to $19.37.
SBC Communications
(SBC)
was offered roughly $1 billion for its Sterling Commerce unit,
Bloomberg
reported. SBC bought the unit two-and-a-half years ago for about $4 billion. The bid came from private equity firms Silver Lake Partners and Texas Pacific. SBC was down 3.9% to $24.85.
A downgrade from a pair of analysts drove select hotel stocks lower. J.P. Morgan Chase downgraded
Marriott International
(MAR) - Get Marriott International, Inc. (MAR) Report
,
Starwood Hotels
(HOT)
,
Host Marriott
(HTM)
and
Hilton Hotels
(HLT) - Get Hilton Worldwide Holdings Inc (HLT) Report
to long-term buy from buy, while Thomas Weisel dropped Hilton and Host Marriott to market perform from attractive. With the traditional fall travel slump ahead and airline traffic off in August, the outlook for hotel chains has been cooling recently.
Starwood was the big loser, down 6.8%. Marriott fell 3.6%, Host Marriott dropped 0.8% and Hilton lost 2.2%.
European bourses closed lower. London's FTSE 100 dropped 3% to 4085, while Germany's Xetra DAX fell 4.5% to 3422. Japan's Nikkei closed down 0.2% at 9415, and Hong Kong's Hang Seng ended 0.1% lower at 9896.