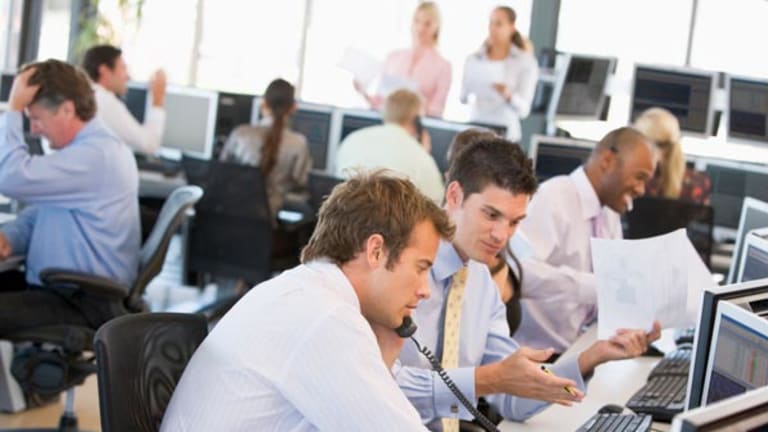 Late Selling Limits Wall Street's Gains
Still, all three major indices rise following cooler-than-expected data on consumer-level inflation.
Updated from 2:40 p.m. EDT
Stocks in the U.S. closed to the upside, but selling pressure in the final hour left the major averages well below their best levels of the day.
For most of the session, the indices rallied amid cooler-than-expected inflationary data and results at
Freddie Mac
( FRE) that weren't nearly as bad as analysts had predicted. However, by the close, the
Dow Jones Industrial Average
had given up half its gains and was ahead by 66 points, or 0.5%, to 12,898.
The
S&P 500
added 6 points, or 0.4%, to 1409, and the
Nasdaq Composite
, which outperformed for much of the session, edged up 2 points, or 0.1%, to 2497, as big tech names
Google
(GOOG) - Get Alphabet Inc. Class C Report
,
Apple
(AAPL) - Get Apple Inc. Report
and
Amazon.com
(AMZN) - Get Amazon.com, Inc. Report
saw weakness.
"Obviously there's been a lot of fear tilting towards higher inflation, so we're seeing a relief rally," said Steven Sheldon, CFA and principal with SMS Capital Management.
This morning the Labor Department reported that, despite a 0.9% jump in food costs -- the biggest advance in nearly two decades -- April consumer prices rose only 0.2% from the prior month. Economists had been looking for a 0.3% uptick. The core consumer price index, which excludes food and energy, rose 0.1%, or half of the expected increase.
Energy prices, the government said, were unchanged from March. Year over year, core consumer inflation was up 2.3%, a hair lower than anticipated, while the overall CPI climbed 3.9% from a year ago.
"People know the headline numbers are going to be bad, but they're saying, 'So what, if it doesn't bleed out and take in core numbers?" said Jim Paulsen, chief investment strategist with Wells Capital Management, "How long have we had this story about how oil prices are going to bleed out?"
Sheldon suggested that, as oil and food spikes deplete discretionary spending, the higher commodities prices may even be having the effect of keeping a lid on the rest.
He added, "It does make sense that, if you're having a weaker economy, traditionally that will translate into muted inflation. And I think that's what we're seeing today."
At the same time, fed funds futures were pricing in odds of just 8% that the
Federal Reserve
will cut its overnight lending rate by another 25 basis points at its June 25 gathering. The fed funds target rate, which currently stands at 2%, has been pared back by 325 basis points since September in an effort to put a floor under deteriorating economic growth.
The chance for an August easing has all but vanished, signaling that the market anticipates that an economic recovery will have gained enough traction by then virtually to obviate the need for more Fed support. The expectations for a quarter-point hike in December, moreover, are on the rise.
In less upbeat economic data, RealtyTrac said that foreclosures reached 243,353 in April, which the report noted will add pressure to housing prices that are already dismally low. The report said areas of California, Florida, Nevada and Arizona continue to be "particularly hard-hit."
On the equities side,
Freddie Mac said its first-quarter loss
narrowed to $151 million, or 66 cents a share, from a $3.97 shortfall in the fourth quarter -- far better than the average Street projection of 93 cents a share, as per Thomson Reuters. The loss is also nearly double than that of last year, and the company plans to raise $5.5 billion "in the near future," but the stock still ramped up 8.6%. Fellow government-sponsored mortgage buyer
Fannie Mae
( FNM) was ahead by 5.5%.
Elsewhere in the financial space,
Bloomberg
reported that
JPMorgan Chase
(JPM) - Get JPMorgan Chase & Co. Report
could fire 4,000 of its own workers as the brokerage combines its operations with
Bear Stearns
( BSC) and deals with the blustery investment-banking environment, according to a person familiar with the matter.
Roughly 2,000 employees would be replaced by Bear-derived newcomers, said the report. JPMorgan shares were up 0.9%.
Department-store chain
Macy's
, meanwhile, posted a surprise adjusted profit of 2 cents a share and reiterated its bullish full-year earnings forecast. When counting in substantial one-time restructuring and litigation charges, the company swung to a quarterly loss, but the stock still moved up 4.3%.
Elsewhere, chipmaking-equipment seller
Applied Materials
(AMAT) - Get Applied Materials, Inc. Report
said earnings
, though the company beat on both top and bottom lines. Also, in a conference call, CEO Mike Splinter predicted more softness in chip-related spending while also offering his prediction that "this is the bottom." Shares spent most of the day in negative territory, but recently hoisted themselves up by 0.5%.
Electronic Arts
( ERTS), a video-game publisher, offered a weaker full-year profit outlook than that targeted by Wall Street. The company also
came in well ahead of expectations
for the fiscal fourth quarter with adjusted earnings of $30 million, or 9 cents a share, on 50% higher sales. Still, shares shed 3.7%.
Away from the tech patch,
Whole Foods
( WFMI) plunged 12.3% after the organic-foods mart said costs from its Wild Oats buyout ate into its fiscal second-quarter profit, which slid 13%, even as revenue soared by 27.6%. Same-store sales, or those from locations open a year or more, climbed 6.7%.
Also,
Deere & Co.'s
(DE) - Get Deere & Company Report
fiscal second-quarter income, which surged amid strong demand for the company's farm equipment, came in just short of consensus. The tractor maker also said that rising commodity prices will probably drag on its results for the rest of the year. Shares slumped 12.7%
Late in the trading day Tuesday,
Clear Channel Communications
(CCU) - Get Cia Cervecerias Unidas SA Report
reached a
buyout settlement
with Thomas H. Lee Partners and Bain Capital worth $36 a share, or $17.9 billion. That's $3.20 a share lower than what the companies had previously agreed on, but shares closed Tuesday higher and added 1.6% in the new session.
Among commodities, crude oil sank $1.58 to $124.22 a barrel as the Energy Information Administration reported that crude stockpiles rose by 200,000 barrels last week. Gold futures gave up 40 cent to $866.50 an ounce. The U.S. dollar firmed by 0.1% against the euro to $1.5455, while adding 0.5% against the yen at 105.28.
Treasury prices were seeing mixed action. The 10-year note slipped 2/32 in price to yield 3.92%, and the 30-year bond rose 6/32 in price, yielding 4.63%.
Markets abroad were almost uniformly rising. In Asia, Hong Kong's Hang Seng Index slipped 0.1% overnight, but the Nikkei 225 in Tokyo climbed 1.2%. As for Europe, London's FTSE 100 ticked up 0.1% and Germany's Xetra Dax gained 0.3%. The Paris Cac jumped 1.1%.