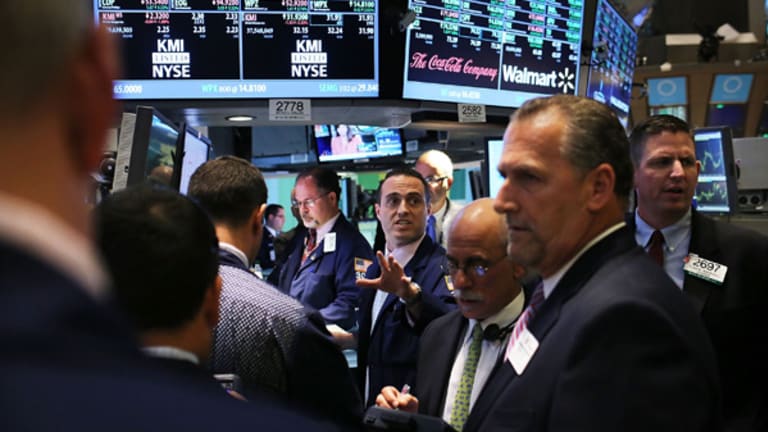 Late Selling Hits Nasdaq
The Dow and S&P 500 manage to pull out a third day of gains.
Updated from 4:04 p.m. EDT
Stocks struggled in late trading Wednesday, but two of the three major indices managed to close higher for a third day, as another fall in oil prices provided some support.
After rising 50 points earlier, the
Dow Jones Industrial Average
closed 27.56 points, or 0.26%, higher at 10,486.02, while the
S&P 500
rose 2.68 points, or 0.23%, to 1184.07. The
Nasdaq
fell 0.18 point, or 0.01%, to 1999.14, after spening most of the day above 2000. The 10-year Treasury note was up 10/32 in price to yield 4.44%, while the dollar was higher against the yen and lower against the euro.
Trading volume on the
New York Stock Exchange
was 1.80 billion shares, with advancers beating decliners by a 10-to-7 margin. Volume on the Nasdaq was 1.71 billion shares, with advancers outpacing decliners 8 to 7.
Late Wednesday,
Morgan Stanley
(MWD)
said the
Securities and Exchange Commission
recommended official action against the company for violating email retention rules. Still, Morgan Stanley closed up 15 cents, or 0.3%, to $56.60.
"The markets definitely took a hit after the Morgan Stanley news," said Brian Williamson, equity trader with Boston Company Asset Management. "The Nasdaq seemed to suffer the most from it, but
the weakness is from the broader markets all coming down, and not anything specific in tech."
"We're seeing a little follow-through to the upside after the market put in a short-term bottom this week," said Michael Sheldon, chief market strategist with Spencer Clarke LLC. "Most of the 10 sectors in the S&P are posting gains today, showing modest but positive investor interest in the market. The 10-year Treasury yield has moved just above 4.40%, down from the high mid-March level, which is providing a tailwind for the equity market."
Stronger sectors Wednesday included semiconductors, energy, health care, and biotech. Weaker ones included retail and homebuilding.
"What's been happening is positive, but we're in a quiet part before the onslaught of earnings," said Frank Husic, chief investment officer with Husic Capital Management. "I see this as a range-bound market for the time being, and coming out of that, special groups are continuing to outperform. I don't see that changing for the foreseeable future."
Oil finished down 19 cents to $55.85 a barrel in Nymex floor trading. Earlier, an Energy Department report showed crude inventories increased 2.4 million barrels in the week ended April 1, slightly more than estimates. U.S. gasoline supplies fell 2.1 million barrels, matching estimates.
"Oil inventories have been consistently rising over the past few months, so at some point in the near future it appears the odds favor a softening of oil prices," added Sheldon. "If this would occur, it may be a catalyst to bring more investors back."
Bearish comments yesterday from
Federal Reserve
Chairman Alan Greenspan continued to ripple. While acknowledging great "strain" in energy markets, Greenspan predicted that surging prices eventually would crimp demand.
"The focus is always on oil these days," said Larry Wachtel, senior market analyst with Wachovia Securities. "We have had two moderate days after four lousy weeks, so we're seeing that mild bounce. We're getting a shift in leadership, as now you're seeing people saying nice things about Pfizer and semiconductors. The price of oil just has to stay lower in order to have a bigger bounce."
Pfizer
(PFE) - Get Report
fell despite brokerage Morgan Stanley upgrading shares to overweight from equal weight, citing an outlook of improved earnings for 2006 and beyond. The company announced a $4 billion cost-cutting plan Tuesday, which Morgan Stanley believes removes the risk of margin deterioration. Shares of Pfizer lost 4 cents, or 0.1%, to $26.86.
Brokerage action helped the Philadelphia semiconductor index rise 0.2% Wednesday. Most notably, Merrill Lynch upgraded
Altera
(ALTR) - Get Report
to buy from neutral, citing a better inventory position than competitor
Xilinx
(XLNX) - Get Report
. Altera added 14 cents, or 0.7%, to close at $19.68.
Elsewhere,
Research In Motion
(RIMM)
fell after the company reported lower-than-expected fourth-quarter revenue and issued revenue guidance for the next two quarters that was below Wall Street estimates.
In its fourth quarter, the wireless-email service and device provider posted pro forma earnings of $140.1 million, or 71 cents a share, beating estimates by 6 cents a share on higher-than-expected subscriber growth. Sales were $404.8 million, short of the $410 million revenue estimate. RIM lost $1.48, or 2%, to finish at $72.92.
Another tech stalwart under pressure was
Siebel Systems
(SEBL)
, which warned that first-quarter revenue will come in at about $300 million, well short of the $337.5 million analyst consensus. Excluding acquisition charges, net income will range from $2 million to $4 million, or break-even to 1 cent a share. Analysts were projecting a profit of 5 cents per share. Siebel dropped 89 cents, or 9.7%, to $8.26.
MCI
(MCIP)
gained after the company rejected
Qwest's
(Q)
latest takeover offer and again signaled a preference to be acquired by
Verizon
(VZ) - Get Report
. Qwest hinted in a published response that it would consider a hostile takeover for the Virginia telecom.
Qwest was down 8 cents, or 2.1%, to $3.78; MCI was up 38 cents, or 1.5%, to $25.39; and Verizon gained 15 cents, or 0.4%, to $35.51.
In other M&A news,
Cablevision Systems
(CVC)
has reportedly bid $16.5 billion for
Adelphia Communications
, rivaling an $18 billion offer made by
Time Warner
(TWX)
and
Comcast
(CMCSA) - Get Report
. Cablevision fell 98 cents, or 3.5%, to $26.85.
In brokerage action Wednesday, UBS downgraded
American International Group
(AIG) - Get Report
to neutral from buy, citing the belief that the company will post lower earnings due to regulatory probes into the company, as well as the recent departure of its storied chief executive Hank Greenberg. The brokerage also cut its stock price target to $57 from $73, its 2005 earnings estimate to $5 a share from $5.13, and its 2006 estimate to $5.35 a share from $5.80. Still, AIG posted a 1 cent, or 0.02%, gain to $52.99.
On Wednesday,
Wendy's
(WEN) - Get Report
said it expects a lower first-quarter profit, citing higher beef prices and worse-than-expected sales during March. The company said same-store sales decreased 5.1% at U.S. company restaurants and decreased 3.9% to 4.2% at U.S. franchised restaurants. Wendy's fell 39 cents, or 1%, to $38.86.
Forest Labs
(FRX)
said it now expects fourth-quarter earnings of 40 cents a share before a one-time charge, compared with analysts' expectations of 52 cents, according to Thomson First Call. The one-time charge of $91 million, or 25 cents a share, in taxes was related to the repatriation of $1.24 billion in overseas profit under the American Jobs Creation Act. After the charge, Forest Labs expects earnings of 15 cents a share, vs. 38 cents a share a year ago. Shares lost $4.48, or 11.8%, to $33.51.
Autodesk
(ADSK) - Get Report
raised guidance for the coming quarters and full year, saying it sees a broad-based increase in demand for its software. For the first quarter, the company expects revenue of $340 million to $350 million and EPS of 27 cents to 29 cents. Analysts surveyed by Thomson First call expect $338.7 million and 27 cents a share, respectively. For the second quarter, Autodesk sees revenue of $335 million to $345 million with EPS of 21 cents to 23 cents. The consensus estimate is $331.6 million and 23 cents, respectively. Shares of Autodesk rose $1.18, or 3.8%, to close at $32.07.
Wachovia Securities upgraded
OSI Pharmaceuticals
(OSIP)
to market perform from underperform, based on valuation of shares. On Tuesday, shares rose on news its partner,
Genentech
(DNA)
, will increase wholesale prices of the cancer drug Tarceva. Shares of OSI gained $1.36, or 3.2%, to $44.20.
Alcoa
(AA) - Get Report
will report first-quarter earnings after the bell Wednesday, with analysts expecting EPS of 39 cents, according to Thomson First Call. Shares were unchanged at $29.98 before the earnings news.
Overseas markets were higher, with London's FTSE 100 closing up 0.1% at 4947 and Germany's Xetra DAX adding 0.4% at 4379. In Asia, Japan's Nikkei rose 0.5% overnight to 11,827, while Hong Kong's Hang Seng gained 0.4% to 13,562.