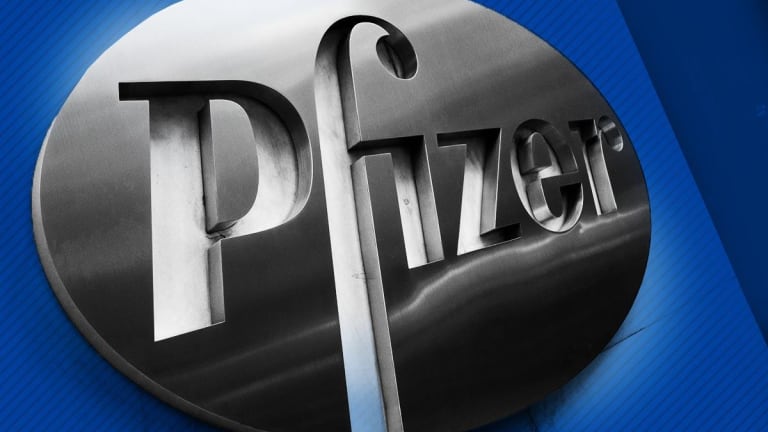 Why Large-Cap Pharma Stocks Like Pfizer and Lilly Might Still Have Upside
A 'bullish perfect storm of technical factors' is powering the recent strength in large-cap pharma stocks, says Evercore ISI's Rich Ross.
Large-cap pharmaceutical stocks have had a strong run lately butsome analysts think that might not be the end of it.
"The recent surge in [large cap pharma] has been fueled by a bullish perfect storm of technical factors and our work suggests that upside remains," wrote Rich Ross, head of technical analysis at Evercore ISI, in an Aug. 17 note.
Ross said a multi-year run of relative underperformance by large-cap pharma versus the S&P 500 index "pushed sentiment and positioning to their nadir." Amid that trough reached in May, momentum and structural trading range breakouts took over, he added.
"Adding fuel to the fire over the past month was a factor shift from growth to value," Ross wrote.
This year through Aug. 23, shares of Pfizer Inc. (PFE) - Get Report  are up 16.5% to $42.20. Shares of Merck & Co. Inc. (MRK) - Get Report  have risen 22.6% to $68.97, while shares of Eli Lilly & Co. (LLY) - Get Report  have climbed 24% to $104.82 and Allergan plc's (AGN) - Get Report shares were up 14% to $186.70. By comparison, the S&P 500 is up just about 7% over the same time frame.
Damien Conover, director of healthcare equity research at Morningstar, said in an interview with TheStreet on Aug. 23 that pharma stocks' strong performance was due in part to reduced concerns over major pricing erosion in the U.S. "We've seen the administration and Congress focus on other areas of healthcare reform," Conover said, includingfocusing on getting generics to market more quickly.
This is "helping a lot of these names that have a lot of sales in the U.S.," Conover said, pointing to Pfizer and Eli Lilly as examples. In addition, results from pharma companies in the first half of the year have continued to show solid growth and in some cases, good expense management, Conover said. In the second half of the year, Conover thinks that pharma companies will continue to do well from a fundamental perspective.
From a stock standpoint, he added, firms like Pfizer are undervalued. Conover has a $45 price target on the stock, and said Pfizer has less patent exposure than in the past and that should help it generate strong growth going forward and help lift the stock.
Meanwhile, he thinks that Merck's stock is getting close to fair value. His price target on Merck is $70.