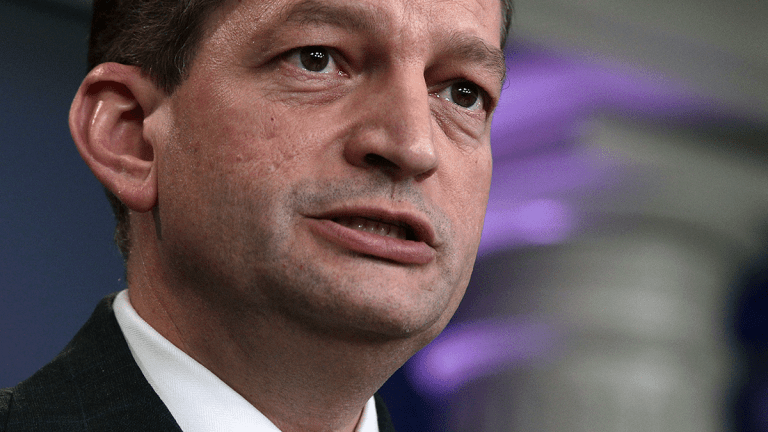 Labor Secretary Alex Acosta Resigns in Wake of Epstein Case
Alex Acosta chose to resign as U.S. labor secretary days after criticism of his handling of hedge-fund investor Jeffrey Epstein's sex-crimes case 10 years ago. Acosta at the time was a U.S. attorney in Florida.
U.S. Labor Secretary Alex Acosta resigned in the wake of criticism of his handling of hedge-fund investor Jeffrey Epstein's sex-crime case 10 years ago, when Acosta was U.S. attorney for the southern district of Florida. 
Acosta on Friday morning told reporters at the White House that he would quit his job. According to President Donald Trump, it was Acosta's choice to resign. 
Last week, Epstein was arrested on sex-trafficking charges. After a long investigation, prosecutors charged that Epstein trafficked underage girls, brought them to his homes in New York and Florida, and paid them for sex. 
Epstein's arrest highlighted Acosta's actions relating to the case when he was the U.S. attorney in southern Florida. Acosta had held private conversations with Epstein and reached a non-prosecution agreement with Epstein's attorneys. 
"A judge has confirmed what we've known for some time -- that when Secretary Acosta was a federal prosecutor, his office violated survivors' rights under federal law when giving serial sexual abuser Jeffrey Epstein what the Miami Herald calls 'the deal of a lifetime,'" Sen. Tim Kaine (D-Virginia) said in a statement in response to the ruling.
One lawyer thinks Acosta's resignation was more than warranted. 
"Mr. Acosta had no business serving as a public official and his removal from office should be a reminder that prosecutors must always enforce the law fairly regardless of money or power," said Takisha Richardson, former sex crimes prosecutor, now with Cohen Milstein's sexual abuse, sex trafficking, and domestic violence team. "Acosta's claim that the evidence of Mr. Epstein's attacks was unavailable years ago is willfully ignorant at best and perhaps far worse than that." She added, "Any prosecutor knows that there are multiple ways to gather evidence sex crimes cases." 
Save 45% with our Prime Time Sale. Join Jim Cramer's Investment Club, Action Alerts PLUS, to become a smarter investor! Click here to sign up!