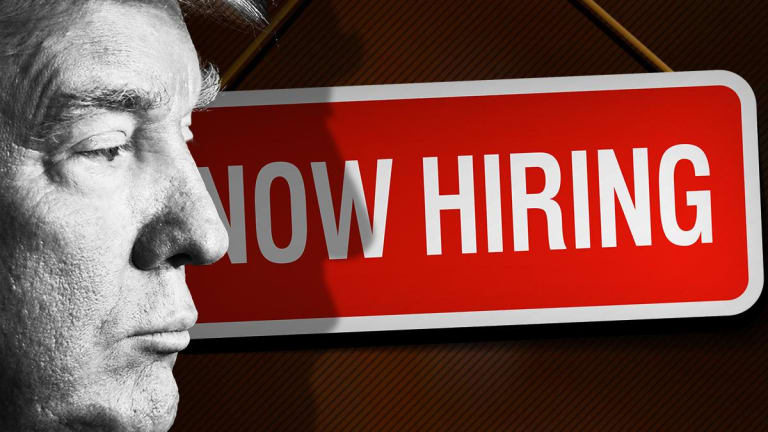 U.S. Economy Adds 312,000 Jobs In December, Well Above Expectations
A government report shows that the economy added 312,000 jobs in December, well above economists' average projection of 180,000.
A government report shows that the economy added 312,000 jobs in December, well above economists' average projection of 180,000.
Last year's robust jobs growth in the U.S. continued apace in December, even amid signs that the economy was slowing as President Donald Trump's trade war with China takes a toll on both countries and the stimulus fades from the late-2017 tax cuts.
Nonfarm payrolls climbed by about 312,000 in December, the Department of Labor's Bureau of Labor Statistics said in a report on Friday, Jan. 4. That level was well above economists' average estimate of 180,000 new jobs in a survey by the data provider FactSet. The December pace was double the 155,000 jobs added in November, and also above the average 245,000 per month created during the last three months of 2018.
The higher-than-expected jobs growth could provide a new source of encouragement to investors, after a U.S. stock market that fell last year by the most in a decade and has floundered in the first few trading days of the year. 
The Standard & Poor's 500 Index of large U.S. stocks climbed 2% on Friday to 2,498. Yields on 10-year U.S. Treasury bonds rose 0.08 percentage point to 2.65%.
"The U.S. economy will eventually fall into recession, maybe as soon as next year, but the December employment report indicates that this isn't going to happen anytime soon," David Berson, chief economist at the insurer Nationwide, said in e-mailed comments. 
The report also provided support for Trump's assertion that his policies are creating jobs, even as many economists said that the stimulus from his tax cuts in December 2017 was fading. There's also growing concern that the president's efforts to reduce the trade deficit with China have been hurting overseas sales by U.S. companies. 
With the U.S. budget deficit set to swell by about 25% this year to almost $1 trillion, pushing the national debt past an unprecedented $22 trillion, there's little hope of further economic stimulus from lawmakers. And the Federal Reserve's recent string of increases in short-term borrowing costs, designed to keep inflation at bay, only serves as an additional brake on consumer and business activity.
U.S. gross domestic product probably fell to 2.6% in last year's fourth quarter, from 3.4% in the third quarter, based on a computer-driven economic forecast published by the Federal Reserve Bank of Atlanta.
The latest jobs report is "a good thing, but if the past few months are any indication, the market isn't moving on fundamentals," Mike Loewengart, head of investment strategy at E*Trade Financial Corp. "Trade is the alpha and the omega. And as signs of a business cycle at its peak are starting to come into focus, with weakening consumer demand in tech and slowing manufacturing data, jobs numbers may not be enough to move the market anymore."
In a surprise, the unemployment rate rose to 3.9%, off of a half-century low of 3.7%. According to Eric Winograd, senior U.S. economist at the money manager AllianceBernstein, that increase was probably due to a surge in workers looking for jobs around the holidays. The labor force participation rate -- those who either have a job or are seeking one -- climbed to 63.1% of the population, from 62.9% in November.
"I expect the unemployment rate to resume its gradual decline in the next few months," Winograd said in e-mailed comments.
Average hourly earnings climbed by 11 cents in December to $27.48, leaving them up 3.2% over the past year, the fastest pace since 2009. 
The Federal Reserve has been monitoring wage increases to gauge whether inflation might be looming; often, when employers have to pay more to attract workers, they try to pass the added personnel costs on to customers, in turn stoking inflation. 
The central bank has been raising borrowing costs since 2015 to keep inflation from accelerating, though more recently speculation has mounted that the Fed will halt its rate increases next year in the face of an economic slowdown and tighter financial markets. Typically, slower economic activity reduces consumer demand, making it harder for businesses to push through price increases. 
Trump has criticized the Fed for raising interest rates too quickly -- especially with the S&P 500 falling by 6.2% last year, the most in a decade. 
Ian Shepherdson, chief economist at forecaster Pantheon Macroeconomics, wrote in e-mailed comments Friday that it's likely the Fed will pause its rate increases early next year but resume soon afterward, possibly by June. 
"This all puts the Fed in an awkward position," Ian Shepherdson, chief economist at the forecasting firm Pantheon Macroeconomics, wrote in e-mailed comments. "Ultimately, they will do what the labor-market data tell them to do, and reports which look anything remotely like this one make it impossible for them to back away from their plans to hike."
Follow us on Twitter @TheStreet; TheStreet: Investing Strategies on Youtube or check out our podcasts on SoundCloud at TheStreetLive.