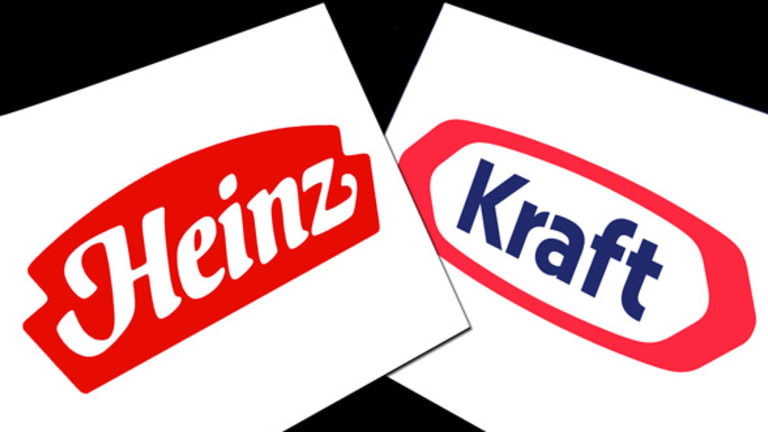 Publish date:
Kraft Heinz (KHC) Stock Gets Rating Upgrade at JPMorgan
Kraft Heinz (KHC) was upgraded to 'overweight' from 'neutral' at JPMorgan.
Kraft Heinz (KHC) was upgraded to 'overweight' from 'neutral' at JPMorgan.
NEW YORK (TheStreet) --JPMorgan upgraded its rating on The Kraft Heinz Co. (KHC) - Get Report to "overweight" from "neutral" on Friday morning. The firm has an $85 price target on the stock.
The upgrade comes as JPMorgan feels the company has powerful and diverse growth drivers.
Kraft Heinz stock is jumping by 2.68% to $76.97 on Friday morning, as the stock continues a rise started in after-hours trading on Thursday following the release of the company's latest quarterly earnings.
Earnings for the 2015 fourth quarter came in at 62 cents per share, topping analysts' expectations by 3 cents. Revenue dipped by 5% year over year to $7.12 billion for the three month period ended in January.
Analysts had forecast for revenue of $7.02 billion.
Kraft Heinz is a food and beverage company based in Chicago with brands including Heinz Ketchup, Kraft Macaroni and Cheese, Oscar Myer, Ore Ida, Kool-Aid, Jell-O and more.
(Kraft Heinz is held in Jim Cramer's charitable trust Action Alerts PLUS. See all of his holding with afree trial.)
Insight from TheStreet Ratings Team
Jim Cramer and Jack Mohr, Director of Research AAP, commented on Kraft Heinz in a recent post. Here is a snippet of what they had to say.
The company confirmed that the ongoing integration of stand-alone Kraft and Heinz is on track and has set a solid base on which management can drive sustainable growth across their businesses.

While the overall decline in net sales is never something we would applaud, we are in this story for the synergy potential and margin expansion opportunities resulting from the integration. The fact that the integration is on track is the most important aspect of this release for us, at least at this point in the company's life cycle.
-Jim Cramer and Jack Mohr 'Kraft Heinz Has Good Things in Store' Originally Published on 2/25/2016 on Action Alerts PLUS.
data by