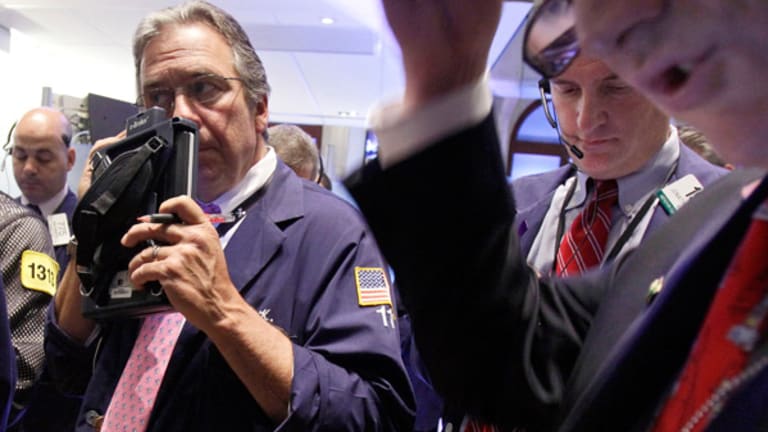 Know When to Hold or Fold Your Chip Stocks
Chipmakers will deal some fresh cards with the advent of earnings season. Have your strategy ready.
The overall dynamics for the chipmakers are neutral at best, so this month's updated profiles for the chip stocks I have been following are like individual hands of poker. If you have a core holding in any of these names, you have already anted up, and your chips are on the table.
Investors who have followed my strategies for semiconductor stocks in recent months have taken some chips off the table and cashed them in, perhaps by as much as 25% to 50% since December.
Investors now should consider entering good-till-canceled (GTC) limit orders to buy on weakness to a value level (where my models project buyers will emerge) or a key moving average and to sell on strength to a risky level (where my models project sellers will emerge). You can do this while maintaining your current core positions.
Technology began the year 10.5% undervalued; now this sector is 1.5% overvalued, with semiconductors 0.4% overvalued. I track the Philadelphia Semiconductor index (SOX) to measure the weekly chart profile for the chipmakers, and the SOX has declining momentum now, even though last week's close was above the five-week modified moving average of 512.32.
If the SOX breaks back below its monthly pivot at 504.32, there's risk to weekly support of 488.76, with my new quarterly support at 422.18. From the Jan. 12 high of 559.60 to the March 17 low of 489.31, the SOX declined 12.6%.
Investors will have to judge whether or not to call a potential bluff as
Advanced Micro Devices
(AMD)
gives its guidance when it reports earnings after the close Wednesday. The key will be whether the stock can get back above its five-week modified moving average of $35.48 on a positive report -- and presumably, an optimistic forecast from AMD management. Keep in mind that the stock still has declining momentum and has declined quite a bit recently, falling 24.7% from its 52-week high of $42.70 set March 3 to the April 3 low of $32.17. With the weekly chart profile negative, investors should not buy back shares unless and until AMD tests my annual value level of $28.61, which is above the stock's 200-day simple moving average of $27.79.
Applied Materials
(AMAT)
declined 18.0% from its January high of $21.06 to its March 17 low of $17.27. Worse, on Monday, UBS downgraded the stock to neutral from buy, saying the chipmakers will not spend their expansion budgets this year. I believe investors should increase positions on weakness to my semiannual value level of $15.31 and reduce positions on strength to my monthly risky level of $19.61. A test of the stock's 200-week SMA of $17.40 would provide a level for more aggressive investors to add to this position.
Broadcom
undefined
popped on positive guidance in January but declined a whopping 18.3% in March alone, from its March 3 high of $50 to its March 29 low of $40.83. Earnings are coming into play here soon, too: The company will report quarterly results April 20, when earnings per share of 34 cents are expected. If the stock closes this week below its five-week modified moving average of $44.05, take it as a warning that a positive earnings report is already discounted. And be prepared to reduce holdings on strength to my monthly risky level of $51.92. The key on weakness is for Broadcom to hold quarterly pivots at $43.29 and $39.21. (A pivot is a value or risky level that has been breached in its particular time horizon; the stock is likely to trade around this pivot.) If the stock trades below those pivots, there's risk to the stock's 200-day SMA of $34.03.
Speaking of pivots,
Intel
(INTC)
ended Tuesday below my quarterly pivots at $19.20 and $19.66 and has oversold momentum. I expect a trend below $19.20 or above $19.66 to evolve following Intel's earnings report April 19, when the company is expected to report EPS of 23 cents. A trend below $19.20 would indicate risk to my quarterly and semiannual value levels of $16.08 and $16.02, where investors should add to this position. Above $19.66 is upside potential to my monthly risky levels of $21.27 and $21.79, where investors should reduce positions.
Marvell
(MRVL)
has tumbled 27.3% from its Jan. 27 high of $73.67 to its March 17 low of $53.59. With the stock only 3.0% overvalued currently, there is not a compelling reason to sell additional shares. A close this week below its five-week MMA of $58.98 would be a warning that Marvell can decline to its 200-day SMA of $52.28, where investors should consider adding to positions.
Nvidia
(NVDA)
remains the strongest of all of the momentum chip stocks I have been profiling. I have had a positive assessment for Nvidia, but now investors should consider protecting a portion of profits with a sell stop below my monthly pivot of $28.45. Otherwise, I'd let it ride, because the only risky level is a weekly risky level at $30.25, and the stock split 2 for 1 last week.
Texas Instruments
(TXN)
shows rising momentum, but the key to expectations around its quarterly earnings report April 18 will be this week's close relative to its five-week MMA of $31.68. A close above that level would target monthly risky levels of $34.85 and $35.40, where investors should reduce holdings. A close below it would indicate risk to quarterly value levels of $27.38 and $26.47, where investors should add to positions.
Richard Suttmeier is president of Global Market Consultants, Ltd., and chief market strategist for Joseph Stevens & co., a full service brokerage firm located in lower Manhattan. Early in his career, Suttmeier became the first U.S. Treasury Bond Trader at Bache. He later began the government bond division at L. F. Rothschild. Suttmeier went on to form Global Market Consultants as an independent third-party research provider, producing reports covering the technicals of the U.S. capital markets. He also has been U.S. Treasury Strategist for Smith Barney and chief financial strategist for William R. Hough. Suttmeier holds a bachelor's degree from the Georgia Institute of Technology and a master's degree from Polytechnic University.