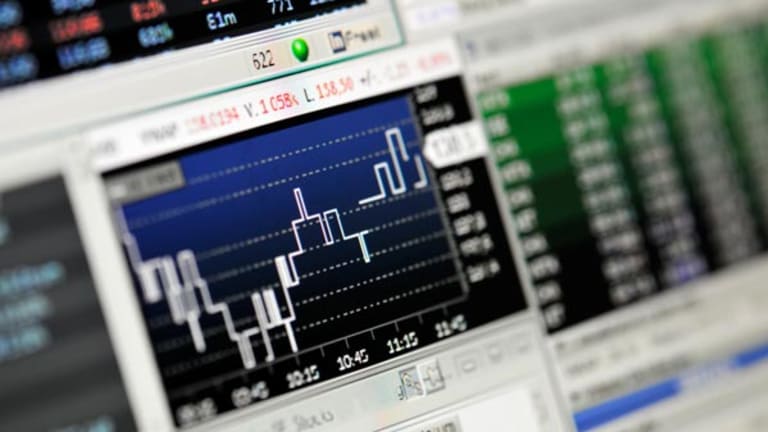 Knight Set for an Uphill Ride
Although not without risks, it has strong asset value and solid fundamentals.
This column was originally published on RealMoney on Nov. 9 at 8:11 a.m. EST. It's being republished as a bonus for TheStreet.com readers.
Knight Capital's
(NITE)
earnings stream has been so difficult to predict that even the company has stopped trying! Does this present an opportunity for investors, or is it a signal that earnings volatility may just be too high to stomach?
The company began giving annual earnings guidance in November 2004 when it estimated 2005 pretax operating income of $75 million to $130 million, a wide range to say the least. Knight's results ultimately came in at $80 million, on the back of a very strong fourth quarter that contributed $27 million to that total.
In November 2005, the company guided for 2006 pretax operating income of $80 million to $140 million. With three quarters down so far this year and one to go, Knight has earned pretax operating income of more than $193 million. It looks like that wide range wasn't nearly wide enough.
Last week, at the company's annual analyst meeting, management said that the exercise of estimating earnings was just too difficult and was of limited benefit to investors, anyway. The shares did sell off a bit, as some understandably were cautious. Many times, suspending guidance could be a precursor to negative developments. The most logical approach for fundamental investors is to review this company from the bottom up.
A Closer Look
Knight has two principal businesses: trade-execution services (called Global Markets in company literature) and asset management (through the Deephaven Capital Management multi-strategy hedge fund the company controls).
The Global Markets business has changed significantly over the past few years, as it has evolved from its roots in OTC market-making into a much more diversified operation. It now has more than 1,200 institutional clients, a fixed-income offering (ValuBond, which was acquired last month for $18.2 million in cash), a fully electronic foreign-exchange platform (Hotspot FX, which was acquired in April for $77.5 million in cash) and a direct-access network (Direct Edge ECN, which now executes 80 million to 90 million shares daily), as well as many other products and services.
Beyond just diversifying, this business has also enjoyed improving margins. The pretax margins for this line have risen from 13% in 2004 to 26% for the first three quarters of 2006.
Even more importantly, average revenue capture per dollar value traded (an important measure for any trade-execution business) has been quite stable at 2.3 basis points in the first quarter of this year, 2.1 basis points in the second quarter and 2.2 basis points in the third quarter.
This is a key metric because most observers see Knight as being quite sensitive to volume on the OTC Bulletin Board (think micro-caps). Volume on the bulletin board was $9.4 billion for the third quarter, down from $15.3 billion for the first quarter, but Knight's revenue capture remained stable.
Knight's own dollar volume of equities traded declined from $559 billion in the first quarter to $410 billion in the third quarter. The company will surely see lower volumes with lower industry trading activity, but its margins are robust and it's less sensitive to bulletin-board action.
As a point of interest, October bulletin-board volume was 11.4% above the third-quarter average, so this could slightly benefit Knight in the current quarter. However, as you can see, this is a volatile data set.
In 2007, the Global Markets business will have some tailwinds. The main development will be the gradual adoption of the SEC's Regulation NMS, which has prompted the
New York Stock Exchange
and other exchanges to adopt electronic trading of their listed securities. Electronic trading is much more conducive to any direct-access platform (which Knight has) and is also likely to spur further quantitative trading in NYSE-listed equities, as time to execution will drop. Volumes in these listed securities will likely increase, to the benefit of Knight and other industry players.
As well, there has been a well-documented decoupling of research and trading execution on Wall Street. As commissions have dropped overall and buy-side firms have re-evaluated the value proposition that sell-side firms offer them, it has become clear that institutions want to maximize the services offered to them for their commission dollars. This is referred to as "unbundling" of research from trading and benefits firms like Knight that excel in trade execution.
In Global Markets, Knight will likely experience volume increases, some room for margin expansion, development of recent acquisitions in new product areas, the potential for cross-selling as well as a continuation of its niche acquisition strategy .
The Other Half of the Business
The asset management business has had a great year, with a blended return to its investors of 14.6% for the first three quarters of 2006, well ahead of all hedge fund indices for that time frame. It also had $500 million of asset inflows in the third quarter alone, increasing total assets under management to $3.8 billion.
Good performance and good returns definitely create a virtuous cycle for any asset manager, but there is a hurdle: The principals of this business are under contract, which expires on Dec. 31, 2006. Obviously, the company would like to see this contract extended, but one must presume that the principals may wish for a greater percentage of the cash flow of Deephaven, at least in part due to their good recent performance.
Shareholders have two risks. The first is that the contract is not renewed, which could cause some short-term disruption at Deephaven. The second risk, a lesser one, is that Knight retains less of the economics of Deephaven in the future as it re-signs the principals.
Overview
In whole, the Global Markets business appears set for 25% or so pretax margins in 2007. If the equity markets hold up, the company can earn $1.50 or so per share in 2007, well ahead of the consensus for $1.21. Knight has almost $4 per share in cash (which includes an investment in Deephaven and 343,000 shares of
International Securities Exchange
( ISE)) with no debt and an active share-buyback program.
If Knight cannot negotiate a contract with the Deephaven executives, the stock could go lower. There's also some sensitivity (though less than in the past) to equity volumes and price levels. However, the management team led by Thomas Joyce has engineered a remarkable turnaround in the company's core businesses. With electronic trading advancing further in 2007, Knight is poised for good long-term upside.
At the time of publication, Capone and/or his fund was long Knight Capital, although positions may change at any time. Joe Capone is a managing member and founder of SMaRT Financial Partners LLC. Under no circumstances does the information in this column represent a recommendation to buy or sell stocks. Capone appreciates your feedback;
to send him an email.