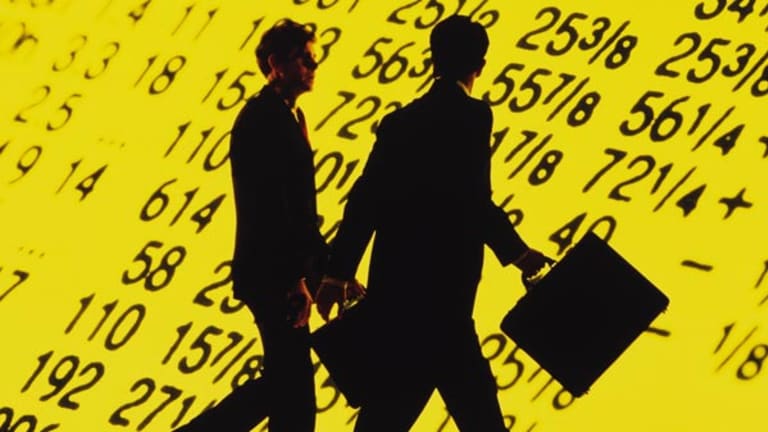 Katrina Rolls Over Traders
Stocks close lower, but Wall Street's losses could have been worse.
Updated from 4:11 p.m. EDT
Stocks lost ground Tuesday but closed well above their session lows as traders processed a litany of economic concerns raised by Hurricane Katrina.
The
Dow Jones Industrial Average
fell 50.23 points, or 0.48%, to 10,412.82. The
S&P 500
lost 3.87 points, or 0.32% to 1208.41, and the
Nasdaq Composite
was off 7.89 points, or 0.37%, to 2129.76. The 10-year Treasury note was up 17/32 in price to yield 4.10%, while the dollar was higher against the yen and lower against euro.
"The market managed to finish
above its session lows as investors were still digesting everything," said Robert Pavlik, chief investment officer with Oaktree Asset Management. "Certainly, oil and energy prices have caused the decline, in addition to the concerns of what the damage will do to business. Overall, it has been a rather bleak day."
About 1.44 billion shares changed hands on the
New York Stock Exchange
, with decliners beating advancers by a 9-to-7 margin. Trading volume on the Nasdaq was 1.45 billion shares, with decliners outpacing advancers 3 to 2.
Oil rose as major Gulf of Mexico operators worked to restore output that was halted during Katrina's assault. In Nymex floor trading, the October crude contract finished up $2.61 to $69.81 a barrel, a record closing high. Crude also hit a new intraday high of $70.90 a barrel earlier. Gasoline futures, whipped up by a series of storm-related refinery outages, jumped 20% to $2.47.
"For investors, the No. 1 story is energy," said Michael Sheldon, chief market strategist with Spencer Clarke LLC. "We'll see some volatility through the rest of the week leading up to the Labor Day weekend. So far, the economy and the consumer have done remarkably well with oil prices increasing 300% since the fall of 2001. If prices continue to rise, it's only a matter of time before the economy starts to slow."
Stocks rose Monday despite Katrina, which killed at least 50 people along the Gulf Coast and left an estimated 1 million people without power. Oil and gas transport at Port Fourchon, La., and on the Louisiana Offshore Oil Port remains distressed in an area responsible for roughly a quarter of U.S. energy production.
Wire reports quoted Michael Brown, the director of Federal Emergency Management Agency, saying Tuesday that Katrina caused "catastrophic damage" and that it would take "quite a while" until residents could return to the areas.
Analysts say Katrina will cost insurance companies more than $9 billion, making it one of the costliest U.S. storms ever. Areas of Louisiana and Mississippi remained underwater Tuesday morning as rescue efforts begin in earnest, with officials urging residents to delay their return home as long as possible. New Orleans is reported to be 80% underwater and all of the city's ports were closed to commerce.
Having been downgraded to a tropical depression, Katrina now has maximum sustained winds of 35 mph, with stronger gusts. At 3:30 p.m. EDT, the remains of Katrina were approaching Tennessee and Kentucky, expected to reach the Ohio Valley early Wednesday.
"While no one wishes these types of natural disasters on anyone, the aftermath usually brings economic activity to the region," added Ken Tower, chief market strategist with CyberTrader.
Wal-Mart
(WMT) - Get Walmart Inc. Report
was hit hard by Katrina, saying Tuesday that 123 of its U.S. stores were closed, many due to power outages. In addition to the store closings, two distribution centers were closed. Wal-Mart fell 46 cents, or 1%, to $45.19.
Power-supply company
Capstone Turbine
undefined
rose 11.7% to $5.14.
Pike Electric
(PEC)
, which provides storm restoration services, was up 2.6% to $16.10.
Able Energy
(ABLE)
was higher by 7.6% to close at $13.40.
Petroleum supplier
Premcor
(PCO)
dropped 10.2% to $73.29. Meanwhile,
ConocoPhillips
(COP) - Get ConocoPhillips Report
rose 2.1%, and
Chevron
(CVX) - Get Chevron Corporation Report
was higher by 1.7%.
Halliburton
(HAL) - Get Halliburton Company Report
, which contracts offshore drilling, gained 3.5%.
Among the building-materials companies,
Imperial Industries
(IPII)
was up 24.3% to $21.62. Building and roofing supplier
ElkCorp
(ELK)
added 5.1% to $33.30.
Home Depot
(HD) - Get Home Depot, Inc. Report
fell 1.7% to $39.75, while
Lowe's
(LOW) - Get Lowe's Companies, Inc. Report
lost 2.7% to $62.89.
Investors will keep their eyes on insurance companies as damage estimates start coming in.
St. Paul Travelers
(STA)
,
Allstate
(ALL) - Get Allstate Corporation Report
,
RenaissanceRe Holdings
(RNR) - Get RenaissanceRe Holdings Ltd. Report
and
Everest Re Group
(RE) - Get Everest Re Group, Ltd. Report
all finished lower.
Riverboat casino operator
Isle of Capri Casinos
(ISLE)
lost 2.8% to $22.87.
Harrah's Entertainment
(HET)
was off 2.5% to close at $70.90,
MGM Mirage
(MGM) - Get MGM Resorts International Report
was down 1.6% to $42.60.
Away from the storm, the corporate news docket lengthened Tuesday, with auto investors focused on a meeting this afternoon between
General Motors
(GM) - Get General Motors Company Report
and the Wall Street analyst community. The No. 1 automaker stated that it would meet or beat targets but stood by its decision to withhold guidance for its key North American business. GM climbed 41 cents, or 1.2%, to close at $34.45.
Graphics chipmaker
ATI
(ATYT)
warned that current-quarter revenue will miss estimates due to a shortfall in sales of chips for desktop computers. The stock added 36 cents, or 3.2%, to $11.70.
Apple Computer
(AAPL) - Get Apple Inc. Report
was on the radar amid reports wireless operator
Cingular
will roll out a
Motorola
(MOT)
cell phone that plays songs downloadable from the iTunes online jukebox.
Cingular is owned by
SBC
(SBC)
and
BellSouth
(BLS)
. Apple rose 73 cents, or 1.6%, to $46.57.
QLogic
(QLGC)
finished lower after setting the sale of its hard-disk drive controller and tape-drive controller business to
Marvell Tech
(MRVL) - Get Marvell Technology, Inc. Report
Monday night. The company will receive $180 million in cash and $45 million of Marvell common stock. QLogic fell $2, or 5.6%, to $33.64, while Marvell was higher by 66 cents, or 1.4%, to finish at $47.07.
On the economic front, the Commerce Department said factory orders were down 1.9% in July, the largest decline since April 2004. Economists expect a 2.2% fall in factory orders.
Also, the Conference Board said its consumer confidence index for August rose unexpectedly to 105.6. Economists expected the reading to fall to 101.0 in August from the 103.2 in July.
"In the wake of the plunge in the Michigan sentiment index we had expected a much weaker number," said Ian Shepherdson, chief economist with High Frequency Economics. "The two surveys are now telling opposite stories, but we are inclined to believe the Michigan numbers. It is not an accident that the only consumer survey index to be included in the index of leading indicators is the Michigan expectations number."
Minutes from the
Federal Open Market Committee's
Aug. 9 meeting did little to move markets. Fed members said "high and rising energy prices were adding to pressures on overall inflation, and energy price increases probably would feed through, at least temporarily, to core measures of inflation." However, the statement continued, it appears that core inflation "had been relatively low and inflation expectations remained well contained."
During the meeting, where all of the members voted to raise the federal funds rate by 25 basis points to 3.50%, the FOMC said that "the federal funds rate would remain below the level that members anticipated would prove necessary to contain inflation pressures and keep output near potential, and thus in all likelihood further policy action would be required. However, the pace of future policy moves, although likely to be measured, as well as the extent of those moves, would depend on incoming data."
"There is evidence of a clear, though modest, increase in inflation fears," said Shepherdson. "This is only to be expected, given that in the statement following the meeting the Fed acknowledged that growth had strengthened despite higher energy prices. The minutes warn of higher core inflation as a result of the energy price spike in slightly starker terms than in June. For now, as many disinflationary factors were cited as inflationary factors, but energy prices are tipping the balance."
Overseas markets were mostly higher, with London's FTSE 100 up 0.5% to 5256 and Germany's Xetra DAX was down 0.4% to 4791. In Asia, Japan's Nikkei rose 1.2% overnight to 12,453 and Hong Kong's Hang Seng rose 0.6% to 14,922.