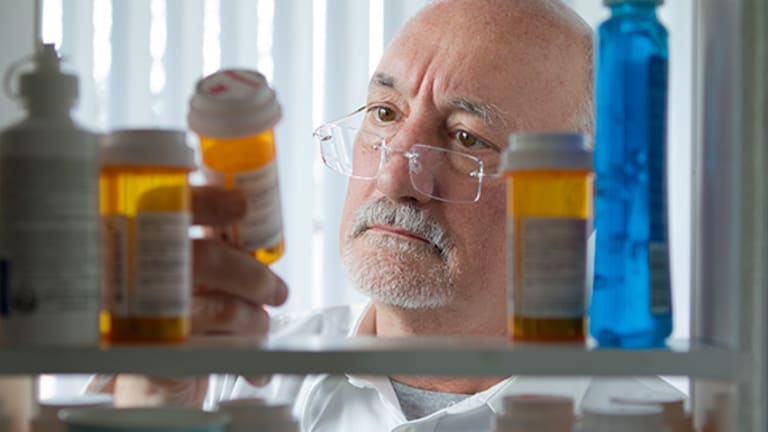 Kadmon (KDMN) CEO Waksal Focused on the Future, Not Redemption
Kadmon (KDMN) CEO Harlan Waksal joined CNBC's 'Fast Money Halftime Report' to discuss the company becoming public Wednesday morning.
NEW YORK (TheStreet) --Shares of Kadmon (KDMN) are tanking by 12.5% to $10.50 on Wednesday afternoon, as the company began trading on the New York Stock Exchange this morning. Company CEO Harlan Waksal joined CNBC's "Fast Money Halftime Report" to discuss the IPO.
"It's an exciting day for us, what's really key about what we're doing are the drugs we have been developing. Also, gearing attention away from the company's history and refocusing on the present," Waksal explained. 
The company's past could be the reason for the decline in the stock today and could be tough to overcome. Kadmon's former CEO and founder Samuel Waksal (Harlan's brother) was arrested for and convicted of several securities violations. He has since been released from prison, but Harlan believes the negativity surrounding his brother's arrest continues to hinder the company.
"The press has been vicious the last 24-48 hours about making this into a redemption story, that's not what this is. This is not about redemption, this is about a new company, that's moving forward in a positive way," Waksal assured the "Halftime Report" panel.
Focusing on the present, "We have multiple catalyst taking place. In particular, what we're doing is in the area of oncology, we have a drug that's moving forward in indications that have to do with lung cancer that spreads to the brain. We will have data on that continuously," Waksal said.
Kadmon will focus on drugs for the areas of "oncology, auto immune disease, fibrotic disease, genetic disorders, and reiterated that each one of them have already shown some clinical potential," Waksal noted. 
Waksal mentioned the company's continued trials and further advancements into clinical phases of drug testing, which will aim to help hundreds of thousands of Americans, as well as a commitment to relentless studies into diseases.
Waksal concluded by bringing to call his vision for the company's future, "I will say this, when we talk about this company it's never been about redemption, but always been about legacy. I'm doing this to continue to develop drugs that will help people."