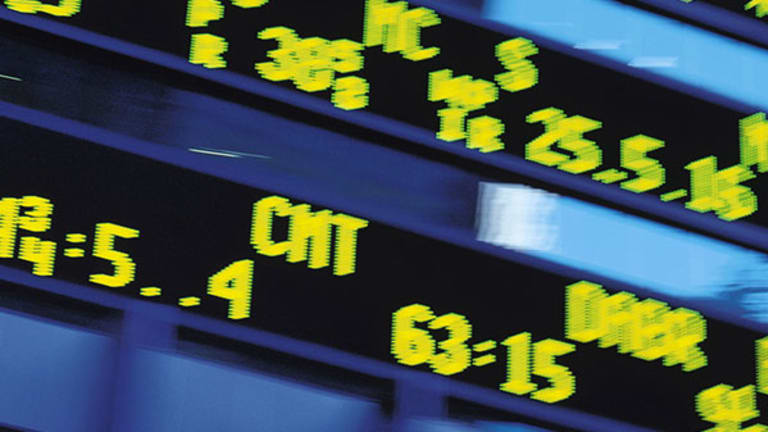 June 29 Premarket Briefing: 10 Things You Should Know
U.S. stock futures are rising as the uncertainty following Britain's referendum on EU membership eases.
U.S. stock futures are rising as the uncertainty following Britain's referendum on EU membership eases.
If you'd like to receive "10 Things" in your email inbox every morning, please register for TheStreet Alerts and follow me.
Here are 10 things you should know for Wednesday, June 29:
1. -- U.S. stock futures on Wednesday were pointing to an extension of Tuesday's rally on Wall Street as the uncertainty following Britain's referendum on EU membership eased.
European stocks rose sharply for a second day on Wednesday, buoyed by suggestions that global policy makers will dig deep to ensure the U.K.'s Brexit doesn't trigger an economic downturn.
Asian shares finished the session with gains. Japan's Nikkei 225 jumped 1.6% and Hong Kong's Hang Seng index added 1.3%.
U.S. crude oil rose 1% early Wednesday to $48.35 a barrel.
2. -- The economic calendar in the U.S. Wednesday includes Personal Income and Personal Spending for May at 8:30 a.m. EDT, Pending Home Sales for May at 10 a.m., and Crude Inventories for the week ended June 25 at 10:30 a.m.
3. -- U.S. stocks on Tuesday rose as Wall Street stepped back from the cliff after two days of Brexit panic. 
The S&P 500 gained 1.78%, the Dow Jones Industrial Average rose 1.57%, and the Nasdaq climbed 2.12%.
4. -- Federal Reserve board member Jerome Powell said the United Kingdom's vote last week to leave the European Union has shifted global risks "even further to the downside" and "introduced new uncertainties" into the global outlook.
In a speech in Chicago on Tuesday, Powell didn't discuss the impact of the Brexit vote on the Fed's tentative plans to raise its benchmark interest rate twice this year. But his remarks suggested that a hike at the Fed's meeting next month likely is off the table, according to USA Today. 
Citing China's slowdown and troubles in emerging markets, Powell said, "These global risks have now shifted even further to the downside, with last week's referendum on the United Kingdom's status in the European Union. The Brexit vote has the potential to create new headwinds for economies around the world, including our own."
5. -- Moody'sdowngraded its outlook for the U.K. banking sector to negative from stable due to the expected impact of the U.K.'s decision to leave the European Union. 
The credit agency also downgraded its outlook for 12 U.K. banks and building societies, including Lloyds (LYG) - Get Report , Barclays (BCS) - Get Report and HSBC (HSBC) - Get Report . It didn't downgrade its outlook for the Royal Bank of Scotland.
Moody's expects the decision to leave the EU will reduce the profitability of the U.K. banks and building societies due to "lower economic growth and heightened uncertainty over the U.K.'s future trade relationship with the EU to lead to reduced demand for credit, higher credit losses and more volatile wholesale funding conditions for U.K. financial institutions."
6. --Nike (NKE) - Get Report  said fiscal fourth-quarter revenue rose 6% to $8.24 billion but the result missed analysts' forecasts.
The footwear and apparel giant reported earnings of 49 cents a share, flat with a year earlier. Wall Street expected profit of 48 cents a share.
Sales of Nike footwear in North America rose only 2% from the prior year to $2.3 billion likely due to sluggish sales of basketball sneakers amid increased competition from Under Armour and Adidas. The result marked a steep slowdown from the third quarter when U.S. footwear sales rose 16%. 
Nike's future orders growth -- a key metric used by Wall Street to measure future performance -- for June through November totaled $14.9 billion, up 8% year over year, or 11% excluding the strong U.S. dollar.
The stock fell 3.7% in premarket trading on Wednesday.
7. -- Energy Transfer Equity (ETE) said Wednesday it terminated its merger agreement with Williams Cos. (WMB) - Get Report after ETE's counsel, Latham & Watkins, were unable to declare the deal as tax-free.
"Consistent with its rights and obligations under the merger agreement, ETE subsequently provided written notice terminating the merger agreement due to failure of conditions under the merger agreement, including Latham's inability to deliver the required tax opinion, Energy Transfer Equity said in a press release. 
A Delaware judge ruled last Friday that buyer Energy Transfer Equity could walk away from the deal because of unfavorable tax consequences.
8. -- Toyota (TM) - Get Report is recalling 1.43 million vehicles globally for defective air bags, although it isn't part of the massive recalls of Takata air bags, the Japanese automaker said Wednesday.
Toyota said it doesn't know of any fatalities or injuries related to the latest recalls.
Being recalled are the Prius hybrid, Prius plug-in and the Lexus CT200h produced between October 2008 and April 2012 -- 743,000 vehicles in Japan, 495,000 in North America and 141,000 vehicles in Europe, as well as 9,000 vehicles in China and 46,000 vehicles in other regions.
A small crack in some inflators in the air bags in the driver and passenger sides may expand, causing the air bags to partially inflate.
The air bags were not made by Takata, according to Toyota.
9. -- Honeywell International (HON) - Get Report said Dave Cote would step down as CEO next March, with Chief Operating Officer Darius Adamczyk set to replace the long-serving leader.
The Morris Plains, N.J., company said that Cote would continue on as executive chairman until after the company's 2018 annual meeting, after which he would start a five-year agreement to consult with the company that also includes a noncompete agreement.
Adamczyk, who was named president and operating chief in April, has been with Honeywell since the industrial conglomerate acquired Metrologic Instruments, where he was CEO, in 2008. The executive has run a number of businesses at Honeywell, including most recently serving as CEO of $9.3 billion-in-sales Honeywell Performance Materials and Technologies.
10. -- Earnings are expected Wednesday from General Mills (GIS) - Get Report , Monsanto (MON) , Pier 1 Imports (PIR) - Get Report and Progress Software (PRGS) - Get Report .