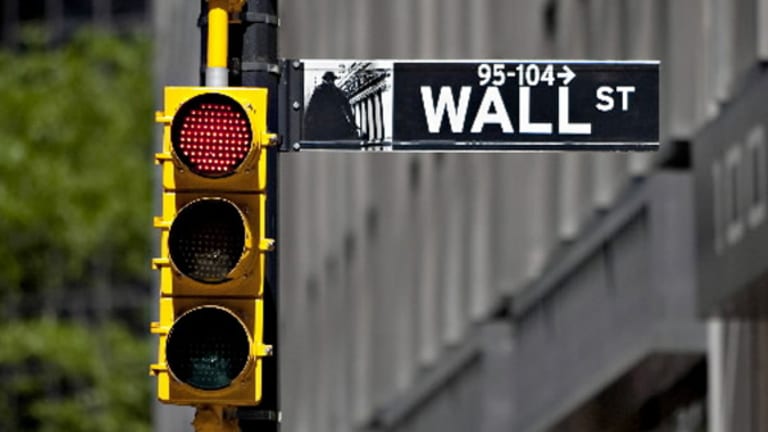 Publish date:
June 16 Premarket Briefing: 10 Things You Should Know
U.S. stock futures point lower and European stocks slump after Federal Reserve Chair Janet Yellen suggests weakening U.S. growth may crimp future interest rate increases.
U.S. stock futures point lower and European stocks slump after Federal Reserve Chair Janet Yellen suggests weakening U.S. growth may crimp future interest rate increases.
If you'd like to receive "10 Things" in your email inbox every morning, please register for TheStreet Alerts and follow me.
Here are 10 things you should know for Thursday, June 16:
1. -- U.S. stock futures were pointing lower Thursday and European stocks slumped as financial stocks fell after Federal Reserve Chair Janet Yellen suggested weakening U.S. growth may crimp future interest rate increases.
Yellen also said worries about a U.K. departure from the European Union played a part in the policy makers' decision to hold rates steady at its meeting on Wednesday.
Shares in Tokyo fell more than 3% and the yen surged against the dollar after the country's central bank failed to pump more stimulus into the economy.
Hong Kong's Hang Seng index sank 2.1% and China's Shanghai Composite Index slipped 0.5%.
2. -- The economic calendar in the U.S. on Thursday includes the Consumer Price Index for May at 8:30 a.m. EDT, weekly Initial Jobless Claims at 8:30 a.m., the Philadelphia Fed Index for June at 8:30 a.m., and the NAHB Housing Market Index for June at 10 a.m.
3. -- U.S. stocks on Wednesday closed lower, reversing in the final minutes of trading following the Federal Reserve's decision at its June meeting not to raise interest rates.
The S&P 500 closed down 0.18%, the Dow Jones Industrial Average slid 0.20% and the Nasdaq fell 0.18%.
The central bank left rates unchanged just as Wall Street had pegged but what was surprising was the shedding of hawkish rhetoric that characterized Fed chatter in recent months.
4. -- The Bank of Japan said Thursday it was keeping its monetary easing policies unchanged, again foiling speculation it might further ease policy to help the faltering recovery.
The Bank of Japan is pumping about 80 trillion yen (about $769 billion) into the economy each year with purchases of Japanese government bonds and other assets.
Japanese officials, meanwhile, warned they may have to intervene if the yen jumps too much. A stronger yen, which hurts profits of exporters, tends to pull share prices lower.
5. -- Viacom (VIAB) - Get Report  controlling shareholder Sumner Redstone said he doesn't trust the company's board or its Chairman and CEO Philippe Dauman, The Wall Street Journal reported.
In an email Wednesday to Viacom board member Frederic Salerno in response to a request for a meeting, Redstone said the board and Dauman are ignoring his wishes and he doesn't think the board or the company is acting in the best interest of shareholders.
"I no longer trust Philippe or those who support him," Redstone said, the Journal reported.
Redstone is battling Dauman and the Viacom board following last month's removal of Dauman and fellow board member George Abrams from the trust that will oversee 93-year-old Redstone's after he dies or is declared incapacitated.
6. -- Envision Healthcare (EVHC) and AmSurg (AMSG)  agreed to join forces, creating a physician services behemoth with an enterprise value of about $15 billion. 
The widely anticipated deal is structured as an all-stock transaction at a fixed-exchange ratio of 0.334 Amsurg shares per Envision share.
Shareholders of Envision and Amsurg will own about 53% and 47%, respectively, of the combined company, according to an announcement from the companies. Based upon the $15 billion enterprise value, that implies that Amsurg will receive roughly $7 billion.
The new company will encompass a wide array of outsourced physician services in the emergency, hospitalist, anesthesia, radiology and children's services areas. 
7. -- Chipmaker Cavium (CAVM) agreed to buy network equipment maker QLogic (QLGC) for $1.36 billion in an effort to diversify earnings away from the highly competitive semiconductor market.
San-Jose--based Cavium will pay $15.50 a share for QLogic, including $11 in cash and 0.098 of a Cavium share. The deal values the target at an enterprise value of about $1 billion, including QLogic's $355 million of cash. 
"QLogic's industry leading products extend our market position in data center, cloud and storage markets, and further diversifies our revenue and customer base," said Cavium President and CEO Syed Ali in a statement. "In addition to the compelling strategic benefits, the manufacturing, sales and operating synergies will create significant value for our shareholders."
Cavium shares tumbled in after-hours trading on Wednesday, falling more than 7%. QLogic jumped 11.9%.
8. -- ASML Holdings (ASML) - Get Report , the Dutch chipmaker, agreed to buy Taiwanese chip company Hermes Microvision for about 100 billion new Taiwan dollars ($3.1 billion).
"Our two companies have worked together for almost two years to see how we could best combine our capabilities, and found that we could significantly improve this constructive cooperation and better serve our customer by teaming up as one company," ASML said. "This also means that we expect enhanced product offerings faster."
The deal will enable the combined entity to keep pace with the evolution of technology in the semiconductor market and better address what ASML has described as a saturated market for smartphones. Smartphones are a key source of demand for circuitry and semiconductor materials.
9. -- Jabil Circuit (JBL) - Get Report , the Apple supplier, issued weak guidance for its fiscal fourth quarter and full year.
The electronic manufacturing company said it expects earnings of between 15 cents and 35 cents a share on revenue of $4.15 billion to $4.35 billion for the fourth quarter. Analysts forecast earnings of 53 cents a share on revenue of $4.66 billion. 
For fiscal 2016, the company expects earnings of about $1.85 a share on revenue of $18.2 billion, while analysts are looking for earnings of $2.10 a share on revenue of $18.45 billion.
10. -- Earnings are expected Thursday from Oracle (ORCL) - Get Report , Rite Aid (RAD) - Get Report , Smith & Wesson (SWHC) and Kroger (KR) - Get Report .