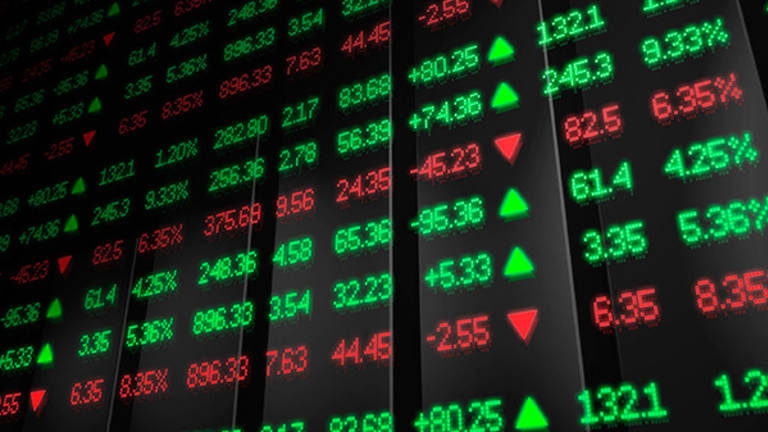 July 7 Premarket Briefing: 10 Things You Should Know
U.S. stock futures are trading mixed Thursday as investors look toward U.S. jobs data.
U.S. stock futures are trading mixed Thursday as investors look toward U.S. jobs data.
If you'd like to receive "10 Things" in your email inbox every morning, please register for TheStreet Alerts and follow me.
Here are 10 things you should know for Thursday, July 7:
1. -- U.S. stock futures were trading mixed as investors looked toward U.S. jobs data to be released on Thursday and Friday.
European stocks recovered on Thursday after a mixed day in Asia as U.K. real estate companies recovered and German industrial outlook data built the case for more European Central Bank stimulus.
Oil prices in the U.S. early Thursday rose 1.3% to $48.04 a barrel.
2. -- The economic calendar in the U.S. Thursday includes the ADP National Employment report for June at 8:15 a.m., and weekly Initial Jobless Claims at 8:30 a.m.
3. -- U.S. stocks on Wednesday closed with modest gains as doves at the Federal Reserve voiced their concern about raising interest rates in June heading into the Brexit vote. Now that the votes are in, the doves will likely stick around. 
The thought pushed the S&P 500 up 0.53% and the Dow Jones Industrial Average higher by 0.44%. The Nasdaq gained 0.75%.
4. -- France's Danone (DANOY) agreed to buy WhiteWave Foods (WWAV)  for $12.5 billion including debt, doubling the size of its U.S. sales and expanding into the fast growing non-dairy milk and yogurt sector. 
Danone said Thursday it will offer $56.25 in cash for each WhiteWave share, an 18.6% premium to the target's Wednesday closing price of $47.43 a share and a record price for WhiteWave shares. The bid values the target's equity at about $9.84 billion and equates to an Ebitda multiple of 21.2 times forecast earnings for the current year. 
"It will allow us to enhance Danone's growth profile and reinforce our resilience through a broader platform in North America," Danone's CEO Emmanuel Faber said in a statement.
Faber, who took control of Danone in 2014, has been under pressure to find a route to increase sales.
The addition of WhiteWave's health-focused products, including Silk, the biggest almond milk brand in the U.S., and the recently acquired Wallaby Organic yogurt, will help the Paris-based buyer target affluent customers, who are driving rapid sales growth in higher-margin health products. WhiteWave had sales of about $3.9 billion in 2015. Revenue at WhiteWave is forecast to grow about 9% this year.
WhiteWave is a holding in Jim Cramer's Action Alerts PLUS Charitable Trust Portfolio. Want to be alerted before Cramer buys or sells WWAV? Learn more now.
5. -- Avast Software agreed to buy AVG Technologies (AVG) for $25 a share in cash, or about $1.3 billion.
AVG shares closed Wednesday at $18.79.
Avast said it's making the acquisition "to gain scale, technological depth and geographical breadth so that the new organization can be in a position to take advantage of emerging growth opportunities in Internet security as well as organizational efficiencies."
The combined organization will have a network of more than 400 million endpoints, of which 160 million are mobile, the companies said.
6. -- Tesla Motors (TSLA) - Get Reportlate Wednesday fired back at reports that questioned the timeliness of the company's disclosure of a fatality in one of its vehicles, calling the accusations "fundamentally incorrect," while CEO Elon Musk took to Twitter to accuse Fortune of malfeasance. 
Fortune ran a piece Tuesday questioning whether Tesla should have made public details of an early-May accident in Florida, which appears to have involved the company's much-hyped autopilot technology, before raising more than $1.4 billion in a secondary offering in June. The magazine, in a follow-up piece, noted that Tesla itself refers in regulatory filings to the potential for a single autopilot incident to be material to "our brand, business, prospects, and operating results."
Tesla, in a blog post response late Wednesday, said that the language in the filings refers to potential product liability claims, which it said "is just stating the obvious." The company argued that it wasn't a valid reason to disclose prior to the secondary offering because "neither at the time of this SEC filing, nor in the several weeks to date, has anyone brought a product liability claim against Tesla relating to the crash in Florida."
7. -- SamsungElectronics (SSNLF) said its second-quarter operating income jumped 17% from a year earlier to the highest quarterly profit in more than two years, as strong sales of its Galaxy smartphones drove profit growth in the mobile business.
In its earnings preview, the South Korean company put its operating income at 8.1 trillion won ($7 billion), compared with 6.9 trillion won a year earlier.
That was much higher than analysts' forecasts of 7.4 trillion won of operating income.
Sales rose 3% to 50 trillion won.
8. --JPMorgan Chase (JPM) - Get Reportcould be forced to move thousands of staff out of Britain if the country loses its automatic right to sell financial services to the European Union after last month's Brexit vote, CEO Jamie Dimon told an Italian newspaper, Reuters reported.
Currently, banks based in the U.K. can sell services freely across the EU under a "passporting" system, considered the most significant feature of the EU single market for financial firms, Reuters noted. But that is now in doubt after Britons voted to leave the bloc.
"The key issue is the 'passport rule' that we have in London and allows us to provide services to clients in the European Union," Il Sole 24 Ore quoted Dimon as saying on Thursday, Reuters reported.
9. -- The Equal Employment Opportunity Commission is investigating complaints of age discrimination by Alphabet's (GOOGL) - Get Report Google, according to a lawsuit filed in federal court, the San Jose Mercury News reported.
A court filing from a plaintiff in the suit accuses Google of stonewalling the EEOC investigation, charges the tech giant denied. In an earlier filing of its own, Google acknowledged it was the subject of federal age-discrimination complaints and is under investigation, the newspaper reported. 
Plaintiff Cheryl Fillekes, a systems engineer who interviewed with Google at age 47 but was never hired, referred in a filing last week to a federal probe of the company, the San Jose Mercury News reported.
"The EEOC has received multiple complaints of age discrimination by Google, and is currently conducting an extensive investigation into Google's employment policies and practices," the document said.
Alphabet is a holding in Jim Cramer's Action Alerts PLUS Charitable Trust Portfolio. Want to be alerted before Cramer buys or sells GOOGL? Learn more now.
10. -- Earnings are expected Thursday from PepsiCo (PEP) - Get Report .
PepsiCo is a holding in Jim Cramer's Action Alerts PLUS Charitable Trust Portfolio. Want to be alerted before Cramer buys or sells PEP? Learn more now.