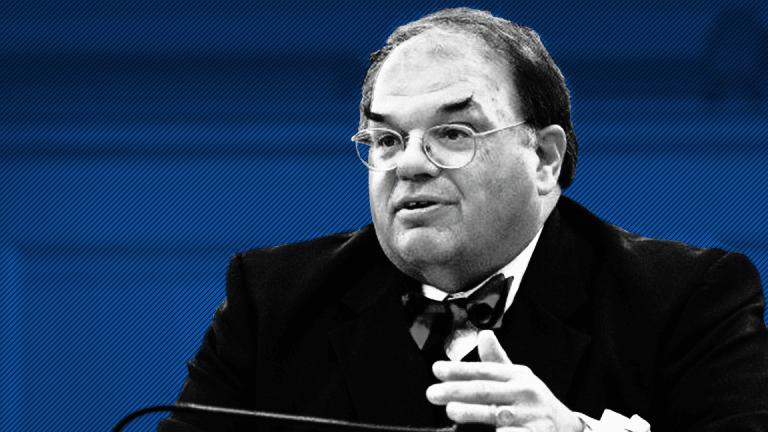 Publish date:
Judge Clears AT&T-Time Warner Deal With No Conditions in Landmark Decision
The ruling was a significant defeat for the Department of Justice, which stunned the legal establishment with its November challenge of the transaction.
The ruling was a significant defeat for the Department of Justice, which stunned the legal establishment with its November challenge of the transaction.
A federal judge in Washington on Tuesday cleared the $85.4 billion merger of AT&T (T) - Get Report and Time Warner (TWX)  with no conditions in a landmark decision expected to encourage more vertical combinations among media and entertainment companies.
The ruling by U.S. District Court Judge Richard Leon was a significant defeat for the Department of Justice, which stunned the legal establishment with its November challenge of the transaction -- the first lawsuit against a vertical deal in more than 40 years.
In a statement, Assistant Attorney General for the DOJ's Antitrust Division Makan Delrahim said that the DOJ was disappointed by the court's decision. 
"We continue to believe that the pay-TV market will be less competitive and less innovative as a result of the proposed merger between AT&T and Time Warner," Delrahim wrote. "We will closely review the Court's opinion and consider next steps in light of our commitment to preserving competition for the benefit of American consumers."
Judge Leon announced his decision during a packed courtroom session in Washington that began at 4 p.m. ET, after the market closed. 
In a statement, AT&T said it looks forward to closing the deal on or before June 20, according to CNBC.
The green light for AT&T is expected to spur Comcast Corp. (CMCSA) - Get Report to pursue its planned hostile takeover of Twenty-First Century Fox (FOXA) - Get Report from the Walt Disney Co. (DIS) - Get Report
AT&T's stock were down about 2% after hours after the decision was announced, while Time Warner's stock was up almost 5% after-hours after trading flat during the day. Comcast shares were down about 3.6% after hours, while Fox shares were up almost 7% after-hours.
During his presidential campaign, Donald Trump complained about coverage of him on the Time Warner-owned CNN network, and said the merger was one that "we we will not approve in my administration." So far on Tuesday, Trump had not issued any reaction to Judge Leon's decision.
Leon had a range of options for how to rule in the case.
Justice had pressed him to block the deal outright, but suggested in April closing arguments that the Judge could address the harm to consumers by requiring AT&T to sell Turner or DirecTV.
AT&T and Time Warner argued that divestitures were unnecessary, however. Turner made an arbitration offer to pay-TV companies that the defendants said eliminated the threat of price gouging. If a cable, satellite or online distributor requested arbitration, Turner pledged not to withhold its programming, or "go dark." The proposal would have lasted for seven years, the same duration as the concessions in Comcast Corp.'s purchase of a controlling stake in NBC, which Leon himself approved in 2011. 
Cable operator RCN Telecom Service LLC also gave Leon some suggestions on how to improve AT&T's arbitration proposal and pledge not to go dark, in a mid-May Amicus filing with the court. The offer should apply to all of Time Warner's content, including HBO and Cinemax, RCN suggested.
Turner should have to provide information about rates it charges other pay-TV distributors at the start of arbitration, RCN added, and smaller cable operators should also be able to use a bargaining agent, such as the National Cable Television Cooperative, in their negotiations.
Daniel Petrocelli, the lead attorney for AT&T and a partner at O'Melveny & Myers LLP, spoke to the media outside the courthouse, where he touted the clearance as a win for consumers and a "sound and proper rejection of all of the government's arguments" to block the merger.
"We're disappointed that it took eighteen months to get here, but we are relieved that's in finally behind us," he said. "We look forward to close this transaction in the upcoming days," he added, noting that it would be final no later than June 20.
Addressing the impact of the decision on other deals pending in the marketplace, Petrocelli was circumspect. "Each and every one of these transactions stands on its own, as this one did," he said.
He also implied that the DOJ was on a witch hunt that failed to prove any competitive harms from the deal. "After a massive investigation that spanned over a year, after an intensive pre-trial discovery process, and after a grueling six-week trial, the government could present no credible proof in support any of its theories."
Reacting to the judge's recommendation that the DOJ not seek a stay of the ruling, Petrocelli said that the court recognizes that the defendants were "subjected to this interminable delay" since the merger was announced in October 2016.
As to whether the DOJ challenge was spurred by opposition from President Donald Trump, who vowed on the campaign trail to block the combination over his objections to Time Warner's CNN, Petrocelli responded: "We have no insight into that."
Comcast is a holding in Jim Cramer's Action Alerts PLUS member club. Want to be alerted before Jim Cramer buys or sells CMCSA? Learn more now.