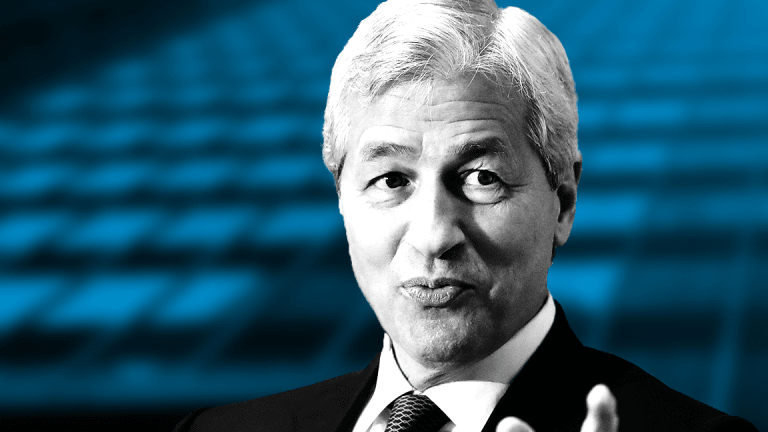 JPMorgan's Dimon Stays King of Wall Street, Gets $31 Million Payday
JPMorgan Chase CEO Jamie Dimon says he doesn't worry about the ups and downs of financial markets. Yet the bank's trading business, Wall Street's biggest, has proved remarkably consistent -- and resilient.
JPMorgan Chase CEO Jamie Dimon says he doesn't worry about the ups and downs of financial markets. Yet the bank's trading business, Wall Street's biggest, has proved remarkably consistent -- and resilient.
Jamie Dimon, CEO of JPMorgan Chase & Co. (JPM) - Get Report , the largest U.S. bank, says he doesn't fret over the vagaries of stock and bond markets -- roiled in recent months by speculation over the health of the U.S. economy, President Donald Trump's trade war with China and, more recently, the longest government shutdown in modern history.
Instead, Dimon told investors last week on a conference call, he just tries to keep stealing business from his biggest Wall Street competitors.   
"You don't know what's going to happen next quarter," Dimon told investors last week on a conference call. "I honestly could care less." 
Such indifference might be paying off for JPMorgan shareholders, as well as for the CEO personally. The New York-based bank not only trounced rival U.S. banks in the trading business last year -- with 38% more revenue than the next-closest competitor, Citigroup Inc. (C) - Get Report -- but it disclosed late last week that Dimon got a $29.5 million bonus for 2018, on top of his annual salary of $1.5 million. His total compensation of $31 million last year represents a raise of roughly 5% over 2017 levels.
And while shareholders might cavil at the sum, given the bank's 8.7% stock-price decline in 2018, JPMorgan outperformed its Wall Street rivals, by far. Citigroup's stock tumbled 30% last year, Morgan Stanley  (MS) - Get Report  lost 24% and Bank of America Corp. (BAC) - Get Report was down 17%. Goldman Sachs Group Inc. (GS) - Get Report , historically a Wall Street standout, plunged 34%.  
"We gained market share in nearly all of our businesses, demonstrated strong expense discipline, continued to achieve high customer satisfaction scores and maintained a fortress balance sheet," the company said in a regulatory filing detailing Dimon's compensation.
JPMorgan increased trading revenue by 5.7% last year to $23.5 billion, the most on Wall Street. Even on a standalone basis, the trading division's revenue exceeds the total sales reported over the past year by burger chain McDonald's Corp. (MCD) - Get Report and railroad operator Union Pacific Corp. (UNP) - Get Report .
Citigroup's trading revenue slid by 3.1% in 2018 to $17 billion. Goldman Sachs rebounded from a horrific 2017, with revenue in the business climbing 13% to $13.5 billion. Morgan Stanley's rose by 12% to $13.8 billion. Bank of America, the second-largest U.S. bank, was an also-ran in trading, where revenue inched up 2.2% to $13.1 billion.   
Dimon isn't infallible, of course.
He boldly proclaimed in June that the banking industry was in the midst of a "golden age of banking," only to have such optimism upended during the second half of the year as investors worried that Trump's trade war and the Fed's interest-rate increases might combine to push the U.S. economy into a recession. Banks typically suffer in recessions as payment defaults surge, and because plunging confidence levels cause consumers and businesses to borrow less, hampering loan growth.
As chairman of JPMorgan, Dimon also has fallen behind on an increasingly crucial metric: gender diversity on the board of directors, which an increasing number of studies have shown to increase shareholder returns. There are just two women on JPMorgan's 12-member board of directors, a 17% share that ranks it not only well below the other big U.S. banks but as a laggard in the broad Standard & Poor's 500 Index of large stocks.
Still, Dimon has won plaudits from analysts including the five-decade analyst Dick Bove of Rafferty Capital Markets for pledging last year to invest a $20 billion windfall -- courtesy of Trump's late-2017 tax cuts -- in JPMorgan's businesses, rather than simply doling it out to shareholders in the form of higher dividends and stock buybacks. Such investments sometimes take years to bear fruit but ultimately produce higher long-term shareholder returns, according to Bove.    
JPMorgan already dominates the business of trading bonds, commodities and currencies. And on last week's conference call, Dimon noted that the bank, still just No. 3 in stock trading, known as equities, is gaining ground on market leader Morgan Stanley.
Stock-trading revenue at Morgan Stanley rose 13% to $9 billion last year, while No. 2 Goldman Sachs grew sales in the business by 15% to $7.6 billion. JPMorgan's, meanwhile, surged by 21% to $6.9 billion.
"In equities, we've gained share and we're now bumping up to number one," Dimon told investors on the conference call.
Ken Leon, an analyst at the research firm CFRA, says that JPMorgan's trading business underperformed in the fourth quarter, but that may have stemmed from its devotion to clients: a willingness to buy risky trading positions from investors who are looking for a quick exit when markets suddenly turn ugly, as they did in December. 
"Jamie Dimon is a leader and a strong competitor,"  Leon said. "One of the signs of a strong bank is sometimes taking a hit so your customers can execute trades."
With a $31 million payday to show for his efforts, it's good to be the king.  
JPMorgan is a holding in Jim Cramer's Action Alerts portfolio. Want to be alerted before Jim Cramer buys or sells the stock? Learn more now.