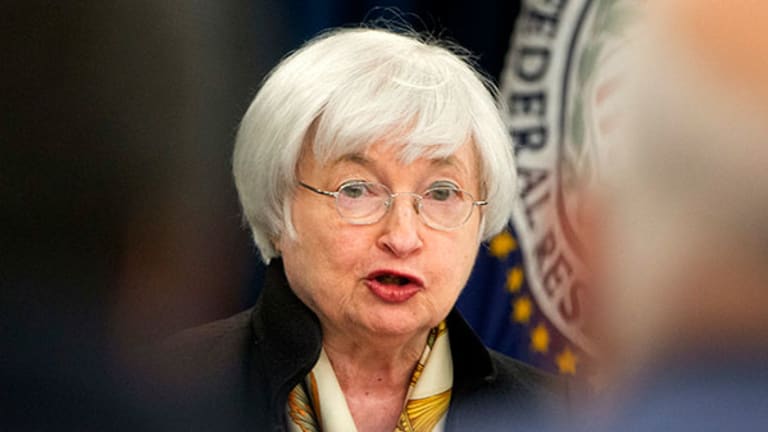 JPMorgan Chase Chief Economist -- Yellen Needs to Be 'Flexible' About Rate Hike Timing
JPMorgan Chase Chief Economist Anthony Chan expects the Fed chief to strike a flexible tone in terms of the timing of the next interest rate hike in her Friday speech.
JPMorgan Chase (JPM) - Get Free Report chief economist Anthony Chan expects Federal Reserve Chair Janet Yellen to strike a flexible tone in terms of the timing of the next interest rate hike in her Jackson Hole, Wyo., speech on Friday.
"The Federal Reserve does want to raise rates this year," he said. "Being data dependent, they have to keep that flexibility open."
Chan said it's important for the Fed to prep financial markets for the next interest rates hike. The markets are pricing in a 30 percent chance of a September rate hike and a 54.8 percent probability of a December liftoff.
The Fed would like to see those probabilities increase. "They want to raise [them] high enough that it doesn't catch the market flat footed if they raise rates."
He said investors will be watching on whether Yellen tips her hand to a rate hike in September or December, while Chan said his best guess is that the Fed pulls the trigger in December. Meanwhile, Yellen is also expected to address inflation, which is part of the Fed's dual mandate.
The Fed's favorite inflation gauge, the personal consumption expenditure price index, is well below the central bank's 2% target. It rose 1.6% year over year on a core basis, stripping out food and energy.
"The inflation rate is a very sensitive topic," Chan said. "At the same time, the inflation rate is gradually moving higher and there are other voices in the Federal Reserve that are saying maybe we should even raise that inflation target a little bit higher."
San Francisco Federal Reserve Bank President John Williams proposed raising inflation targets in a research letter earlier this month.