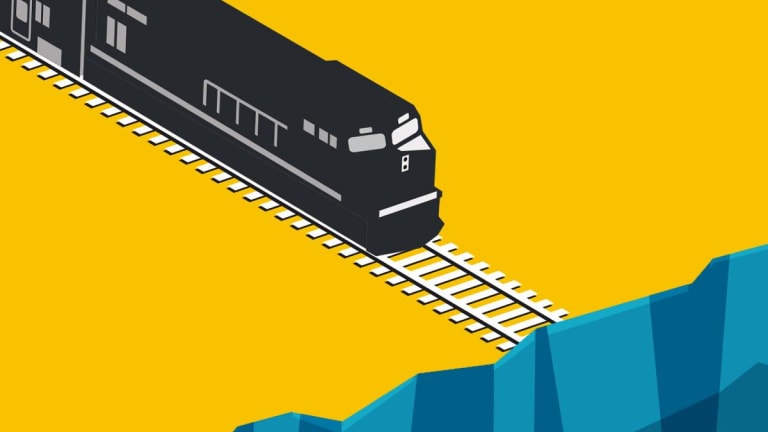 As Economy Slows, JPMorgan CEO Dimon Sees 'Bad Policy' but No Recession
JPMorgan CEO Jamie Dimon says he doesn't currently expect the U.S. economy to tip into recession, but the risks are growing from 'bad policy,' and he lamented the loss of certainty in American global leadership. Spoiler alert: He didn't mention President Donald Trump.
JPMorgan CEO Jamie Dimon says he doesn't currently expect the U.S. economy to tip into recession, but the risks are growing from 'bad policy,' and he lamented the loss of certainty in American global leadership. Spoiler alert: He didn't mention President Donald Trump.
JPMorgan Chase  (JPM) - Get Report  is the largest U.S. bank, so when CEO Jamie Dimon speaks people pay attention.
A lot of big investors -- even top Federal Reserve officials -- are glued to incoming economic data, wondering if or when the U.S. will tip into recession. The stimulus is fading from President Donald Trump's $1.5 trillion of late-2017 tax cuts, and the administration's import duties on China have sparked fears of a full-blown trade war that might hurt both nations. 
The current economic-growth cycle, which began in June 2009 as the global financial crisis relented, is already the second-longest in history, at nearly 10 years, and twice the average since 1945 of about five years. In February, a survey by the National Bureau of Economic Research showed that three-quarters of business economists expect a recession by the end of 2021. More than half said it would come by the end of next year.
A report Wednesday from the payrolls company Automated Data Processing showed that private companies in the U.S. added jobs in March at the slowest pace in 18 months.
But Dimon, 63, doesn't see a recession coming. 
"We are not predicting a recession," Dimon wrote in his annual shareholder letter, published Thursday on the New York-bank's website. "Employment and wages are going up, inflation is moderate, financial markets are healthy, and consumer and business confidence remains strong."
Dimon has had his share of gaffes, most notably the "London Whale" trading debacle of 2012, which brought more than $6 billion of losses from derivatives trades. But it doesn't hurt his credibility that he's managed to survive at the top of the $2.6 trillion lender for 13 years, longer than any of his peers. (Just ask Tim Sloan, the recentl -departed CEO of rival Wells Fargo  (WFC) - Get Report , who lasted less than three years).
But like all seasoned Wall Street financiers, Dimon is talking his book: An economic contraction would saddle JPMorgan with steep loan defaults, while reducing revenue growth and potentially leading to outsize losses in the bank's sprawling bond- and stock-trading operations. (By the way, JPMorgan is prepared for all this, according to Dimon0.
As a giant mortgage maker, credit-card company and corporate lender, JPMorgan has as good a view as any of household and business finances. 
On that front, things look sanguine: Consumers have gotten their households "in rather good shape" with manageable debt, Dimon wrote. "Housing, though not particularly strong, is in short supply in many U.S. cities, which should eventually be a tailwind."
The national debt, driven to about $22 trillion by Trump's nearly $1 trillion-a-year budget deficits, is not yet "at the danger level."  
The recent drop in long-term Treasury-bond yields below those on short-term U.S. government bills -- a classic warning sign of a coming recession known as the "inverted yield curve" -- is just a market distortion due to global central banks' plying the financial system with trillions of dollars of extra money in the decade after the 2008 crisis, according to Dimon.
"I would not look at the yield curve and its potential inversion as giving the same signals as in the past," Dimon wrote. "There has simply been too much interference in the global markets by central banks and regulators to understand its full effect."
Corporate executives as a lot tend to be more optimistic than investors. The executives, after all, are paid handsomely to get their stock prices up. Dimon made $31 million last year, the most among big-bank CEOs. 
Indeed, a survey of 158 chief financial officers released Wednesday by the accounting firm Deloitte found that nearly three-quarters of respondents expect a "deceleration of economic activity" by the end of next year, but only 15% foresee an "extended decline." Fewer than 40% of the financial chiefs said their company has a "detailed defensive plan."
Dimon, for his part, said he's confident and optimistic about JPMorgan's prospects as a business, but even if the economy doesn't look headed for a recession at the moment things don't look so rosy.
He said he's worried about the growing risk of "bad policy errors."
He doesn't mention Trump by name in the 51-page letter; generally speaking, few CEOs like to openly criticize a sitting president due to the economic and political power that the White House wields.
Even so, Dimon said the "world is better off" with global institutions such as the North Atlantic Treaty Organization, World Trade Organization and United Nations -- all institutions that Trump has criticized.
Many of the crucial economic reports that investors and the Federal Reserve have monitored closely this year were delayed due to Trump's 35-day government shutdown because of his insistence on a wall along the border with Mexico. It was the longest government shutdown in U.S. history.  
"There's now "less certainty around American global leadership," Dimon wrote.  
It's not just America: "Geopolitical tensions are growing," Dimon wrote. "Let me mention a few: Russian aggression, Middle East conflicts, Venezuela, North Korea, Iran, Turkey, Brexit and European politics generally."
But to Dimon, bad policymaking is a major problem -- major enough to spend the last 11 pages of his letter discussing it. 
Governments, schools, unions, media and businesses have lost credibility in the eyes of the public, Dimon wrote. (Another problem, according to the CEO, is excessive banking regulation).    
"While we remain optimistic about the long-term growth of the United States and the world, the near-term economic and political backdrop is increasingly complex and fraught with risks - both known and unknown," Dimon wrote. "And we face a future with less overall confidence in virtually all institutions, from corporations to governments."
"Certain factors, like confidence, which we know is important, can be easily damaged by bad policy, unexpected events or even high market volatility," he wrote. "The next recession may not resemble prior recessions. Next time, the cause may be just the cumulative effect of negative factors, the proverbial last straw on the camel's back."
It's certainly not unprecedented for corporate executives to complain about bad policy.
But Dimon might not be talking his book - that last straw would be very bad for JPMorgan shareholders.
If that risk is as big as Dimon says it is other CEOs and CFOs might want to detail some defensive plans.
How Much Money Will I Need to Retire?
Want to learn about retirement planning from some of the nation's top experts? Join TheStreet's Robert "Mr. Retirement" Powell live in New York on April 6 for our Retirement Strategies Symposium. For a limited time, tickets are available for $99 for this full-day event. Check out the agenda, learn about the speakers and sign up here.
Investing Education Quick Clips | A Playlist for Your Portfolio