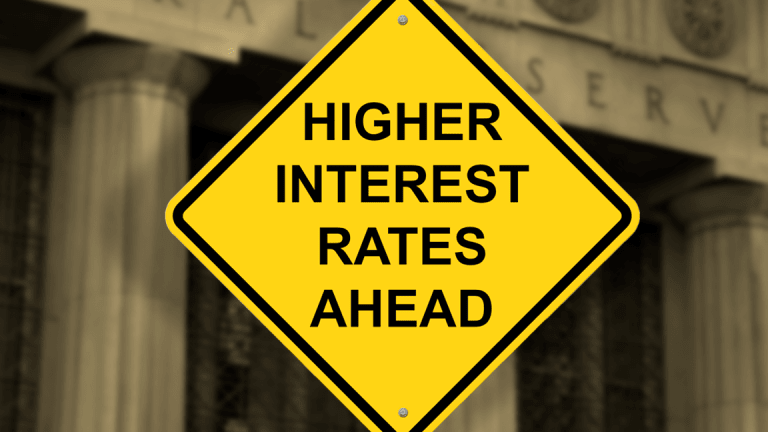 JPMorgan, Bank of America's Veiled Losses on Bond Holdings Pose Valuation Risk
Rising U.S. interest rates have eroded the value of hundreds of billions of dollars of bonds and loans, raising doubts about banks' valuations..
The impressive earnings reports released this month by JPMorgan Chase & Co. (JPM) - Get JPMorgan Chase & Co. (JPM) Report , Bank of America Corp. (BAC) - Get Bank of America Corp Report , Citigroup Inc. (C) - Get Citigroup Inc. Report and Wells Fargo & Co. (WFC) - Get Wells Fargo & Company Report disguise a hidden threat for investors in bank stocks:
billions of dollars of paper losses on the combined $1.2 trillion of bonds and loans they hold as investments.
As the Federal Reserve pushes interest rates higher, those losses are poised to swell, possibly leading to drastic cuts in banks' valuation. It's simple bond math: bond prices fall when interest rates rise. And thanks to creeping fears of a surge in inflation and nervousness among investors about the U.S. government's $21-trillion-and-growing debt, interest rates have been climbing -- fast.
While bank executives and most Wall Street analysts have been arguing for years that banks would benefit from higher interest rates in the form of fatter loan payments, the third-quarter results show that the trend can also bring damaging losses.
That's why the risk of losses from rising rates is the "most important" issue bank investors should focus on right now, according to Dick Bove, chief strategist at Rafferty Holdings' Hilton Capital Management, who has been covering the financial industry for more than five decades. And the only viable investment strategy is to sell bank stocks, he says: With interest rates marching higher, investors should have little confidence in the future value of banks' assets.
"If you don't know what the real value of the assets are, you have no clue what the value of the equity is," Bove said in a phone interview. "And if you don't know what the value of the equity is, but you know it's lower than what's stated on the balance sheet, why would you buy the stock?"
U.S. economic history has never seen the Federal Reserve raise interest rates from near zero, which is where the central bank held them for several years after the 2008 the financial crisis. On that basis, Bove figures, interest rates have already climbed 21-fold since 2015 -- due to the historically low starting point: a near-zero denominator.
One reason few Wall Street analysts are obsessing over the losses on the investment securities is that they're hard to find in banks' earnings press releases, with spotty and inconsistent disclosures across the industry. That's partly due to the vagaries of accounting rules, themselves the messy product of vigorous corporate lobbying.
Bank of America and Citigroup are the only ones who disclose the market losses clearly, on an after-tax basis, so that they're comparable to net income; Wells Fargo only discloses the losses on a pre-tax basis. JPMorgan doesn't break them out at all, until several weeks later, when the bank files its quarterly report with the Securities and Exchange Commission. (In other words, the losses are so serious -- and real -- that the banks might get in trouble with regulators if they didn't disclose them in SEC filings.)
Under the accounting rules, the banks aren't required to deduct the bond losses from net income. That helps executives report higher headline profits, while giving Wall Street analysts and traders something to cheer about.
But the losses are deducted from "common-equity capital" -- the extra money that regulators require banks to keep on hand to withstand a big economic downturn. The common-equity capital is also used to support new loans or make payouts to shareholders in the form of dividends or stock buybacks.
The deductions are crucial because, as most sophisticated investors know, bank stocks are rarely valued as a multiple of earnings, but as a multiple of common equity. Under the accounting jargon, the losses on the bond portfolios -- usually called "available-for-sale securities" -- are recorded in an account known as "other comprehensive income," or OCI.
It's a tangle of technical terms to describe a simple concept: The banks are losing money on their giant bond holdings.
Take Bank of America, for example. The company reported a third-quarter profit of $7.17 billion, up $1.74 billion from the prior year. But unrealized market losses on its $446 billion of bonds and other investment securities totaled $1.17 billion. In other words, roughly two-thirds of the entire bank's year-over-year profit growth would have been wiped out had the company been required to deduct the bond losses from net income.
To be fair to the companies, they have little choice but to hold big bond portfolios: Regulators force bank treasurers and risk-managers to keep a pile of extra cash and bonds on hand, as a source of ready liquidity in the event of a panic-fueled run by depositors or other clients.
But the treasurers do have leeway in what types of bonds they choose to invest the money in: They can buy corporate securities, which are riskier than U.S. Treasuries, to capture a little extra yield. Or they can buy longer-dated bonds, such as 30-year Treasury bonds, instead of short-term bills -- also for a little extra yield, and with a little more risk.
It's the riskier bonds that tend to lose more money, such as when interest rates go up or when the likelihood of default increases on corporate bonds.
The bonds are "a critical component of our overall asset/liability management, which considers many constraints, such as earnings, capital and liquidity," Bank of America spokesman Lawrence Grayson said in an e-mail. "We always look at the trade-off between net interest income and OCI and how long it takes for increased earnings from `up-rate' scenarios to offset the impact to capital."
Citigroup, which has $292.3 billion of investment securities, recorded $600 million of unrealized losses in the third quarter, due to higher interest rates and other market movements.
"The risk of rising rates on our investment securities portfolio is something that we monitor very closely," John Gerspach, the New York-based bank's CFO, told reporters on a conference call on Oct. 12. "We recognize that it is an important risk that investors should be aware of, and we do lay it out for you. It can have an immediate impact on our capital."
Wells Fargo reported $1.5 billion of pre-tax losses during the third quarter on its $263 billion pile of debt securities. A spokesman, Peter Gilchrist, said the after-tax figure wouldn't be available until the San Francisco-based bank files its third-quarter report with the SEC in a few weeks.
JPMorgan, the biggest U.S. bank, doesn't break the number out at all in its earnings release. The bank does provide its "accumulated" other comprehensive income, but that line item represents a grab-bag of moving parts, including not just market losses on the bond holdings but also various hedging-related gains and losses and pension-related accounting adjustments.
For the third quarter, the account fell by $1.29 billion and was deducted from common-equity capital. Historically, bond-market losses have accounted for the biggest chunk of the amounts.
"We don't break out that one piece specifically at earnings," said Andrew Gray, a spokesman for the New York-based bank. "It's all within our total equity number, which to us is the most important."
JPMorgan reported holding $231.4 billion of investment securities at the end of the third quarter.
Bove says he turned skittish on bank stocks around the time it became clear to most investors that interest rates were likely to go higher over the coming year than many traders had previously expected.
During the mortgage crisis, investors lost confidence in banks because they were wary of growing loan losses; a similar dynamic is unfolding now as interest rates go up, Bove says.
The bond portfolios represented roughly 14% of U.S. banks' total assets as of the end of the second quarter, Bove said, citing data from the Federal Deposit Insurance Corp. That's a big chunk in itself.
But the reported losses on that chunk reflects what's likely happening with most other bank assets, including loans, he says: They're worth less, because loans underwritten and bonds purchased today would come with higher interest rates than those underwritten or purchased years or even months ago.
And as interest rates climb, the assets will be worth even less.