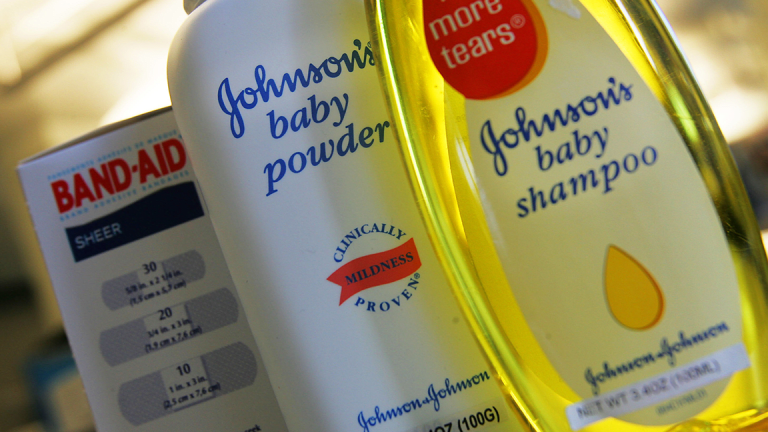 Johnson & Johnson Tumbles After $4.7 Billion Baby Powder-Cancer Link Verdict
Johnson & Johnson was ordered to pay $4.69 billion to 22 women who alleged the company's talc-based products caused them to develop ovarian cancer.
Johnson & Johnson (JNJ) - Get Johnson & Johnson Report shares tumbled Friday after a jury in Missouri awarded $4.7 billion to 22 women who said that the company's talc-based and baby powder products contained asbestos and caused them to develop ovarian cancer.
The jury award in the case included $550 million in compensatory damages and $4.14 billion in punitive damages, according to a statement from the attorneys representing the plaintiffs. The company faces more than 9,000 cases over body powders containing talc, according to its latest quarterly filing with the Securities and Exchange Commission, and has consistently denied that its products are dangerous or contain asbestos. 
"Johnson & Johnson is deeply disappointed in the verdict, which was the product of a fundamentally unfair process that allowed plaintiffs to present a group of 22 women, most of whom had no connection to Missouri, in a single case all alleging that they developed ovarian cancer," the company said in a statement. "The result of the verdict, which awarded the exact same amounts to all plaintiffs irrespective of their individual facts, and differences in applicable law, reflects that the evidence in the case was simply overwhelmed by the prejudice of this type of proceeding."
"Johnson & Johnson remains confident that its products do not contain asbestos and do not cause ovarian cancer and intends to pursue all available appellate remedies," the statement added.
Johnson & Johnson shares were marked 1.21% lower at the opening of trading in New York to change hands at $126.22 each, a move that extends its year-to-date decline to 11%.
Johnson & Johnson is in the midst of five appears to similar verdicts linked to its products, even after the U.S. Food & Drug Administration said a study found "no asbestos fibers or structures in any of the samples of cosmetic-grade raw material talc or cosmetic products containing talc."