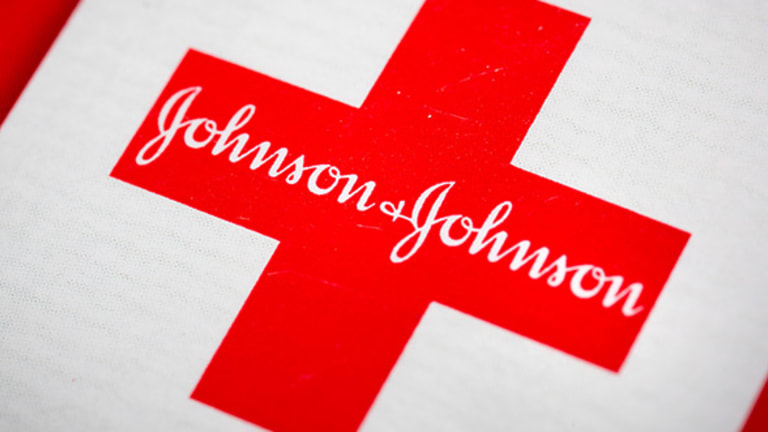 Johnson & Johnson (JNJ) - Get Johnson & Johnson (JNJ) Report posted better-than-expected fourth-quarter earnings and reiterated its aim to look at strategic options for the company that could include mergers or asset sales amid lower 2017 forecasts.
J&J said earnings for the three months ended in December, excluding special items, came in at $1.58 a share, marginally higher than the $1.56 forecast of analysts. Revenue for the quarterly period was tabbed at $18.1 billion, the company said, just shy of the FactSet forecast of $18.26 billion.
However, 2017 adjusted earnings forecasts were set at between $6.93 and $7.08 a share, well shy of analysts' estimates of $7.11. Revenue forecasts were set at $74.1 billion to $74.8 billion, short of forecasts of $75.1 billion.
Leerink analysts said the quarter showed some alarming signs for Johnson & Johnson especially when it comes to pharma, which accounted for about $8.2 billion in sales in the fourth quarter.
"While the miss is likely at least in part due to some mis-modeling of a greater foreign exchange impact exiting the year and extra selling days in the fourth quarter of 2015, this performance could heighten investor anxiety around JNJ's dependence on Pharma -- now over 45% of total sales globally -- given increasing competition for major drugs, i.e. Remicade (just under 10% of total sales), and increasing scrutiny around drug pricing," wrote Danielle Antalffy and Rebecca Wang in a note Tuesday.
"One quarter doesn't make a trend" the analysts said, with the caveat that "given the importance of the Pharma business to JNJ's growth trajectory, this is certainly a trend we will be watching in order to assess the company's ability to drive sustainable mid-single-digit sales growth and even faster EPS growth."
Shares of Johnson & Johnson were down 1.26% in early trading at $112.44. Leerink has an outperform rating on the stock and a $140 per share price target. 
The stock is broadly flat with its pre-election level after a volatile 10 weeks of trading into Donald Trump's inauguration. However, it has gained 17.7% over the last 12 months.
"We are pleased to report that we accelerated our adjusted growth for 2016 over the prior year, and delivered a strong total shareholder return of greater than 15%. The strong adjusted sales and EPS growth was driven by the impressive performance of our Pharmaceutical business and continued momentum in our Medical Device business and share gains while improving profitability in our Consumer business," said Chairman and CEO Alex Gorsky. 
Additionally, J&J said it would evaluate potential strategic options for Johnson & Johnson Diabetes Care Companies, specifically LifeScan, Animas and Calibra Medical.
"Strategic options may include the formation of operating partnerships, joint ventures or strategic alliances, a sale of the businesses, or other alternatives either separately or together," the company said. "All options will be evaluated to determine the best opportunity to drive future growth and maximize shareholder value."
The statement made no mention of Actelion, the Swiss biotech firm in which J&J engaged in merger talks on Dec. 21. Media reports had indicated that the company had reached a tentative agreement earlier this month and could be moving closer to a deal that could see a spinoff of Actelion's research and development assets into a new firm in which existing Actelion shareholders would be able to retain some ownership.