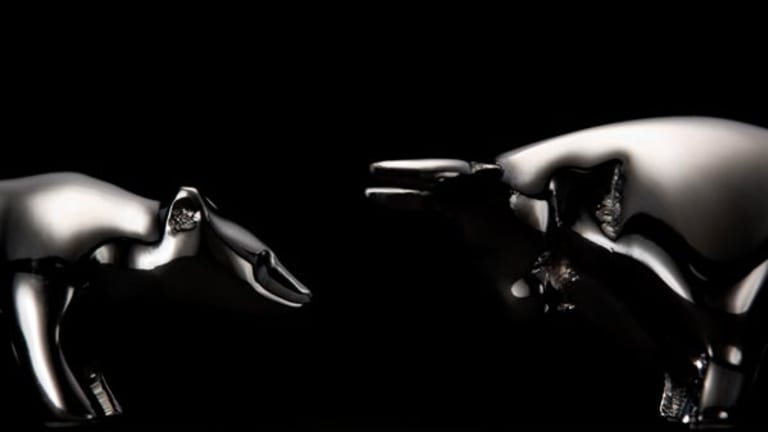 Jobs Report Takes Down Stocks
The growing likelihood of higher interest rates weighs heavily on the market.
Updated from 4:04 p.m. EDT
The stock market tumbled Friday after a blowout jobs report forced investors to confront their worst interest-rate hike fears, as the major indices fell close to their 2004 lows set in late March.
The
Dow Jones Industrial Average
shed 123.92 points, or 1.21%, to 10,117.34; the
S&P 500
lost 15.30 points, or 1.37%, to 1098.69; and the
Nasdaq Composite
lost 19.78 points, or 1.02%, to 1917.96.
Volume on the
New York Stock Exchange
was well over 1.6 billion shares, with decliners beating advancers by about 9 to 1. The Nasdaq posted a rare second to the Big Board, with just over 1.6 billion shares changing hands. Decliners outnumbered advancers by about 7 to 2.
Meanwhile, the 10-year Treasury note plunged, losing 1 8/32 with the yield up to 4.77%, and is now about 100 basis points higher than six weeks ago in the aftermath of a surprisingly weak February jobs report. The dollar posted strong gains against the yen and euro, and crude oil futures were up 1.4% to $39.93 a barrel.The Dow was weighted down by heavy losses in shares of
Home Depot
(HD) - Get Home Depot, Inc. Report
, down 4%, and
General Motors
(GM) - Get General Motors Company Report
, down 3.6%. Semiconductors were a bright spot in tech issues, with the Philadelphia Semiconductor Index up 1%.
"People think that higher rates are going to hurt the blue-chips more than they're going to hurt the tech stocks," said John Bollinger, president of Bollinger Capital Management. "People are trying to discriminate between companies that are trading more on growth prospects vs. companies that are more established. I think people feel that the established companies will be impacted more by rising interest rates."
Bollinger also said that many investors were probably reluctant to take a position into the close with the air of uncertainty that is spreading over the geopolitical picture. "I think having memories of Vietnam dredged back up is a negative for everything, I mean literally for everything that you can think of," he said.
In afternoon testimony on Capitol Hill, Defense Secretary Donald Rumsfeld apologized and held himself accountable for the abuse of Iraqi prisoners by some members of the American military, while troops in Iraq fought ongoing battles against insurgents in the Iraqi cities of Karbala and Najaf.
"
The situation in Iraq has turned into a nightmare, and it is creating a lot of fear and uncertainty and apprehension in the marketplace," Bollinger added.
All three major stock indices were down for the second week in a row. The Dow extended its losing-week streak to three in a row, down just over 1% from the previous Friday's close. The S&P lost 0.8% and the Nasdaq dropped 0.1%.
Paul Nolte, director of investments at Hinsdale Associates, said he is starting to entertain the notion that the bull market that lasted throughout 2003 is done. "From what we've seen in the market internals and just straight technical analysis, it appears that the uptrend is in serious jeopardy of being done," he said. "If you take a look at the market internals, they're already worse or at their lowest levels in close to a year.
"We're seeing high-volume days on down days and low-volume days on advancing days," Nolte added. "All of these things are telling us that the market internals are weaker than what the indices are showing. We fully expect to see the indices catch up to that."
Nonfarm payrolls rose by 288,000 last month, about 100,000 more than the forecast of economists. Also, job growth in March was revised higher to 337,000 from its original reading of 308,000. The jobless rate, previously expected to remain unchanged in April at 5.7%, slipped to 5.6%. Average hourly earnings rose 0.3%, slightly more than expected.
The report surprised Hugh Johnson, chief investment officer at First Albany. "It's stronger than I expected, stronger than the Street expected, and it implies that the Fed may consider moving up its timetable for raising short-term interest rates from August to June," he said.
"Obviously, the good news of a strong economy and employment is somewhat offset or neutralized by the bad news of rising interest rates," Johnson added.
Among stocks,
Nvidia
(NVDA) - Get NVIDIA Corporation Report
was up 0.8% after the company reported better-than-expected first-quarter earnings and guided up second-quarter revenue. The graphics chipmaker earned $21.3 million, or 12 cents a share, in the latest quarter compared to earnings of $19.7 million, or 12 cents a share, last year. Revenue was $471.9 million. Analysts had been expecting earnings of 10 cents a share on revenue of about $460 million in the quarter. Nvidia forecast second-quarter revenue of $500 million, slightly higher than estimates. The stock was up 17 cents to $22.08.
Doughnut maker
Krispy Kreme
(KKD)
was being punished after saying that growing consumer disdain for high-carbohydrate foods would result in lower first-quarter earnings. The company expects to report net income of 23 cents a share before various items, about 4 cents below the analyst consensus. The shares were recently down $9.29, or 29%, to $22.51.
Shares of
Martha Stewart Living
(MSO)
shed 61 cents, or 6.3%, to $9.09 after the company posted a wider first-quarter loss, hurt by a drop in advertising during its founder's high-profile criminal trial. It recorded a first-quarter net loss of $20.3 million, or 41 cents a share, compared to a loss of $4.5 million, or 9 cents a share, in the same quarter last year. Also, after Martha Stewart was convicted of lying to the feds about her sale of
ImClone
(IMCL)
in March, the company said it would retain her name on its flagship magazine but place "greater emphasis on the name 'Living' as the brand label."
Overseas markets also bore losses, with London's FTSE closing down 0.4% to 4498 and Germany's Xetra DAX losing 0.3% to 3896. In Asia, Japan's Nikkei fell 1.2% to 11,439, its fifth straight loss, and Hong Kong's Hang Seng fell 0.9% to 11,911.