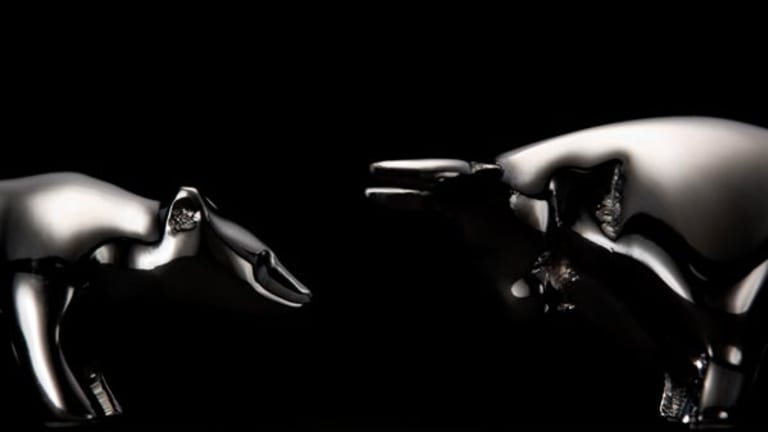 Publish date:
Jobs Report Brings Out Bulls
The S&P hits a record, while the Nasdaq surges.
The S&P hits a record, while the Nasdaq surges.
Updated from 4:30 p.m. EDT
Stocks jumped Friday after a stronger-than-expected report on U.S. job growth helped soothe fears of a broad economic slowdown.
The
Dow Jones Industrial Average
rose 91.70 points, or 0.66%, to 14,066.01, having touched a record intraday high of 14,124.54. The
S&P 500
added 14.75 points, or 0.96%, to 1557.59, an all-time closing high.
The
Nasdaq Composite
surged 46.75 points, or 1.71%, to 2780.32, boosted by a strong earnings report from big tech name
Research In Motion
(RIMM)
.
Paul Nolte, director of investments with Hinsdale Associates, said that even though the averages lost some steam before the close, it was a positive end to a strong week that may carry over to next week, when earnings season unofficially kicks off with
Alcoa's
(AA) - Get Report
report Tuesday.
"The earnings reports next week may actually trump estimates and the market will sustain," said Nolte. "Expectations are pretty low and investors have discounted the financial sector, so we may look at the other sectors like industrials and health care do."
The major indices notched their fourth winning week in a row. The Dow added 1.2%, the S&P 500 climbed 2%, and the Nasdaq jumped 2.9% for the week.
Breadth was overwhelmingly positive Friday. On the
New York Stock Exchange
3.04 billion shares changed hands, as advancers topped decliners by a 3-to-1 margin. Volume on the Nasdaq reached 2.02 billion shares, with winners outpacing losers nearly 7 to 3.
Stocks' gains came after a Labor Department report said that the U.S. economy added 110,000 workers last month, easing, at least momentarily, the worst concerns about the health of the job market. Economists had expected 100,000 jobs to be added last month, according to
Bloomberg
.
August's number was revised higher and now shows a gain of 89,000 jobs. Last month, the Labor Department said 4,000 jobs were lost. Many market participants cited August's weak nonfarm payrolls report as the reason the
Federal Reserve
slashed its fed funds target rate by 50 basis points when it last met on Sept. 18.
While stocks climbed on the new data, the numbers suggest that the Fed will be reluctant to cut rates again. The policymaking Federal Open Market Committee next convenes for a two-day meeting on Oct. 30.
"As much as the employment report was good news for the market, we're now dealing with the fact that a rate cut was premature," said Nolte. "Should the Fed still cut rates over the next few months? This is the conundrum the market has found itself in. We're seeing some large month-to-month swings in revisions, so we'll be looking for confirming factors."
Marc Pado, U.S. market strategist with Cantor Fitzgerald, argued that the revision to August's data should excite investors.
"Think of the fact that we got a 50-basis point rate cut based on August's decline of 4,000 jobs. That number was revised to 89,000. Now we got lower rates and a modest growth economy. It doesn't get any better than that," he said.
As expected, the unemployment rate rose to 4.7% from 4.6%, while average hourly earnings rose 0.4%, slightly above expectations.
"A rising unemployment rate is more or less a done deal," said Ian Shepherdson, chief economist with High Frequency Economics. "Nothing motivates the Fed to cut rates more than a loosening labor market."
Shepherdson added that investors should ignore the increase in average hourly earnings, as this will slow as unemployment rises.
U.S. Treasury prices were sharply lower on the data. The 10-year note was off 1-2/32 in price, pushing the yield to 4.65%. The 30-year bond was tumbling 1-24/32 in price, yielding 4.87%.
Several equity names were in the headlines.
Merrill Lynch
(MER)
said that it will record nearly $5.5 billion in writedowns tied to the summer's subprime mortgage meltdown and credit crunch. The charges will result in a third-quarter loss of 50 cents a share, the financial giant said. Merrill Lynch gained $1.89, or 2.5%, to $76.67, as investors hoped the worst was behind the company.
Another big bank,
Washington Mutual
(WM) - Get Report
, also warned of heavy writedowns and projected a 75% decline in third-quarter profits. WaMu, however, ended up 79 cents, or 2.2%, to $36.07.
Also in the financial sector,
ABN Amro's
(ABN)
shareholders are set to vote on a $101 billion offer for the bank made by a consortium led by the Royal Bank of Scotland. A published report said a competing bid from
Barclays
(BCS) - Get Report
is likely to be unsuccessful.
Research In Motion surged nearly 13% after the BlackBerry maker posted in-line fiscal second-quarter results and guided higher for the current quarter. RIM added $12.83 to $113.37.
Also after last close, Alcoa said it would incur a charge of $845 million in the third quarter due to restructuring costs. The company expects to sell its packaging and consumer businesses by next year. Alcoa rose $1.13, or 3%, to $38.79.
Fellow Dow component
General Electric
(GE) - Get Report
was also out with news late, saying it will eliminate 1,400 jobs. The cuts come as GE plans to close several plants in its lighting business as it shifts focus away from incandescent bulbs to more-energy-efficient products. Shares of GE advanced 7 cents, or 0.2%, to $41.77.
The dollar rose, while commodities were mixed. Crude oil slid 11 cents to close at $81.22 a barrel. Gold was tacking on $3.40 to $747.20 an ounce.
Overseas indices were mostly higher. Hong Kong's Hang Seng Index jumped 3.2%, and both London's FTSE 100 and Germany's Xetra Dax added 0.7%. Japan's Nikkei 225 slipped 0.2% overnight.