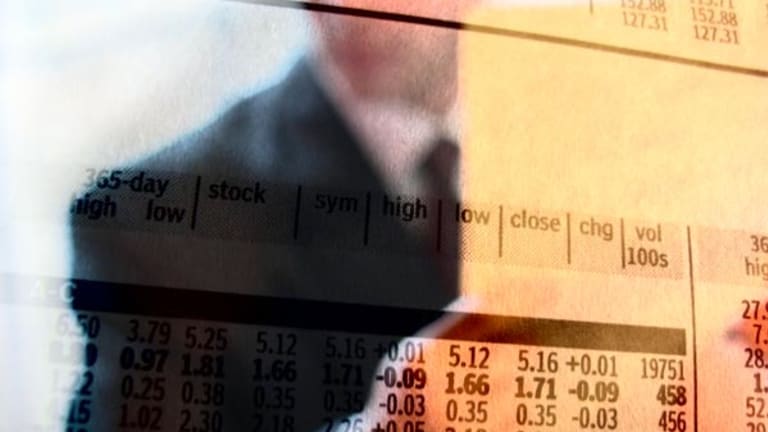 Jobs Data Send Stocks to Lower Close
A slew of profit warnings also sets a negative tone.
Updated from 1:06 p.m. EDT
Stocks ended Thursday's shortened session with losses as investors grappled with a weak reading on the labor market and a series of profit warnings from a variety of sectors.
Markets closed at 1 p.m. EDT, with the
Dow Jones Industrial Average
down 72.63 points, or 0.8%, to 9070.21. The
Nasdaq
fell 15.28 points, or 0.9%, to 1663.45, while the
was lower by 8.05 points, or 0.8%, to 985.70.
Despite the lower close, all three had gains for the week, with the Dow ending up 81.16 points, the Nasdaq rising 38.19 points and the S&P adding 9.48 points.
Markets sank early after the Labor Department said the unemployment rate rose to the worst level since April 1994, hitting 6.4% in June, up from 6.1% the previous month and above economists' estimates of 6.2%. Nonfarm payrolls unexpectedly fell by 30,000, after declining 70,000 in May. Economists had predicted the number would remain unchanged in June.
Also, weekly first-time jobless claims rose to 430,000 in the week ended June 28, more than the expected 412,000 and above the previous week's 409,000. But despite the negative tone of the labor reports, the market reaction was muted and losses stayed moderate.
"I think one reason
we weren't down more is that
unemployment is a lagging indicator. It's certainly worth noting but I don't think it's a driving force. The market took it negatively but the ISM number was strong and that muted the negative response," said Peter Coolidge, portfolio manager at Deltec Asset Management. "Right now we're treading water. You can't build much into what market doing today because of short session. The bulls would say this is a positive sign that we can get negative economic news and the market can digest it and come off the lows."
In fact, markets were briefly positive after a promising report from the ISM nonmanufacturing index, which came in at 60.6 for June. That's well above the 55 expected by analysts and a sizable improvement from May's reading of 54.5.
But with the second quarter over and earnings season kicking off Monday, a wide variety of companies were giving earnings guidance, most of it weak.
Software maker
Siebel Systems
undefined
predicted earnings and revenue for the second quarter will be slightly below what analysts had expected. The software company said customers are delaying purchases in light of economic uncertainty. Shares rose 34 cents, or 3.6%, to $9.80. ADRs of German rival
SAP
(SAP)
dropped 75 cents, or 2.5%, to $29.21.
The negative tone continued with software provider
webMethods
(WEBM)
, which lowered revenue guidance for its fiscal first quarter, citing unexpected weakness in North American operations. Shares fell 27 cents, or 3.2%, to $8.10.
Another company disappointing investors was medical-device maker
Boston Scientific
(BSX)
, which warned that its full-year earnings could miss analysts' projections as second-half results appear set to fall short of Wall Street's targets. Shares were off 53 cents, or 0.9%, to $62.56.
Bucking the trend,
Knight Trading
(NITE)
, a market maker in Nasdaq securities, guided its earnings estimate significantly higher for the second quarter, saying the trading environment has improved. Knight shares were up $1.89, or 28.3%, at $8.56.
Those comments helped online broker
Ameritrade
(AMTD)
gain 46 cents, or 6.2%, to $7.88 before the opening bell. On Wednesday, Merrill Lynch had mentioned that the online brokers are a good near-term play, based on trading volume and market conditions. But the sector's shares failed to react to the report.
Terayon Communications
(TERN)
rose 59 cents, or 20.3%, to $3.50, after telling analysts that second-quarter losses would be narrower than expected. Meanwhile,
Select Comfort
undefined
, which is up more than 350% over the last 12 months, said second-quarter sales rose 32%, easily topping analyst estimates. Select Comfort shares rose $2.52, or 14.9%, to $19.45.
Small-cap names were also warning.
Tweeter
(TWTR)
, the consumer electronics chain, fell $1.53, or 15.9%, to $8.07, after the company warned third-quarter earnings and revenue would miss estimates, citing a change in media strategy. Elsewhere,
ECI Telecom
undefined
shares fell 38 cents, or 12.9%, to $2.57 after the company warned that second-quarter losses would be even deeper than expected and revenue would also miss targets.
Solutia
(SOI)
, which makes chemicals, warned that second-quarter earnings would miss estimates due to higher costs for raw materials and energy. Shares were off 53 cents, or 23.6%, to $1.72.
Irwin Financial
(IFC)
shares plunged $2.70, or 10.6%, to $22.68, after warning that second-quarter estimates would be way under current estimates of a 68-cent per share profit.
Among analyst actions,
CIT Group
(CIT)
shares fell 42 cents, or 1.7%, to $24.33 after Morgan Stanley slashed its 2003 and 2004 earnings estimates below Wall Street consensus.
Dow Chemical
(DOW)
shares fell 53 cents, or 1.7%, to $30.61 after Banc of America cautioned investors that the chemical company's balance sheet looked strained.
Morgan Stanley lifted its rating on the French media giant
Vivendi Universal
(V)
to equal-weight from underweight, based on the expected higher value of its U.S. media assets. Vivendi shares were off 5 cents, or 0.3%, to $18.33.
Treasury prices were getting hammered, with the yield on the 10-year note jumping to 3.65%. June Brent crude rose in London. The dollar strengthened against the yen and the euro.
Overseas markets were mixed, with London's FTSE 100 closing down 0.5% at 4025 and Germany's Xetra DAX down 0.7% at 3220. In Asia, Japan's Nikkei closed 0.3% higher at 9624, while Hong Kong's Hang Seng gained 0.5% to 9646.
Markets rallied Wednesday. The Dow Jones Industrial Average closed 1.1% higher at 9142. The S&P 500 gained 1.2% to 993, while the Nasdaq advanced 2.4% to 1678, its highest close in more than a year.