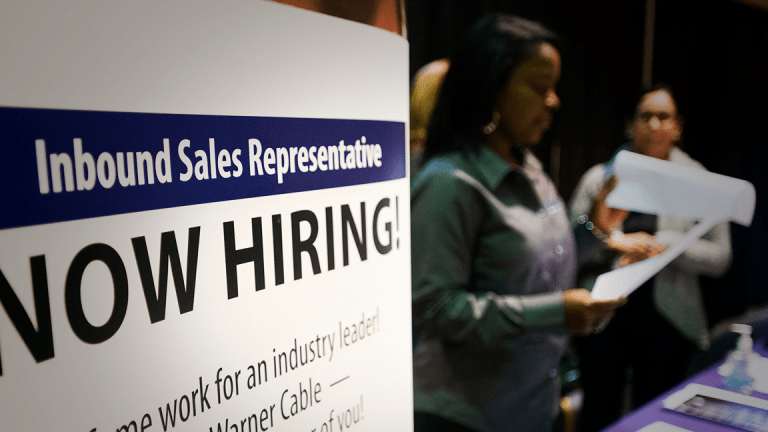 U.S. Job Openings Fall to 7.3 Million in May
The number of job openings fell to 7.3 million in May, the Bureau of Labor Statistics says.
The number of job openings fell by 49,000 to 7.3 million in May, the Bureau of Labor Statistics said Tuesday.
The bureau's Job Openings and Labor Turnover Survey found that over the month hires fell to 5.7 million and separations dipped to 5.5 million. Within separations, the quits and the layoffs and discharges rates were unchanged at 2.3% and 1.2%, respectively.
Job openings decreased in a number of industries, the survey said, with the largest decreases occurring in construction, transportation, warehousing, utilities, and real estate and rental and leasing.
The job openings rate was 4.6%, the survey said. The number of job openings was little changed for total private and decreased for government by 54,000.
"Today's numbers are an indication that 2019 will see a slower pace of improvement in the labor market," said Nick Bunker, economist at the Indeed Hiring Lab. "Last year's growth was quite strong, and a comedown from those highs makes sense. However, a loss of momentum means there might be pockets of workers who won't feel the full effects of this tighter labor market."
The number of hires decreased by 266,000 to 5.7 million in May, while the hires rate was 3.8%, down from 4% in April. The hires level fell for total private by 262,000 and was little changed for government. Hires decreased in professional and business services by 129,000. The number of hires was little changed in all four regions.
Over the 12 months ending in May, hires totaled 69.5 million and separations totaled 66.9 million, yielding a net employment gain of 2.6 million. The totals include workers who may have been hired and separated more than once during the year, the survey said.
"Right now, the labor market appears to be easing back into its 2016-2017 groove," Bunker said. "The labor market looks likely to get stronger, but its pace of improvement might not be fast enough to get to full employment."
The JOLTS survey follows the official Labor Department report that found nonfarm payrolls rose by 224,000 in June. The jump represented a sharp increase from May's jobs growth of 72,000, which was below the recent average of about 200,000 new jobs generated per month.