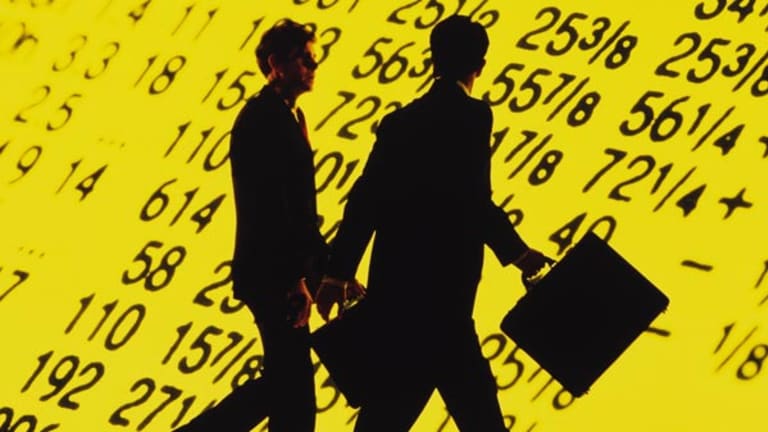 Job Losses Sink Wall Street, Sentiment
Stocks in New York end with losses as the Labor Department reports the worst year for unemployment since 1945 and as news of more layoffs emerges.
Updated from 4:10 p.m. EST
No end-of-day relief emerged for stocks on Wall Street Friday as a heavy dose of bitter jobs news took the bulls solidly by the horns.
The
Dow Jones Industrial Average
lost 143.28 points, or 1.6%, to 8599.18, and the
S&P 500
ended down 19.38 points, or 2.1%, at 890.35. The
Nasdaq
sank 45.42 points, or 2.8%, to 1571.59.
For the week, the Dow lost 435.51 points, or 4.8%; the S&P gave up 41.45 points, or 4.4%; and the Nasdaq retreated 60.62 points, or 3.7%.
A variety of news concerning
Citibank
(C) - Get Report
crossed the wires in the final hour of trading, but it was the most recent jobs data, released ahead of the opening bell, and news of more layoffs across industries that set the tone on Wall Street Friday.
In the most highly anticipated data release of the week, the Labor Department said Friday that the
U.S. lost 524,000 jobs in December
, in line with estimates. The figure was considerably better than a forecast released by ADP Employment Service earlier in the week had suggested it might be.
The unemployment rate, however, was worse than expected, rising to 7.2%. For all of 2008, the economy lost a net total of 2.6 million jobs, the most since 1945.
The release of the data "reminds us that the economy is facing major headwinds as we start the New Year," says Michael Sheldon, chief market strategist at RDM Financial Group, in an email. Moreover, he says, news on the labor front is likely to continue getting worse before it gets better.
Adding to the numbers,
Boeing
(BA) - Get Report
said Friday it would eliminate 4,500 jobs due to the economic downturn. Shares edged down just 0.8% to $44.45.
"There's no disagreement that the economy is in dire straits and we need to create jobs," said President-elect
Obama
, as he introduced his intelligence appointments on Friday.
Behind the statistics flashing on the screens are real lives, said the president elect, urging Congress to focus on readying and passing an economic stimulus plan. "What we can't do is drag this out when we just saw half a million more jobs lost."
If there's a silver lining, said RDM Financial's Sheldon, you might argue that the jobs report reflects the severe credit crises that we experienced late last year, but doesn't yet account for an of the recent improvements in the credit markets, or the large upcoming stimulus plan.
Indeed, economic data and monetary policy are becoming more peripheral as investors are already baking in the expectation for some sort of stimulus package, says Chris Johnson, CEO and chief investment strategist of Johnson Research. Rather, he says, focus has shifted to the first earnings season of the year, and we are starting to see companies like
Chevron
(CVX) - Get Report
,
Intel
(INTC) - Get Report
and Alcoa adjusting their outlooks for 2009. As those roll in, we have a good chance of retesting November lows, says Johnson.
The recession looks to be longer and more severe than originally forecast, said Boston
Federal Reserve
President Eric Rosengren, in an address at the Massachusetts Mortgage Bankers Association Friday. "Still, there are indications that the second half of the year will show improvement," he said.
The world's biggest
oilfield services companies
are also weighing cuts after crude and natural gas prices dropped, leading oil companies to decrease spending on exploration and production in 2009, according to an
Associated Press
report.
Schlumberger
(SLB) - Get Report
announced a 5% reduction of its North American workforce along with international job cuts on Friday, while the chief executive of
Weatherford International
(WFT) - Get Report
, the fourth-largest services firm, said last month that job cuts would likely be unavoidable amid a sharp downturn in North American activity.
Schlumberger lost 6.2% to $43, and Weatherford shed almost 6% to $12.81.
Halliburton
(HAL) - Get Report
and
Baker Hughes
(BHI)
were also among the greatest decliners Friday, losing 10.2% and 7.4%, respectively.
Meanwhile, oil giant
Chevron
warned late Thursday that its fourth-quarter earnings will suffer from the huge declines in crude prices at the end of 2008. Shares gave up 1.9% to $72.82.
Elsewhere, those overseeing the Troubled Asset Relief Fund (TARP), which has extended the first half of $700 billion to banks in need, are calling for more accountability before the second half is shelled out. Harvard Law School Professor Elizabeth Warren, who chairs a panel charged with overseeing the Treasury Department's Troubled Asset Relief Program, urged Congress to consider whether prospective beneficiaries will be accountable and transparent their use of the money and whether it will be used for the purpose for which it was intended.
Meanwhile, Rep. Barney Frank, who heads the House of Representatives Financial Services Committee, said a draft bill would be released later on Friday proposing rules and revisions for those partaking in the program. Franks expects there could be a House floor vote on the bill next week.
Separately, senate Democrats said late Thursday that they'd reached an agreement with Citigroup to support a bill that would allow bankruptcy judges to alter the
owed by consumers filing for bankruptcy, aiming to alleviate foreclosures for those consumers.
Late Friday afternoon, Citigroup announced that Robert Rubin, senior counselor and a director at the bank and former Treasury secretary was resigning.
Rubin
has come under fire over the past two months for his role in encouraging the New York bank's foray into toxic debt that has laid waste to its balance sheet.
In possible further changes for the bank,
CNBC
also reported that Citigroup and
Morgan Stanley
(MS) - Get Report
are in talks about merging their brokerage businesses. Citigroup sank 5.7% to $6.75 in regular trading. Morgan rose 1.3% to $19.06.
Then, in another high-profile departure announced late in the day,
GMAC Financial Services
Chairman J. Ezra Merkin resigned from the board of the finance company.
, who had invested in funds run by disgraced market maker Bernie Madoff, is facing legal action from the fallout of Madoff's alleged Ponzi scheme. The New York Law School is suing Merkin and his investment partnership Ascot Partners LP for investing, and losing, with Madoff.
In other news, the private-equity arm of collapsed investment bank
has reached an agreement to spin out into an independent firm, taking in a new investment from luxury-goods billionaire Johann Rupert, according to
The Wall Street Journal
.
The dollar declined against the yen but strengthened against the euro and pound. Oil prices fell 87 cents to settle at $40.83 a barrel, while gold added 50 cents to settle at $855 an ounce.
Longer dated Treasuries were mixed; the 10-year note was rising 16/32 to yield 2.4%, and the 30-year was flat, yielding 3.1%.
Overseas, the FTSE in London and the DAX in Frankfurt were falling Friday. In Asia, Japan's Nikkei and Hong Kong's Hang Seng ended with losses.
Copyright 2009 Associated Press. All rights reserved. This material may not be published, broadcast, rewritten or redistributed. AP contributed to this report.