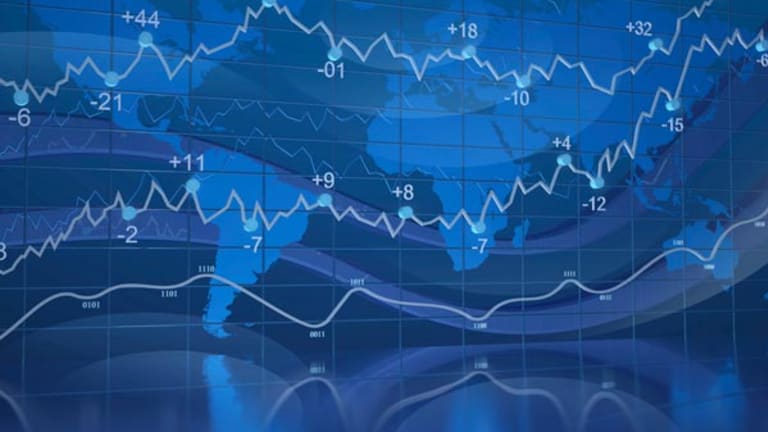 Jitters Spread Through Asia
The second consecutive weekend selloff has some traders seeing reflections of 1997.
Jitters over renewed weakness in key benchmark levels in Hong Kong led a region-wide selloff Monday, as investors pummeled the Hang Seng down 1068 points, to 24,053 and Shanghai's exchange plunged 342 points, to 4419. The Nikkei also fared badly, losing 541 points, or 4%, to 13,087.
"On Friday punters took the market way up, but there was light institutional buying," says Bryan Watkins, a trader at Daiwa Securities in Hong Kong. "It was quiet on the trading floor. As those spreads got thinner people started to take the offers. Now the spreads are widening."
Other Asian market participants say the repeat selloff, which follows a steep decline in the Asian markets early last week, is a trend that is fast following the 1997 "Asian contagion," where the region suddenly went into a deep decline.
China Watch: CTrip.com
var config = new Array(); config<BRACKET>"videoId"</BRACKET> = 1392523654; config<BRACKET>"playerTag"</BRACKET> = "TSCM Embedded Video Player"; config<BRACKET>"autoStart"</BRACKET> = false; config<BRACKET>"preloadBackColor"</BRACKET> = "#FFFFFF"; config<BRACKET>"useOverlayMenu"</BRACKET> = "false"; config<BRACKET>"width"</BRACKET> = 265; config<BRACKET>"height"</BRACKET> = 255; config<BRACKET>"playerId"</BRACKET> = 1243645856; createExperience(config, 8);
"It probably won't be as dramatic, but it's possible," says Andrew Clarke, a trader at SG Securities in Hong Kong. "Asia is better equipped to deal with it, but that doesn't mean it won't happen."
Market participants are divided on the direction of the Hang Seng now, which is considered a proxy for regional markets. The most bearish say the bottom may be 18,500 points, which they point out is consistent with the trend that seems to be mirroring the scenario 10 years ago.
Snowstorms in China grounded airline and oil stocks.
China Eastern Airlines
(CEA) - Get China Eastern Airlines Corp. Ltd. Report
plummeted 10%, to 15.62 yuan, while
Air China
(AIRYY)
lost by the same percentage, to 21.73 yuan.
PetroChina
(PTR) - Get PetroChina Co. Ltd. Report
dived 8.1%, to 24.02 yuan.
Other losers included
Sinopec Shanghai Petrochemical
( SHL), down 5%, at 13.22 yuan, and
Aluminum Corp of China
(ACH) - Get Aluminum Corp. of China Ltd. Report
, off 10%, at 30.10 yuan.
In Hong Kong, financials were hit the hardest, and some dealers now say that
Hang Seng Bank
(HSNGY)
is a favorite to short, since it still trades at 6.13 times book price vs. 1.6 times book price for parent
HSBC Holdings
(HBC)
. Hang Seng bank lost 2.2%, to HK$150.70, while HSBC Holdings fell 3.3%, to HK$116.50.
Insurer
Ping An
(PIAIF)
slipped 6.9%, to HK$63.50, while market leader
China Life Insurance
(LFC) - Get China Life Insurance Co. Ltd. Report
dropped 6.3%, to HK$31.40.
In Frankfurt, ADRs of technology stocks were tracking a decline in shares of
Alibaba.com
( ALBCF), which finished 5.6% lower, at HK$20.20.
Baidu.com
(BIDU) - Get Baidu Inc. Report
was down 4.3%, while
Sina
(SINA) - Get SINA Corp. Report
was shedding 7.7%, by midday.
"I wouldn't touch those tech shares with a bargepole -- I think you're insane if you do," says SocGen's Clarke. He says that if investors want to play anything tech-related, China Mobile is the best bet, although he cautions that the stock may fall further.
China Mobile
(CHL) - Get China Mobile Ltd. Report
dived 4.8%, to 117.10, while the smaller telco
China Telecom
(CHA) - Get China Telecom Corp. Ltd. Report
lost 4.9%, to HK$5.62.
China Unicom
(CHU) - Get China Unicom (Hong Kong) Ltd. Report
slipped 4.8%, to HK$17.20, but
China Netcom
(CN) - Get Xtrackers MSCI All China Equity ETF Report
held up better, off 1.7%, at HK$23.90.
The declines in equity prices, prompted by fears over a U.S. slowdown, led the price of gold 0.6% higher, to $916 an ounce by the end of Asian trading.
In Japan, the yen surged vs. the dollar, to 106.44 vs. 107.61 on Friday. The currency sent exporters spiraling down, with
Nintendo
(NTDOY)
the biggest loser, down 9.6%, to 47,000 yen.
Kobe Steel
(KBSTY)
lost 5.7%, to 348 yen, and
Canon
was off 4.9%, at 4620 yen.
Market participants say that short selling in Asian markets has now given way to institutional redemptions, where funds are forced to sell as a result of investors cashing out. Brokers say that many hedge funds are also sitting heavily on cash, perhaps waiting for another interest rate cut by the
Federal Reserve
to stimulate markets.
"Investors are getting very, very, very, nervous, and you can add another 'very' to that," says Miles Remington, head of trading at BNP Paribas in Hong Kong. "they need earnings."
Other Asian markets were also dragged down. The South Korean Kospi lost 65 points, or 3.9%, to 1627, while the Taiex declined 254 points, or 3.3%, to 7485. In India, the Bombay Sensitive Index held up the most mainly by financial stocks, losing just 208 points, or 1.1%, to 18,152.
Icici Bank
(IBN) - Get ICICI Bank Ltd. Report
soared 11%, to 1259 rupees, and
HDFC Bank
( HBD) leapt 6.3%, to 1601 rupees, on rumors of an expansion in the retail banking sector.
Daniel M. Harrison is a business journalist specialising in European and emerging markets, in particular Asia. He has an MBA from BI, Norway and a blog at
. He lives in New York.