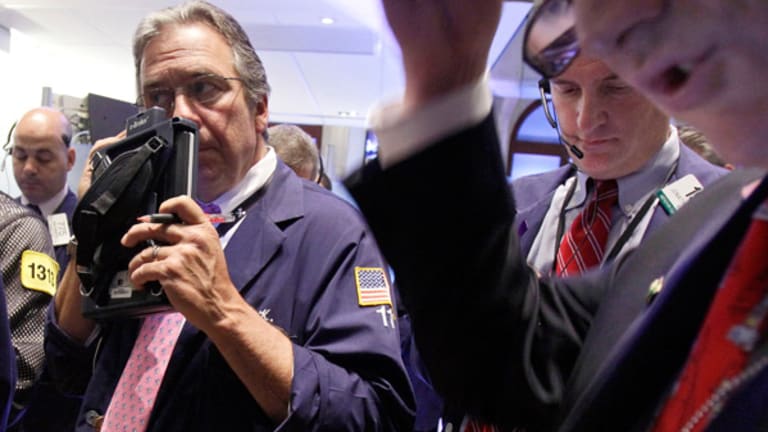 Jim Cramer's Best Blogs
Catch up on his latest thinking on the hottest topics of the past week.
Jim Cramer fills his blog on
RealMoney
every day with his up-to-the-minute reactions to what's happening in the market and his legendary ahead-of-the-crowd ideas. This week he blogged on:
Why First Data's deal will get done;
another Countrywide goading the Fed; and
an abundance of bull markets.
Click here for information on
RealMoney.com
, where you can see all the blogs, including Jim Cramer's -- and reader comments -- in real time.
Why First Data's Deal Will Get Done
Originally published on Sept. 4 at 8:24 a.m. EDT
When Wall Street goes make or break, it tends to make. Right now I know that many people seem genuinely nervous that the
First Data
(FDC) - Get Free Report
deal, the first one out of the shoot, won't get done. That's nonsense, it will get done.
The question, to be blunt, is how much the investment banks want to lose on it.
To me, it might be worth taking the big hit just to clear the decks and get people to "believe" that the worst is over. The buyers' strike can end when every client of
Lehman
( LEH) and
Bear
( BSC) and
Goldman
(GS) - Get Free Report
and
Merrill
( MER) gets pressed into service. There are enough carrots out there to make things happen.
I have seen these moments time and again on Wall Street. We get worried that IPOs can't be priced. Then some get priced at big discounts and people get emboldened and the market comes back.
I think most people don't recall that the dot-com period began with some real giveaways, stoked by the inability of individuals to modulate themselves because they put in market orders to buy stock. That had the effect of making it so institutions could make some quick bucks and then step up to the plate for pricier merchandise. And then the stock market recovered rather quickly from what had been a difficult period.
Of course, we are speaking of high-yield bonds here, but think of it like this: When we were first in this jam, at the beginning of July, bond yields for Treasuries seemed to be in the midst of a charge to 5.5%. That made the risk for a 6% bond, and some of the junk got prices at those levels before the big blowup. Now the 10-year Treasury is at 4.5%, and that means there is plenty of pick-up in yield for whoever buys the next few deals.
Now, consider this: What kind of environment will we have when these deals
do
get done?
There has been nothing new in the deal pipeline for some time. Funds have gotten money in; there's more liquidity. We have identified the weak funds and taken the money away from them. I don't know the overlap between the "structured" funds -- those that do primarily asset-backed securities -- and funds that could use some high-yield. But if the nomenclature of the "high yield" funds is at all right, there are tons of them and tens of billions of dollars around to invest in these deals.
These funds need these deals to work, too. They need to demonstrate their own viability as an asset class, and this is a great opportunity to do so. They need to tell investors that the opportunities have "never been greater," and they will do so. There's so much selling and cajoling going on behind the scenes that you can bet many investors will pull out of structured funds and go with what is left to simple high-yielders, the target market for these deals.
My bet is that the major brokers have their backs to the walls. They recognize that they can take some one-time charges for these pieces of paper and clear the decks. That makes it so the month of September, normally a bad month, might be the moment when the private-equity people strike again as the pipe gets emptied.
That's a very bullish scenario. But it has to happen first. The First Data deal must get done. Wall Street can't afford to let it
not
get done. So it will indeed get done -- regardless of the
Fed
.
At the time of publication, Cramer was long Goldman Sachs.
Another Countrywide Would Goad Fed
Originally published on Sept. 5 at 3:58 p.m. EDT
We're in a difficult moment because all the problems in the world are hidden and all the positives are right in front of our faces.
Try to explain to anyone, including the people who created them, how structured products -- pieces of paper backed up by something no one even understands -- can't be bought or sold right now. I mean, who cares about several hundred billion in crummy paper if it implodes? We can't even tell who gets hurt besides hated hedge funds and some German bank we didn't know existed.
They deserve it. They deserve more than that, actually. We have to take away their livelihood, that's a big and important goal. They were bad actors and they
must
pay.
Ah, but the Beige Book, which shows rear-view growth being right on target --
maybe even too hot
-- is right there for everyone to see, and it indicates that
fundamentals are sound
. The Beige Book says that if it weren't for a little weakness in housing, the
Fed
would be tightening right now. That's a license to short anything that moves! It has given the shorts a chance to shoot fish in a barrel, which should happen again tomorrow.
Without the bad numbers in our faces, what happens is that we have to believe that the Fed will be measured when it eases, in no hurry, and that's not good news because the problems below the surface seem ready to boil over at any minute.
This Fed doesn't know how to communicate anything. It seems to leak important information to friends on Wall Street -- remember that incident right before the discount cut? -- or senators get important information and communicate it. Both times the stock market moved up. I guess they will do it again after a couple of days. To me, the Fed is less transparent than ever and still allows all sorts of Fed people to talk, for heaven knows what reason, except Ben Bernanke.
I believe we won't take out the lows we reached under total duress and with incredible velocity a few weeks ago. But frankly, we need another
Countrywide
( CFC), another something that is just about to go bust, to put the fear right in the faces of the Fed and show that the weaknesses in the system are not abstract.
(By the way, the actual pricing of bonds -- meaning the yields on Treasuries -- shows that my view, that the eocnomy is incredibly weak, is the true picture.)
Without these weaknesses being included in some sort of big number that the Fed looks out for, we will be lucky to see some good news at the next big meeting.
Somehow, I think we will get it, and those "moral hazard" worries will disappear in a heartbeat. I wouldn't remain bullish if I didn't believe another blowup will occur. That's because the Fed cuts on a crisis, not on economic woes. That's just the way it works.
At the time of publication, Cramer had no positions in any of the stocks mentioned in this post.
Plenty of Bull Markets to Go Around
Originally published on Sept. 6 at 11:47 a.m. EDT
Don't confuse all the crosscurrents. It is not all about the
Fed
every minute of every day. The leaders, oil, tech, ag, infra and minerals and mining, don't need any of this stuff.
I think that the
Boeing
(BA) - Get Free Report
delays and the possible Iraq wind-down have cooled the aerospace/defense market, but that won't last long, as both parties want to give to the key contractors, and there's tension everywhere from Russia to Syria. There will be no cut in that budget.
Meanwhile,
Garmin
(GRMN) - Get Free Report
,
Research In Motion
( RIMM),
Hewlett-Packard
(HPQ) - Get Free Report
and
Nvidia
(NVDA) - Get Free Report
keep moving up, and
Amazon
(AMZN) - Get Free Report
looks like it is breaking out. I, too, was confused by the
Apple
(AAPL) - Get Free Report
pricing for the iPhone. Certainly disappointing, but the rest of its businesses are smoking.
Google's
(GOOG) - Get Free Report
still the right pick, too.
The ag/infra plays just won't quit. I can't believe that
Foster-Wheeler
undefined
came all the way back up.
McDermott
(MDR) - Get Free Report
, another of my faves, just hit a 52-week high!
Plus, we keep adding bull markets. You know the health care cost control business is alive and well, as represented by
Medco
(MHS)
and the return to the HMOs and of course the move in biotech. People were very bummed that
Celgene
(CELG) - Get Free Report
didn't do well after the quarter, but that was nonsense. It is coming on strong.
Genentech
( DNA) and
Amgen
(AMGN) - Get Free Report
have bottomed too, and it looks like
Biogen Idec
(BIIB) - Get Free Report
is in play.
Now we have the retailers doing better.
And when we get these
First Data
(FDC) - Get Free Report
-type deals closing, you are going to see much more liquidity.
Not all is well. We are not going to get through this housing recession without some homebuilders collapsing and going under. We are also still without liquidity in the year and under paper. That's the pressure on the Fed that people aren't seeing. It is also why the bonds keep flying. It is why the Fed will lurk as a cutter, which is just plain bullish.
Do we need a rate cut? Yes, to own the 30% of the market that is autos/financials/retailers.
But the rest?
Nope, and that's what the action today shows.
Random musings
: Recession stocks,
Procter & Gamble
(PG) - Get Free Report
,
Coca-Cola
(KO) - Get Free Report
,
Pepsi
(PEP) - Get Free Report
rallying (and
General Mills
(GIS) - Get Free Report
is really rallying) and putting the lie to retail strength and strengthening the case of bonds.
At the time of publication, Cramer was long Hewlett-Packard.
Jim Cramer is a director and co-founder of TheStreet.com. He contributes daily market commentary for TheStreet.com's sites and serves as an adviser to the company's CEO. Outside contributing columnists for TheStreet.com and RealMoney.com, including Cramer, may, from time to time, write about stocks in which they have a position. In such cases, appropriate disclosure is made. To see his personal portfolio and find out what trades Cramer will make before he makes them, sign up for
Action Alerts PLUS. Watch Cramer on "Mad Money" weeknights on CNBC. Click
here to order Cramer's latest book, "Mad Money: Watch TV, Get Rich," click
here to order his book, "Real Money: Sane Investing in an Insane World," click
here to get his second book, "You Got Screwed!" and click
here to order Cramer's autobiography, "Confessions of a Street Addict." While he cannot provide personalized investment advice or recommendations, he invites you to send comments on his column by
clicking here.
TheStreet.com has a revenue-sharing relationship with Traders' Library under which it receives a portion of the revenue from Traders' Library purchases by customers directed there from TheStreet.com.