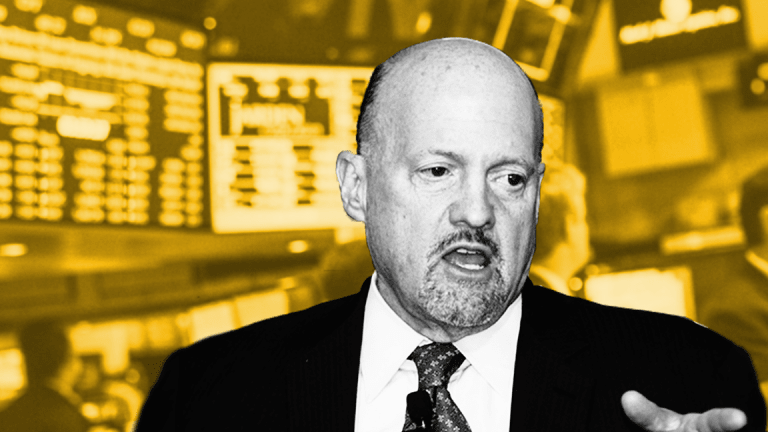 Ready to PLAY? Jim Cramer Talks Dave & Buster's and Semiconductors
Jim Cramer weighs in on semiconductors and Dave & Buster's. What does it all mean for the markets?
Happy hump day!
What to Watch in the Semiconductor Space
Real Money Stock of the Day Taiwan Semiconductor Manufacturing Company (TSM) - Get Report , one of the world's biggest chipmakers, will reportedly ramp up its 7 nanometer production rates thanks to renewed strength in orders for Android devices. The accelerated pace could see TSMC running at full capacity by the third quarter, the Digitimes reported, suggesting industry forecasts of a second half turnaround in global chip demand could prove accurate. Both Apple Inc. (AAPL) - Get Report and China's Huawei, the world's second-largest smartphone marker, use 7nm chipsets in their latest devices.
Jim Cramer's going to take a step back from the specific semiconductors and weigh in on the sector in general.
Dave & Buster's
Dave & Buster's (PLAY) - Get Report reported earnings per share of 66 cents a share on revenue of $331.8 million, beating analysts' forecasts on both metrics.
Same-store sales in the period rose 2.9%, higher than analysts' forecasts of 2.2%. Sales jumped, in part, on a new virtual reality game platform leveraging movies series including "Men in Black" and "Star Trek."
"We are pleased to finish the year on a strong note. On a comparable-week basis, we drove double-digit revenue growth in Q4 as comparable-store sales increased 2.9% and new store performance remained strong," said CEO Brian Jenkins.
Cramer wrote about Dave & Buster's in his morning column over on Real Money.
He'll weigh in on why he liked the earnings and what Dave & Buster's is doing right. 
Related. Jim Cramer: How Dave & Buster's Is Doing It Right
Related. Dave & Buster's Still Must Prove It's Got Long-Term Game
Now that you've had your daily breakdown of the news, head over to Jim Cramer's Action Alerts Plus to hear what Cramer is only telling members of his investing club.
Watch Jim Cramer's Daily NYSE Show and Replays Below