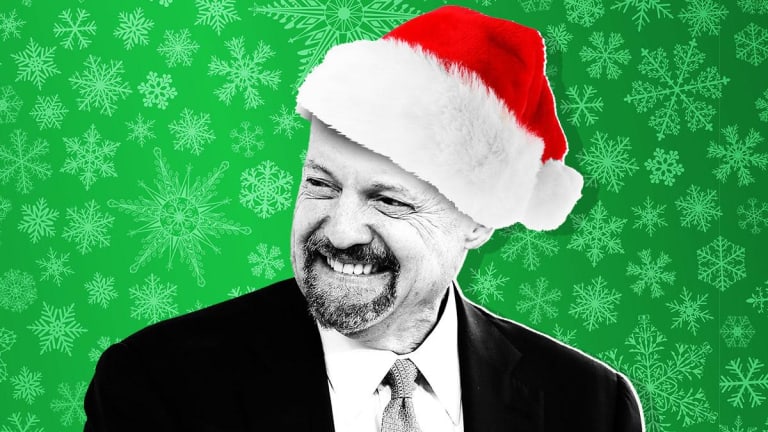 Jim Cramer: Tilray's New Deal, Altria and How to Play the Market Post-Fed
Here's what you need to know about the Tilray and Altria deals and the market post-Fed.
It's our final show of 2018!
Here's what you need as we wrap up this year. 
As of 11:08 a.m. ET, the Dow was down 190 points. The Nasdaq was down 0.5% and the S&P 500 was down 0.5%. 
Tilray's Deal With Anheuser-Busch
Tilray is Real Money's stock of the day. 
Shares of Canadian cannabis company Tilray (TLRY) rose sharply in premarket trading on Thursday after the company announced a product research deal with AB InBev (BUD) one of the world's largest brewers.
Tilray shares were up nearly 7% to $75.74 as of 11:08 a.m. ET. In the regular session on Wednesday, the stock fell 7% to $71 amid a broad market selloff after the Federal Reserve raised interest rates, reported TheStreet contributor Scott Van Voorhis. 
The research partnership will explore non-alcoholic beverages that contain THC and CBD, both key chemicals found in marijuana but with very different effects. THC is the psychoactive chemical in marijuana the produces the high, while CBD is non-psychoactive and blocks the high. 
The companies said the partnership is confined to Canada, where, unlike the U.S., marijuana is now legal at the federal level. Decisions about the commercialization of the research will be made in the future.
As part of the deal, each company will pitch in $50 million, with Tilray taking part through its subsidiary, High Park Co., which develops, distributes and sells cannabis products in Canada. 
"We are delighted to be joining forces with a world-leading beverage company, AB InBev, to research how to create enjoyable cannabis beverage products," said Brendan Kennedy, CEO of Tilray, in a press release.
Altria's Deal With Juul
TheStreet's Joseph Woelfel reported on the new deal.
Altria Group Inc. (MO - Get Report) , the maker of Marlboro cigarettes, confirmed Thursday, Dec. 20, it was investing $12.8 billion in Juul Labs Inc., valuing the e-cigarette startup at $38 billion.
Altria's investment represents a 35% stake in JUUL.
"We are taking significant action to prepare for a future where adult smokers overwhelmingly choose non-combustible products over cigarettes by investing $12.8 billion in JUUL, a world leader in switching adult smokers," said Howard Willard, Altria's chairman and CEO, in a press release. "We have long said that providing adult smokers with superior, satisfying products with the potential to reduce harm is the best way to achieve tobacco harm reduction. Through JUUL, we are making the biggest investment in our history toward that goal."
The deal values Juul at more than double the roughly $16 billion valuation it received in July in a private funding round, according to Reuters.
Juul's vaping devices have helped it become the market leader in the U.S. e-cigarette business, holding a market share of 75% from just 13.6% in early 2017, Reuters reported, citing a Wells Fargo analysis of Nielsen retail data.
According to The Wall Street Journal, Altria's injection of $12.8 billion of capital into Juul would vault the company into the top ranks of privately owned firms, more valuable than Airbnb, Pinterest and Elon Musk's SpaceX.