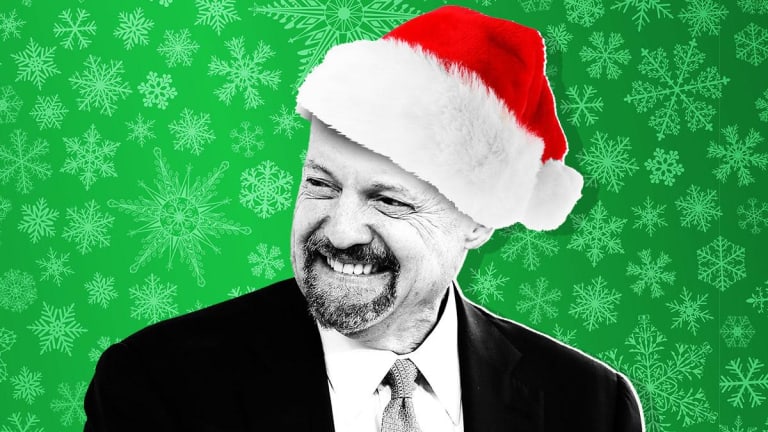 Jim Cramer: What to Expect from the Fed and Breaking Down Micron's Earnings
Micron and the Federal Reserve are some of the topics that Jim Cramer is thinking about Wednesday morning.
Ready for Wednesday trading?
When trading opened on Wednesday, the Dow was up 22.54 points, Nasdaq was down 5.08 points, and the S&P 500 was up 0.66 points.
Federal Reserve's Decision
Jim Cramer is calling for a massive move in either direction after the Federal Reserve releases its decision. 
"First, the Fed could hike the Fed funds rate and stick by its assertion that it still has more to do, because of wage inflation and full employment. That's disastrous -- and the bear would go on a rampage as surely as if the bulls had honey smeared all over their faces," Cramer wrote in his Real Money column Wednesday, Dec. 19.  
"Second, the Fed could hike and then say it wants to wait to see what the hikes have done. It also can cite the collapse in oil -- down a gigantic near $4 on Wednesday -- as a reason to be on hold. Is oil going down because the economy is collapsing?" He continued. "It is sure worth finding out before more braking of the economy. This rationality would be viewed as good news, especially because it would indicate that the Fed is off the nonsensical and dangerous autopilot, an autopilot that would be set for a crash landing."
Micron's Earnings
Micron (MU) - Get Report is Real Money's stock of the day.
TheStreet's Eric Jhonsa broke down Micron's earnings.
On Tuesday afternoon, Micron reportedNovember quarter (fiscal first quarter) revenue of $7.91 billion (up 15% annually) and non-GAAP EPS of $2.97 (up 21%). Revenue was below an $8 billion consensus; EPS, benefiting from $1.8 billion worth of stock buybacks, beat a $2.95 consensus.
More importantly, on its earnings call, the memory giant guided for February quarter revenue of $5.7 billion to $6.3 billion (down 18% annually at the midpoint) and EPS of $1.65 to $1.85, below a consensus of $7.26 billion and $2.39. The company also cut its fiscal 2019 (ends in Aug. 2019) capital spending budget to a range of $9 billion to $9.5 billion from one of $10.5 billion, plus or minus 5%.
Shares fell 9% in after-hours trading to $31.05, making new 52-week lows in the process. Chip equipment makers Applied Materials (AMAT - Get Report) and Lam Research (LRCX - Get Report) also sold off, as did hard drive/NAND flash memory giant Western Digital (WDC - Get Report).