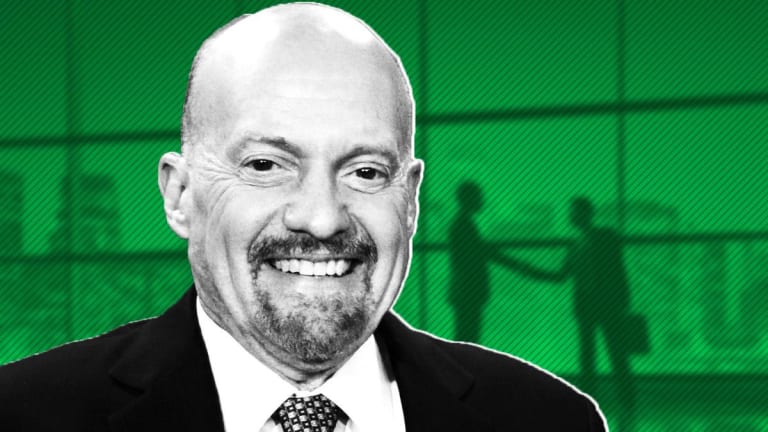 Jim Cramer Breaks Down Micron, Biogen and Apple
Jim Cramer has his eyes on Micron's earnings, Biogen's disappointment and Apple's upcoming event.
Happy Thursday!
Micron's Earnings
Real Money's Stock of the Day Micron (MU) - Get Micron Technology Inc. Report posted stronger-than-expected second quarter earnings and echoed semiconductor sector rivals by forecast an uptick in global demand over the second half of the year.
Micron said adjusted non-GAAP earnings for the three months ending in February, the company's fiscal second quarter, came in at $1.71 per share, down nearly 40% from the same period last year but 4 cents ahead of the Street consensus forecast. Group revenues, Micron said, slumped 20.55% to $5.84 billion but again topped analysts' estimates of $5.82 billion. Adjusted free cash flow for the period hit $1 billion.
"We believe that 5G, foldable phones and upcoming innovations in augmented and virtual reality will drive sustained content growth for years to come and should reignite smartphone unit sales beginning in calendar 2020," CEO Sanjay Mehrotra told investors on a conference call late Wednesday. "In the data center market, the demand for memory has moderated this year following exceptional growth in the last two years."
Related. Micron Stock Advances Amid Memory Demand Recovery Forecast
Biogen's Big Loss
Biogen (BIIB) - Get Biogen Inc. Report said the phase III trial of aducanumab, which it was conducting alongside Japan's Eisai Co. Ltd. (ESALY)  , was designed to study a treatment for patients with mild cognitive impairment due to Alzheimer's disease or mild Alzheimer's disease dementia. It was abandoned after deeming the drug was unlikely to be successful, but noted safety issues were not the basis for the cancellation.
"This disappointing news confirms the complexity of treating Alzheimer's disease and the need to further advance knowledge in neuroscience. We are incredibly grateful to all the Alzheimer's disease patients, their families and the investigators who participated in the trials and contributed greatly to this research," said CEO Michel Vounatsos. "Biogen's history has been based on pioneering innovation, learning from successes and setbacks."
"Driven by our steadfast commitment to patients and our strong business foundation, we will continue advancing our pipeline of potential therapies in Alzheimer's disease and innovative medicines for patients suffering from diseases of high unmet need," he added.
Related. Biogen Terminates Drug Trials for Alzheimer's Drug
Apple's Upgrades
Three analysts upgraded for Apple AAPL Thursday ahead of its much-anticipated launch event next week in Cupertino.
Citigroup boosted its price target on Apple by $50 to $220 per share with analyst Jim Suva expecting a dividend increase and a $100 billion increase in the company's share buyback plans when it reports second quarter earnings next month. Needham analysts upgraded Apple to "strong buy", with Laura Martin lifting her price target by $45 to $225 and arguing the company is "most likely to prevail in a direct competition between FAANG ecosystems."
"The March 25th event holds significance; however, less so relative to any major surprises as part of the launch of video services, but more so relative to creation of another Services growth driver. With an abundance of predictions on the announcement already widely publicized in the press, we believe the event itself will not be a catalyst," JP Morgan's Samik Chatterjee said. "However, as we look at the opportunity for the announcement to make a material impact on earnings in the future, we are primarily focused on longterm drivers that could set up the video service to establish itself as a strong competitor to Netflix over time."
Related. Jim Cramer: Apple Doesn't Need a Driverless Car to Be a Buy
Will I Have Enough Money to Retire? Want to learn about retirement planning from some of the nation's top experts? Join TheStreet's Robert "Mr. Retirement" Powell live in New York on April 6 for our Retirement Strategies Symposium. Check out the agenda, learn about the speakers and sign up here.