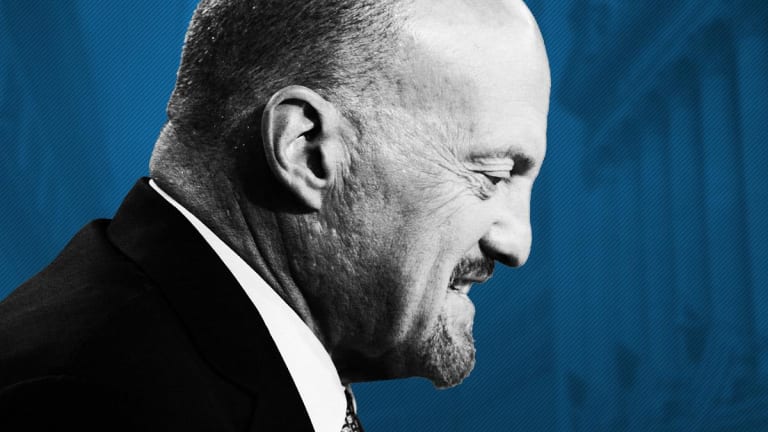 Jim Cramer Breaks Down Lyft's IPO, Tim Sloan's Retirement and Trade Talks
Jim Cramer weighs in on Tim Sloan's retirement, the trade talks and Lyft's IPO. What does it all mean for the markets?
Happy Fri-yay!
The Trade Talks
There have been some positive headlines around the trade talks. 
Treasury Secretary Steve Mnuchin said through his verified social media account Friday that talks with Chinese Vice Premier Liu He and the China trade team in Beijing were "constructive," adding Liu would travel to Washington next week to move the discussions forward.
Lyft's IPO
Ahead of Friday's trading debut on the Nasdaq Stock Market, 32.5 million shares of Real Money Stock of the Day Lyft (LYFT) - Get Lyft Inc. Report were priced at $72 each, raising more than $2.3 billion for the San Francisco-based company and valuing it at about $24.3 billion. 
The price was at the top range of the estimates that Lyft filed with the Securities and Exchange Commission on Wednesday. The price range initially was set at $62 to $68 a share, but the estimate was lifted earlier this week to $70 to $72 because of greater-than-expected demand for the offering.
 Lyft expanded its market share to 39% in 2018 from 22% in 2016. But the company has lost a total of $3 billion since it began operating in 2012, and there is still no guarantee the company will become profitable, a risk Lyft flagged in its own regulatory filings.
Related. Investors Are Eager to Ride With Lyft IPO on Friday
Tim Sloan's Retirement
Tim Sloan retired as CEO of scandal-plagued Wells Fargo (WFC) - Get Wells Fargo & Company Report .
Sloan's departure is an "opportunity for Wells Fargo to distance itself from its past business practices," said Fitch Ratings, the bond-rating firm, in a press statement.
Wells Fargo's board will now conduct an external search for candidates. General Counsel Allen Parker will serve as interim CEO until a replacement is found.
The decision to recruit from outside the bank could provide cover for a future CEO from accusations that have haunted Sloan since he took over in 2016: Namely, that he was tainted by his long tenure in the management team that failed to prevent the series of scandals.
Related. Jim Cramer: Leaving Wells Fargo Is Tim Sloan's Best Move
Watch Jim Cramer's Daily NYSE Show and Replays Below
Now that you've had your daily breakdown of the news, head over to Jim Cramer's Action Alerts Plus to hear what Cramer is only telling members of his investing club.