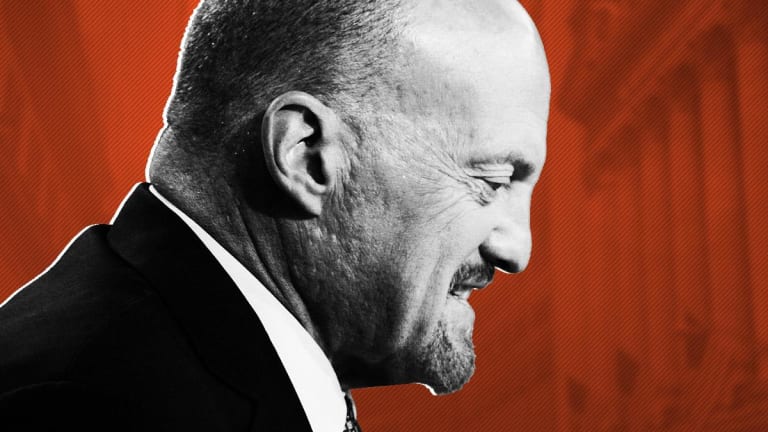 Jim Cramer: Bank Earnings, Delta Air Lines, and Retail
Jim Cramer breaks down what's moving the markets as the big banks put earnings season into full swing.
Happy Tuesday. 
Here's how the markets were looking at the open Tuesday, Jan. 15. 
The Dow was up 7.41. The Nasdaq was up 25.56 and the S&P 500 was up 2.77.
Bank Earnings
JPMorgan Chase & Co.  (JPM) - Get Report released earnings before the bell Tuesday. 
TheStreet's Bradley Keoun broke down the earnings.
JPMorgan, the largest U.S. bank, missed analysts' profit estimates for the first time in four years, as trading revenue fell short of expectations and costs rose for loan-loss reserve, wrote Keoun. 
Net income rose 67% to $7.07 billion, benefiting from the 2017 tax cuts and rebounding from a big write-down taken a year earlier, the New York-based bank said Tuesday in a press release. Earnings per share were $1.98, below the average analyst estimate of $2.20 in a FactSet survey.
Net revenue rose 7% from a year earlier to $26.1 billion, JPMorgan said, less than estimated by analysts at the brokerage firm Keefe, Bruyette & Woods. Volatile markets in the fourth quarter took a toll on bond trading and commodities, partially offset by strength in emerging markets, the bank said.
Delta's Earnings
Delta Air Lines (DAL) - Get Report released earnings before the bell Tuesday. The airline is Real Money's stock of the day. 
TheStreet's London Bureau Chief, Martin Baccardax reported on the earnings.
Delta posted stronger-than-expected fourth quarters Tuesday, but forecast disappoint guidance for the first three months of the year, sending shares lower in pre-market trading.
Delta said earnings for the three months ending in December came in at $1.30 per share, up 42% from the same period last year and 3 cents ahead of the Street consensus. Group revenues, Delta said, rose 7.5% to $10.7 billion, a figure that narrowly missed analysts' forecasts. Delta said it sees first quarter earnings of between 70 and 90 cents a share, however, and an adjusted total revenue per available seat mile, or TRASM, growth rate of 2%, both of which misses market estimates.
"2018 was a successful year for Delta with record operational reliability, increasing customer satisfaction, and solid financial results in the face of higher fuel costs. Delta people are the foundation of our success and I am honored to recognize their efforts with $1.3 billion in profit sharing for 2018," said CEO Ed Bastian. "As we move into 2019, we expect to drive double-digit earnings growth through higher revenues, maintaining a cost trajectory below inflation, and the modest benefit from lower fuel costs. Margin expansion."
A Retail Rundown
Jim Cramer wrote about retail in his morning column for Real Money. 
"To me, the real takeaway from the Macy's madness is that you have to go category by category -- and when you do so, you realize that retail isn't a losing ETF, it's a sector with winners AND losers. Knowing the distinction is the difference to being blind to opportunity and exploiting it -- and the latter is where the money is made," Cramer wrote in the final sentence.
Cramer breaks it down for TheStreet.