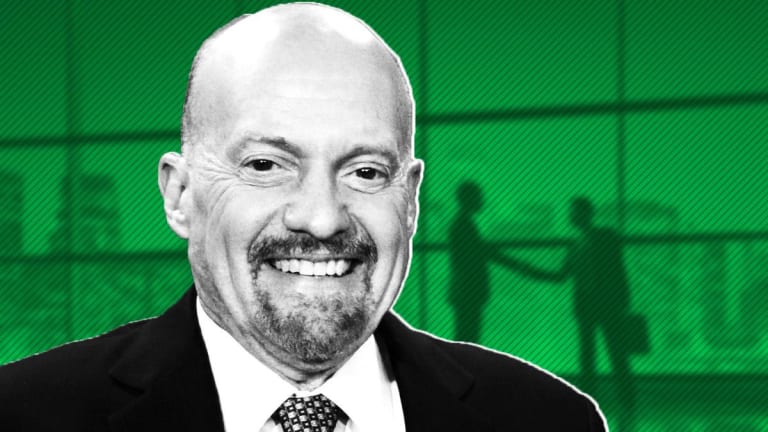 Jim Cramer on Apple, China and Activision Blizzard
Apple has ongoing China issues, Jim Cramer's got a China cheatsheet and Activision Blizzard's reportedly laying off some of its workforce.
Happy Monday. 
We're kicking off the final week of earnings. Here's what Jim Cramer's watching Monday, February 11. 
Apple vs. Huawei
Apple is Real Money's Stock of the Dayas global iPhone sales figures have investors wondering if the stock is rotten to the core. International Data Corporation figures show sales fell by an annual rate of 19.9% over the final quarter of 2018, clipping its market share to around 11.5% from 11.8% as Huawei's grip on the China market grows stronger. 
Real Money reporter Kevin Curran reported on Huawei's impact on Apple (AAPL) - Get Apple Inc. (AAPL) Report . 
Apple's revenue from China dropped from around 18% of total revenues to around 11.4% over the course of 2018 as the trade war intensified, according to Statista. That is a far cry from the first quarter of 2015, when the market surpassed Europe as a revenue driver for the company and was latched onto as a thesis for long term growth.

"Apple is increasingly participating in international markets, such as China and India, where local players, which are better situated, could leverage their position and pull on levers such as pricing to make the market more competitive," JP Morgan analyst Samik Chatterjee said in a note last week. "In addition, tariffs enacted by local governments may further hurt Apple's ability to effectively compete in international markets."

Those risks appear to be coming to the fore as the battle for China between Apple and Huawei appears to be a zero-sum game.
Related: Shares of Apple Are Likely to Rally Despite the 'Old News' Headline
Cramer weighs in on the impact this could have on Apple.
China Cheatsheet
With everything going on in China, from the trade talks to the Huawei drama, Cramer decided that investors are in need of a "China Cheatsheet." 
Here's what Cramer wrote:
Yes, the clock's ticking on China trade. Yes, every day there are links from the Kudlow-Mnuchin camp that things are going well and we are closing in on a deal... and then from the Lighthizer-Navarro camp that there can be no deal without fundamental change by the People's Republic of China that would be an about-face on the demanding of joint ventures that allow for routine intellectual property theft.

The leaks inspire tremendous euphoria and outright panic on the part of traders. They can't seem to understand that you could easily have two camps within the same White House. 
You can read the full column here.
Activision Blizzard's Slump
Activision Blizzard Inc. (ATVI) - Get Activision Blizzard, Inc. Report plans to announce job cuts Tuesday in the face of slowing sales, Bloomberg reported, citing people familiar with the matter, reported TheStreet's Joseph Woelfel. 
The company is also expected to release earnings Tuesday.   
Related: Kids Want Video and Mobile Games, Not Hasbro Board Games
The layoffs, which could number in the hundreds, are part of a restructuring aimed at centralizing functions and boosting profit, one of the people told Bloomberg. Activision employed 9,800 people at the end of 2017.
TheStreet's Jim Cramer wonders whether Activision "has something up its sleeve" when it reports.
Watch Today's Show and All Cramer Replays Below