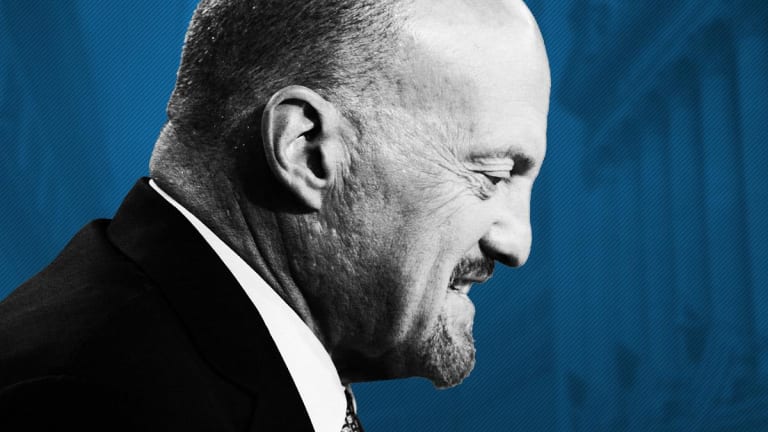 Jim Cramer's Thoughts on GE's Downgrade, Pinterest's IPO, Wells Fargo and Levi
Jim Cramer weighs in on the GE downgrade from JPMorgan's Stephen Tusa, Pinterest set it's IPO price for $15 - $17 and the search is on for Wells Fargo's new CEO.
Time to kick off this week.
General Electric's Downgrade
JPMorgan's (JPM) - Get JPMorgan Chase & Co. (JPM) Report Stephen Tusa, one of the highest-rated analysts on Wall Street and long-time critic of GE's (GE) - Get General Electric Company (GE) Report flagging business model, said investors are "underestimating the severity" of challenges and risks at the company while "overestimating the value of small positives." Tusa lowered his price target for GE by $1 to $5 a share, the lowest among major banks covering the firm, and cut his outlook to "underweight" from "neutral." Tusa also said GE's power and renewables business "remains weak" and that GE Capital Services will likely "consume material cash for the foreseeable future."
"The driver of the downgrade is our view that the Street is significantly over projecting the bounce in (free cash flow) in the coming years, off levels that we calculate at zero currently, as Power/Renewables remains weak," Tusa wrote. "GECS will likely consume material cash for the foreseeable future, Aviation fundamentals, as per underlying (free cash flow), are weaker than meet the eye, while lingering sector high leverage including entitlements leaves the company vulnerable to liquidity issues in the event of a recession, for which a potentially dilutive sale of the rest of Healthcare may be needed."
Related. GE Stock Jolted as Key Analyst Cuts Target Price
Pinterest Sets its IPO Price
Pinterest, the online image-search company, said it would sell 75 million shares in its initial public offering at a price of $15 to $17 a share.
The company is expected to list on the New York Stock Exchange next week under the symbol "PINS." Its investor roadshow begins Monday.
The Wall Street Journal had reported earlier Monday that Pinterest would set its IPO price range below where it last raised money privately. Pinterest most recently sold shares to pre-IPO investors in 2017 at a price of $21.54 each, according to regulatory filings, valuing the startup at roughly $12 billion, the Journal noted.
Wells Fargo's Search for a CEO Is On
Warren Buffett has called for Wells Fargo (WFC) - Get Wells Fargo & Company Report to look outside Wall Street for a CEO to replace Tim Sloan.
Buffett, the largest shareholder in the San Francisco-based bank, told the Financial Times in an interview that the next Wells Fargo CEO shouldn't come from JPMorgan or Goldman Sachs (GS) - Get Goldman Sachs Group, Inc. (GS) Report .
"They just have to come from someplace [outside Wells Fargo] and they shouldn't come from Wall Street," Buffett told the Financial Times. "They probably shouldn't come from JPMorgan or Goldman Sachs."
"There are plenty of good people to run it, but they are automatically going to draw the ire of a significant percentage of the Senate and the U.S. House of Representatives, and that's just not smart," Buffett said in the interview.
Related. Jim Cramer: 3 Stocks Showing That Earnings Weakness Is a Time to Buy
Watch Jim Cramer's Daily NYSE Show and Replays Below
Now that you've had your daily breakdown of the news, head over to Jim Cramer's Action Alerts Plus to hear what Cramer is only telling members of his investing club.