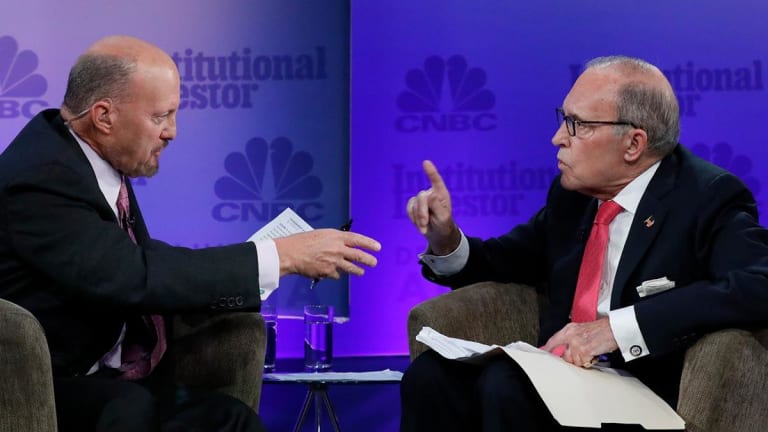 Jim Cramer's Biggest Moments From Delivering Alpha
Here are some of Jim Cramer's top moments from CNBC's Delivering Alpha conference Wednesday.
Jim Cramer just brought it Wednesday.
The founder of TheStreet and host of "Mad Money" interviewed President Trump's economic advisor, Larry Kudlow, and Edgar Wachenheim, CEO of Greenhaven Associates Inc at CNBC's Delivering Alpha conference.
Cramer had some tough, but interesting questions for his interviewees. Some of his top questions can be found below. 
"What happens if he [President Trump] ends up not agreeing with you?"
Cramer posed this question to Kudlow.
"President Trump has been very open and very accessible to me. I see him quite a bit during the day," said Kudlow "He's just been great. He's open and in meetings with five or six, or eight other people, he'll go to me."
"Larry, what do you think? We're having a big fight with China."
"I think he [Donald Trump]...thinks and processes. He loves facts, figures, charts. He's very attentive. When he disagrees, he'll let you know in no uncertain terms. But look, on the whole, I mean, obviously, I helped draft the tax and economic stuff during the campaign. I mean, we agree on almost everything, and where we don't agree, we talk it through," answered Kudlow.
"How do you have a flat yield curve, 4% GDP, and have so many people who are gloomy?"
"[The yield curve] looks like it's 4-ish. I know nothing more than you know at this point, informationally. But could be higher," said Kudlow. "Millions of people are working...the best way I can help the country is get the economy strong and prosperous."
"Is this not the time to take on the Chinese? Do you think we are in a trade war with them, and do you think if you think we are, is it winnable?"
"I think it's a significant trade dispute," Kudlow answered, laughing. "I'm not a big fan of tariffs...I don't like blanket tariffs...But I have been a long-term critic of China. All is a matter of public record, on the tape, and I think the President is doing exactly the right thing here."
"Do you follow the trade and tariffs? Larry Kudlow this morning said China's going poorly, does that make you say maybe the upside is capped?"
"In early 2016, when the price of crude hit $26 a barrel and we were going to have a crisis because big oil companies were going to go bankrupt, it's going to hit the banks and it's going to travel throughout the world. Saudi Arabia was going to have a range of problems. These things all pass," answered Wechenheim. We're talking about tariffs today. It's a major source of talk at this particular conference, and maybe a year or two from now it won't even be on the agenda."
Here is what Cramer is thinking on the markets for Action Alerts PLUS club members.