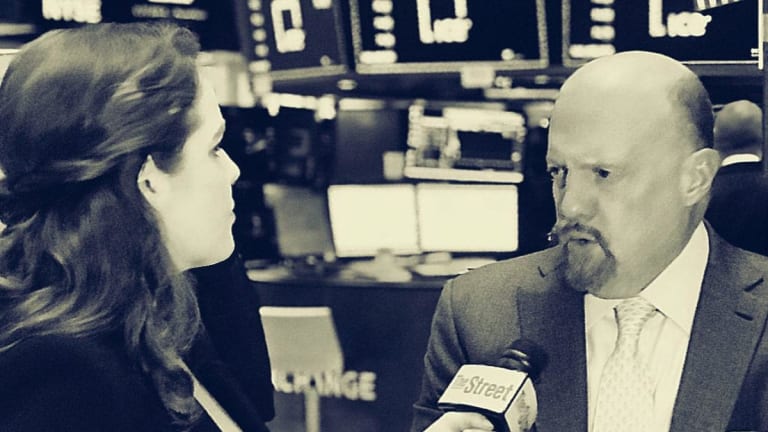 Jim Cramer's Thoughts on the Big Banks and Apple
Jim Cramer's weighing in on what's impacting the markets and Apple's price target boost.
Here's what's going on in the markets. 
The big bank CEOs--including JPMorgan (JPM) , Goldman Sachs (GS) , Citibank (C) and Morgan Stanley (MS) --are heading to Capitol Hill Wednesday to discuss regulation in the financial sector post-financial crisis.
Jim Cramer will be weighing in on what he expects from the testimonies and he'll take an educational look at what it means when any CEO heads to Capitol Hill. 
He'll also break down why Goldman Sachs GS is Real Money's Stock of the Day.
But, the banks aren't the only thing that Cramer's got his eye on. 
He's also watching Apple  (AAPL) Tuesday after the company got a price target boost from Wedbush. 
The company's price target was raised to $225 from $215 by analysts at Wedbush, who also maintained their outperform rating on the stock.
While the firm acknowledged that the tech giant made mistakes in its December quarter as iPhone deliveries in China came in softer than expected, for the current cycle the firm believes that about a fifth of the iPhones set to be upgraded worldwide this year will be purchased in China.
"With 900 million active iPhones worldwide and 350 million of those in a window of an upgrade opportunity over the next 12 to 18 months based on our analysis, we estimate between 60 million to 70 million of iPhones slated to be upgraded/new purchases are out of the key China region. This number speaks to how critical China is for Cook & Co. going forward and why we expect more significant price cuts on XR over the coming months," analyst Daniel Ives said.
Related. Jim Cramer: What Will It Take to Hit a Bottom in Oil?