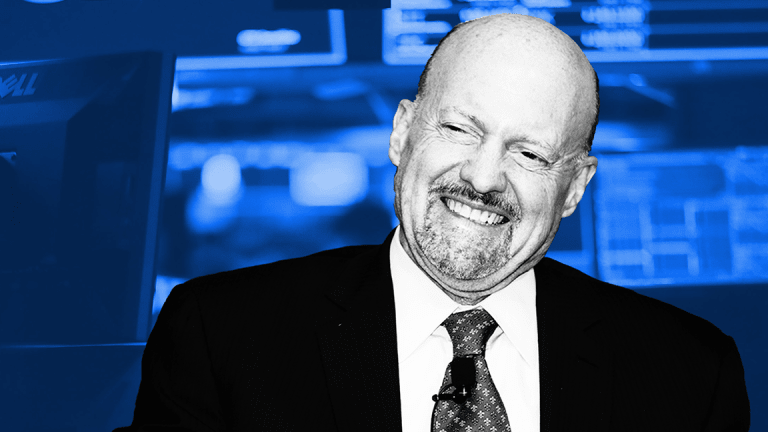 Jim Cramer Tackles Apple, Darden Restaurants, Inverted Yield Curve and eSports
Jim Cramer breaks down Apple's event, Darden Restaurants, the inverted yield curve and eSports.
Happy Monday...
Apple's Streaming Event
Real Money's Stock of the Day Apple (AAPL) - Get Apple Inc. Report is set to show off Monday a new subscription video service, as well as a revamped Apple News, that could serve as anchors for Apple's growing services business.
TheStreet will be conducting a live blog breaking down Apple's event, which begins at 1 p.m. ET. Please check TheStreet's home page then for more details.
Many analysts were feeling optimistic ahead of the announcement, with several jacking up their price targets to between $215 and $225 a share. Apple shares rose 2.7% during the week on the backs of those upgrades, ending the week at $191.18.
TheStreet's Annie Gaus reported that, based on past events, Apple's hardware event might not have a large impact on shares of Apple.
It's worth noting that Apple product reveals, at least where hardware announcements are concerned, have seemingly lost some of their power to move the stock dramatically. For instance, Apple's 2017 reveal of the iPhone X produced a move of -0.9% three days after the announcement, which was the worst stock market response to a new iPhone, according to data from IG Group.

But it's a different ballgame now, with Apple forging a new path into services and away from its iPhone-centric revenue regime. Apple has sought to shift focus away from iPhone unit sales and towards its installed base of 1.4 billion Apple devices worldwide.
Related. Jim Cramer: Apple Doesn't Need a Driverless Car to Be a Buy
Take a Look at Darden's Chicken Alfredo
Jim Cramer thinks that the "the U.S. economy is as good as Olive Garden's Chicken Alfredo."
Here's what Cramer wrote in his morning column:
So I was genuinely surprised, when reading the conference call of Darden Restaurants' (DRI) - Get Darden Restaurants, Inc. Report  stellar quarter, that a Chicken Alfredo dish with 50% more chicken -- not a tax cut -- helped boost same-store sales growth to a 4.3% level. That is not bad for the owner of Olive Garden and an assorted mix of other restaurants.
Related. Jim Cramer: What Darden Restaurants' Tasty Comp Growth Really Means
What the Inverted Yield Curve Means
Cramer wrote a Real Money column which focused on the inverted yield curve and what it means for the markets. 
Here's what he wrote: 
On Friday, I believed that it was the inversion of the yield curve and the recognition that the algorithms are set to sell all stocks, regardless of their ability to thrive with an inversion. I continue to think that's the case if only because so many people are willing to point to the previous inversion that proceeded the Great Recession.

Perception is more important than reality so even though I believe there is no recession on the horizon I certainly accept that reasonable people, teamed up with their algorithms, can distort the market with rapid selling.
Is Twitch Amazon's Secret Weapon?
Gaus reported on Twitch in her Tech Skeptic column:
Twitch, which Amazon (AMZN) - Get Amazon.com, Inc. Report acquired in 2014, doesn't seem like it has much to do with Amazon's core businesses, at first glance. It's a broadcasting site, a social community, and a game delivery platform rolled into one -- and at 15 million daily unique users and 3 million streamers, it's wildly popular in its own right. But it's also increasingly a profit engine that advances Amazon's other efforts in advertising, original video and more, according to D.A. Davidson analyst Tom Forte.

"Twitch is one of the few assets that Amazon has that market underappreciates," he said. In a September 2018 whitepaper, Forte estimated Twitch's gross margins at 55%, second only to AWS, advertising and third-party retail sales. "I think that Twitch gives them another advertising content platform to monetize...Amazon is building a lot of video content, and I think they're it because they realize it's essential to move forward with their advertising efforts by leaps and bounds."

Twitch's popularity was apparent at GDC, with game developers packing into educational sessions focused on how to use the array of add-ons available to developers and Twitch streamers -- like prizes or interactive plugins allowing viewers to get involved in the gameplay -- that can make experience more engaging and fun. Although it hasn't said anything publicly a streaming service, it was also apparent that Amazon is assembling a cohesive games strategy that wraps together Twitch, AWS, the Lumberyard game engine, GameSparks developer platform and even Alexa.

Memo to investors: if you haven't yet found an excuse to dive into a Pokemon marathon or Apex Legends battle on Twitch, now might be a good time.
Watch Jim Cramer's Daily NYSE Show and Replays Below