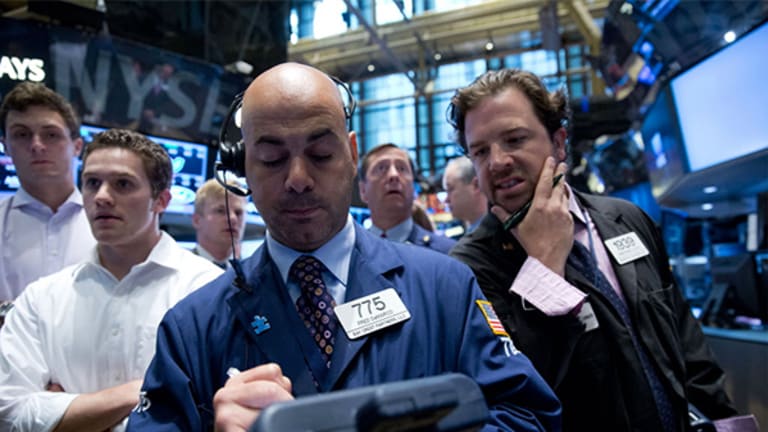 Jim Cramer Answers Twitter Questions on Mobileye, Tesla, Boeing, Shake Shack, and More
TheStreet's Jim Cramer answers Twitter questions from the floor of the New York Stock Exchange on Monday on Mobileye, Tesla, Boeing, and more.
NEW YORK (TheStreet) -- TheStreet's Jim Cramer answers Twitter  (TWTR) questions from the floor of the New York Stock Exchange on Monday, and this week's first question asks for his thoughts on Mobileye (MBLY) .
Cramer says he thinks the stock has come and gone, and he does not look at stocks like that after that point. It had its action, and he is now onto other stocks.
The next question asks if Tesla  (TSLA) is the next Apple  (AAPL) or if it's too hyped and overvalued. Cramer says he likes the car very much, and the thinks the stock can still run until there is an actual plug-in hybrid that is like what Tesla produces.
But he says Tesla is a cold stock right now, and he likes Merrill Lynch's price target cut this morning to $65 from $70. The people who love Tesla, he says, will not stop buying the stock until someone like Jaguar or BMW or Volkswagen offers an almost identical item that costs less. At that point, things will change.
Goldman Sachs  (GS) downgraded Boeing  (BA) to "sell" on Monday, while Sterne Agee increased its price target to $196 on Friday. Cramer says Boeing spiked too much off of its last quarter, but he questions when you get back into the stock after the downgrade. He thinks it is not expensive on 2016 and 2017 numbers.
Therefore, Cramer suggests the possibility of buying the stock back at $143 but if it doesn't get there, then you will be left behind.
The next user says he has been waiting for Shake Shack  (SHAK) to hit $30 but it has been resistant and wants to know if he should buy the stock now before it flies. Cramer replies that the people who own the stock own it for many reasons, primarily that the food is very good and they see a clear growth path. Those people will not let the stock come down without buying a lot more of it.
Cramer says he thinks it is a great new company, but it is valued more aggressively than Chipotle Mexican Grill  (CMG) . He thinks some investors feel they did not buy Chipotle when they should have and do not want to make the same mistake with Shake Shack.
The next question asks what banks, including Wells Fargo  (WFC) and Bank of America  (BAC) , Cramer likes best. He says he likes Wells Fargo because it has the fewest legal problems and the best course of fees even if mortgage rates go higher because the bank does a lot of fees and a lot of cross-selling.
Finally, one user asks when GE  (GE) is going to soar. Cramer says the problem with GE is it made another bet on energy when it bought French company Alstom, which is a huge energy infrastructure company with a few other businesses. This happened during a time in which energy has come down, so people are worried that earnings have to come down.