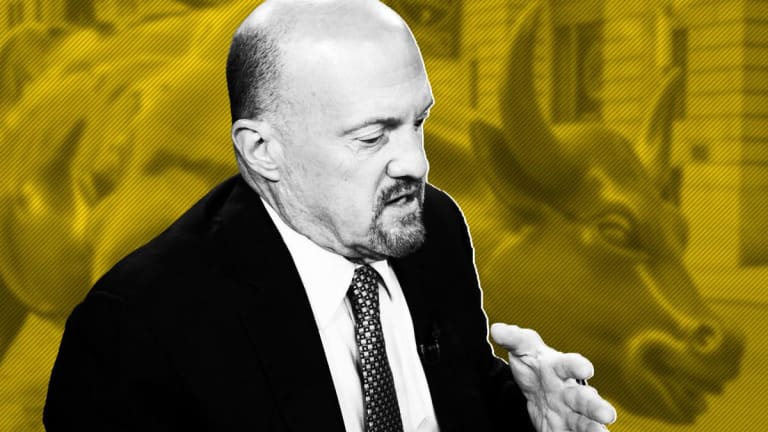 Jim Cramer's Breaking Down Anadarko, Bank Earnings and Disney
Chevron announced its acquisition of Anadarko Friday morning, JPMorgan and Wells Fargo beat earnings expectations and Disney CEO Bob Iger is stepping down in 2021.
Happy Fri-yay!
Jim Cramer's back for the Cramer Live show this morning. 
And, on top of that, he's prepping for his monthly members-only call over on Action Alerts Plus investing club.
Chevron's Acquisition of Anadarko
Chevron (CVX) said Friday it plans to buy Anadarko Petroleum (APC) for $33 billion in cash and stock, reported TheStreet's M. Corey Goldman. 
Chevron said it will pay $65 a share to Anadarko shareholders, who will receive 0.3869 a share of Chevron and $16.25 in cash for each Anadarko share.
The total enterprise value of the transaction is $50 billion.
Shares of Anakdarko surged in premarket trading following the announcement, jumping 30.2% $60.86 on the New York Stock Exchange. Shares of Chevron went in the opposite direction, falling 4.8% to $120 in premarket trading.
The deal comes amid a rebound in global oil prices, fuelled in large part by bets among investors that OPEC supply cuts, sanctions on Iran and Venezuela and escalating military tensions in Libya will continue to support markets.
Bank Earnings
Both JPMorgan Chase (JPM) and Wells Fargo (WFC) reported earnings Friday morning, which kicked off bank earnings. 
JPMorgan Chase said first-quarter profit rose faster than expected, as the largest U.S. bank used a lower-than-expected tax rate, expense controls and growth in credit-card loans to overcome a slump in bond- and stock-trading, reported TheStreet's Bradley Keoun. 
Net income rose by 5% from a year earlier to $9.18 billion, or $2.65 a share, New York-based JPMorgan said Friday in a statement. Analysts surveyed by FactSet had estimated the figure at $2.35.
JPMorgan was the first big U.S. bank to post results for the quarter, a period in which the U.S. government shut down for 35 days, the longest period in American history, and concerns mounted among many economists that growth is slowing both in the U.S. and globally.
Related. Jim Cramer: Here's My Earnings Cheat Sheet for the Bank Stocks
Disney's Bob Iger Is Stepping Down
Disney  (DIS) CEO Bob Iger said he plans to step down at the end of 2021 when his current contract ends.
Iger made the announcement near the conclusion of Disney's investor day presentation devoted to unveiling Disney+.
Iger has been CEO of Disney since 2005.
Related. Anadarko Deal Rewards Shareholders Betting on the Beleaguered Stock in 2019