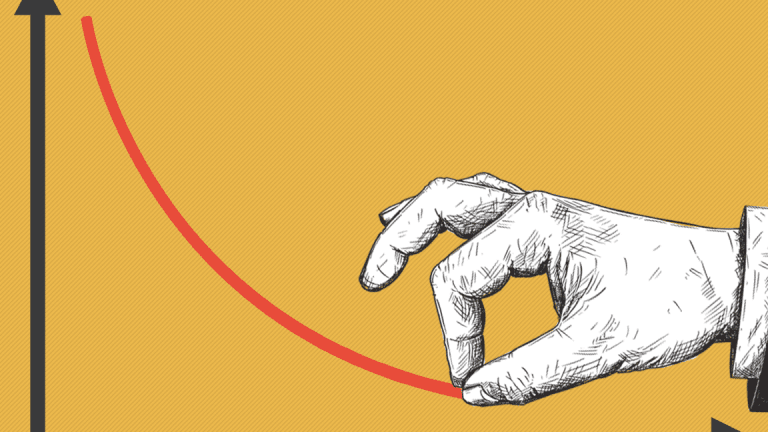 Jerome Powell Heads to Capitol Hill as Market's Best Recession Gauge Blinks Red
The gap between 2-year and 10-year bond yields, one of the most reliable predictors of economic performance, is starting to signal concern for Federal Reserve Chairman Jerome Powell as he heads to Capitol Hill for two days of testimony before U.S. lawmakers.
Dictum meum pactum; my word is my bond.
Federal Reserve Chairman Jerome Powell will begin his first of two days of testimony to lawmakers on Capitol Hill Tuesday in Washington, but while tech stocks have driven the Nasdaq to fresh record highs, and the economy looks to record its best quarterly growth rate in nearly four years, he's still likely to express at least some concern for one of the market's most-trusted prognosticators: the shaped of the so-called yield curve.
Formally known as the "term structure of interest rates", but more often referred to as the "curve", the different between short and medium-term bond yields is one of the more accurate forecasters in global finance. For much of the past fifty years, an "inverted curve" -- which occurs when 2-year note yields rise past those for 10-year Treasury bonds -- has preceded nearly every U.S. economic recession.
Overnight moves in the bond market have put the gap between 2-year and 10-year bonds at just 0.265% - essentially the size of a typical Fed rate hike and the narrowest since 2007, causing many, including Minneapolis Fed President Neel Kashkari, to wonder if further Fed moves will cause the curve to invert. 
"Some say, 'No. This time is different," and that the flattening yield curve is not a concern," Kashkari wrote in blog post. "The truth is we don't know for sure. But we do know the bond market is telling us that inflation expectations appear well-anchored, the economy is not showing signs of overheating and rates are already close to neutral."
"This suggests that there is little reason to raise rates much further, invert the yield curve, put the brakes on the economy and risk that it does, in fact, trigger a recession," he added. "If inflation expectations or real growth prospects pick up, the Fed can always raise rates then."
The CME Group's FedWatch tool, which attempts to assign a tradeable probability for future rate hikes, suggests investors are growing more confident that the Fed will raise its key interest rate at least two more times this year, with the odds of a December move now sitting at 58.7%, up from 56.6% yesterday and 51.3% only a month ago.
Benchmark 2-year note yields were marked at 2.599% in early European trading, having eased from a decade high of 2.611% yesterday, while 10-year notes were changing hands at 2.864%. The U.S. dollar index, which tracks the value of the greenback against a basket of six global currencies, was marked 0.11% lower at 94.409 and has fallen around 1% since the end of June, suggesting investors aren't ready to bet on Fed hikes beyond the December guidance.
However, despite this morning's performance, what bond investors appear to be doing, it seems, is betting on faster rate hikes from the Fed as the economy improves by selling 2-year notes (which drives their yields higher) while simultaneously expressing concern for longer-term growth by buying 10-year bonds (which drives their yields lower).
The dynamic is likely the result of expectations that corporate earnings will grow by around 20% this quarter and that Republican-led tax cuts will fuel new investment into the real economy, driving wages higher and stoking near-term inflation prospects. That view was at least partially confirmed by retail sales data for the month of June yesterday, which showed consumption rose 6.6% from last year after a 0.5% month-on-month gain and a revision of the May reading to the fastest pace in nearly a year.
Longer-term prospects, however, continue to be shaken by the impact of U.S.-led tariffs on steel and aluminium products from various economic allies as well as the ongoing trade war between Washington and Beijing, which the International Monetary Fund warned yesterday could reduce global output by 0.5% -- or nearly half a trillion dollars -- over the next two years.
"We have been mystified as to why markets haven't acknowledged the US economic risks to a brewing trade war but there are signs that the tide may be turning," ING's Viraj Patel said Tuesday. "The Fed's policy outlook currently does not take into account a possible trade war - and we don't feel that this is a valid assumption - and must tread with caution as it's clear that bond investors don't buy into the central bank's rosy outlook for the US economy."