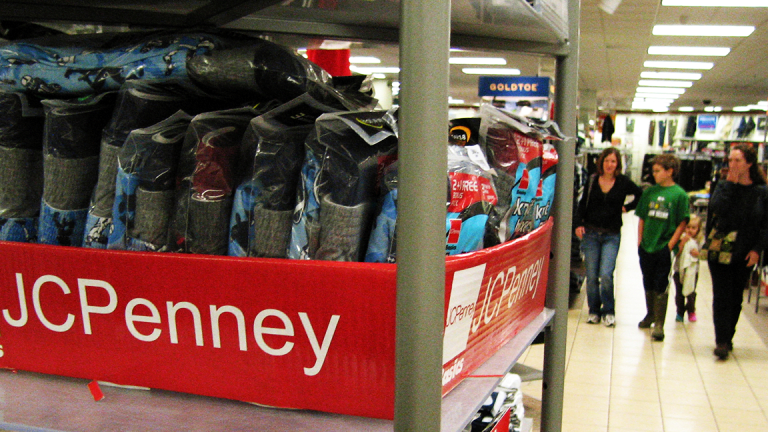 J.C. Penney Tanks on Steeper-Than-Expected Quarterly Loss
J.C. Penney shares are plummeting on Thursday.
J.C. Penney shares are plummeting on Thursday.
Not so good.
J.C. Penney Co.  (JCP) - Get Report   was down more than 25% on Thursday, Aug. 16, after the retailer reported a net loss of $101 million, or 32 cents a share, wider than the year-earlier loss of $48 million, or 15 cents a share.
On an adjusted basis, J.C. Penney reported a loss of 38 cents a share, well below the FactSet consensus estimate of a loss of 6 cents. Revenue also declined year over year to $2.83 billion from $3.07 billion, compared to analysts' $2.81 billion estimates. 
"This quarter we adjusted our approach to inventory management from 'buying to store capacity' to 'buying and chasing' into demonstrated sales trends," said Chief Financial Officer Jeffrey Davis in a statement. "Inventory receipts continued to outpace total sales performance this quarter due to prior purchase commitments."
Adding to the negative pressure, J.C. Penney reduced its same-store sales guidance to flat with adjusted losses totaling between $1 and 80 cents a share. Previously, the company expected same-store sales to be between flat and up 2% with a loss between 7 cents and 13 cents a share. 
Walmart Inc. (WMT) - Get Report  , on the contrary, crushed earnings estimates and raised its full-year guidance. 
Making J.C. Penney's results more troubling was the fact that retail has been strong in the second quarter, according to a note from GlobalData Retail. 
"The most worrying thing about the results is that if JCP can't perk itself up at a time when the retail mood is elevated, it suggests that there are fundamental weaknesses in the company's position. This is now be all the more difficult to remedy given the lack of a proper leadership team following the departure of Marvin Ellison and a number of other executives," the firm said. 
On Thursday's conference call, J.C. Penney admitted that it has gotten away from its core customer, women ages 45 to 55, as it looked to get younger and hipper. It said it was making a concerted effort to win its key demographic back. 
In the meantime, the company said that it plans to lower inventory by $250 million by the end of 2019 with some of that reduction coming in the second half of 2018.
The company also will take a hit as it tries to liquidate summer inventory ahead of the imminent back-to-school shopping season. As a result, J.C. Penney said it expects the cost of goods sold to increase in the third quarter before declining in the fourth.