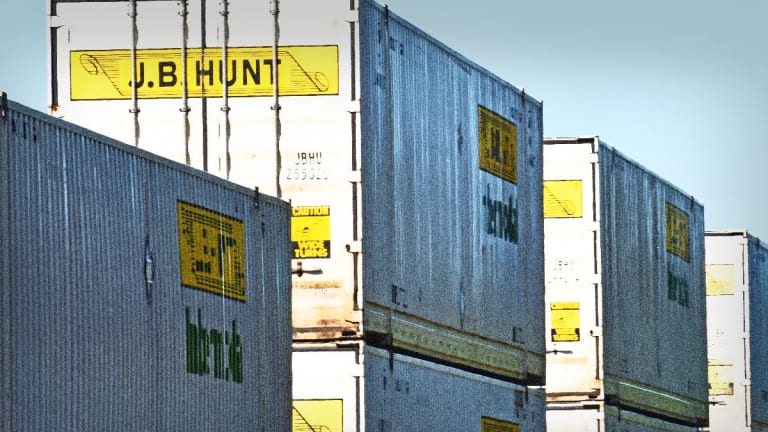 J.B. Hunt Profit Rises but Misses Analysts' Estimates
The trucking company posts third-quarter earnings higher than a year earlier but below analysts' forecasts.
Trucking company J.B. Hunt Transport Services (JBHT) - Get J.B. Hunt Transport Services, Inc. Report  posted third-quarter earnings that rose from a year earlier but came in below analysts' forecasts.
Earnings in the period were $151.2 million, or $1.40 a share, up from $131.1 million, or $1.19 a share, a year earlier. Analysts had been expecting profit of $1.44 a share.
Revenue, J.B. Hunt said, rose to $2.36 billion from $2.21 billion a year earlier and beat analysts' forecasts of $2.34 billion.
The company said revenue from its intermodal segment rose 2% to $1.24 billion. J.B. Hunt said volumes were flat from a year earlier. Revenue per load rose about 2%, which was attributed to changes in customer rates, freight mix and fuel surcharges.
Terry Matthews, president of intermodal, said he expects volumes to rise and margins to improve in the fourth quarter. He also said he's not heard from customers who have pulled forward freight ahead of tariffs, according to a report from the Northwest Arkansas Business Journal.
Operating income from the segment rose 10% to $132.9 million.
The stock rose 0.4% to $112.05 in premarket trading Wednesday.