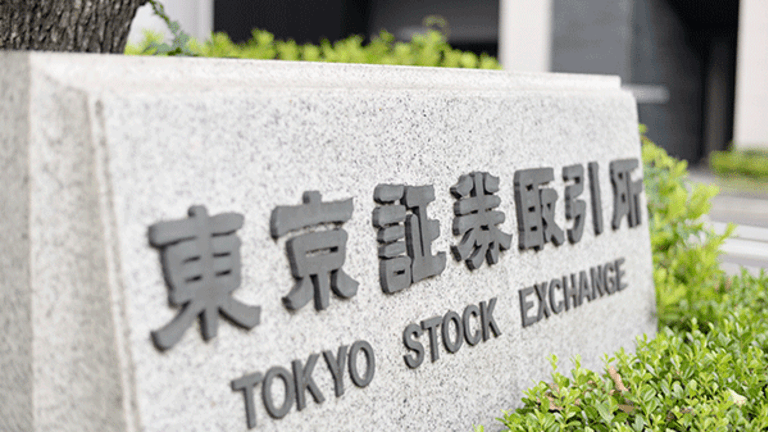 Japan Stocks Set to Gain After Abe and Trump Compared Swings
Tokyo trade plays to watch after the first U.S.-Japan summit of the Trump presidency.
This article originally appeared at 09:00 ET on Real Money, our premium site for active traders. Click here to get great columns like this from Jim Cramer and other writers even earlier in the trading day.
President Donald Trump and Japanese Prime Minister Shinzo Abe chummed it up over the weekend, in a bid to forge a stronger partnership between the world's first and third-largest economies. The good news for investors is that there was none of the protectionist bluster that Trump spouted on the campaign trail.
Investors may want to watch certain specific Japanese stocks that should benefit from Trump's policies, absent a renewed attack on "Japan Inc."
The rhetoric was certainly sunny on this second visit from Abe, who was the first world leader to meet with Trump after his election. "We have a very, very good bond -- very, very good chemistry," Trump said after Friday's summit in New York City.
Abe stressed that Japanese companies had invested $150 billion in the United States, building factories rather than stripping jobs. "Japan, with our high level of technical capability, will be able to contribute to President Trump's growth strategy," Abe said. "There will be even more new jobs being born in the United States."
Since the new president has promised to ramp up infrastructure spending, ready-made cement maker Mitsubishi Materials (MIMTF) stands to gain, as well as castings manufacturer Hitachi Metals and communications-infrastructure provider Furukawa Electric (FUWAY) . 
Mitsubishi Materials has a cement plant in southern California that would get a boost from the construction of any form of "impediment" between the United States and Mexico. Likewise, Taiheiyo Cement (THYCY) , with its plants in southern California and Arizona, would also see a boost in business from wall construction. Kyoei Steel T:5440, which recently bought a rebar mill in west Texas near the Mexican border, should also see increased demand. 
Steel, H-beam and cable maker Yamato Kogyo T:5444 is another infrastructure provider that would benefit from greater government outlay in that area. It would also benefit from a 10% leap in earnings per share in the case of a 10% cut in U.S. corporate taxes, the investment bank Nomura (NMR) - Get Nomura Holdings Inc ADR American Depositary Shares Report estimates.
That 10% tax cut would lead to a ¥134 billion ($1.2 billion) jump in profits for Japanese car makers. That would result in a 5.6% earnings boost for Honda Motor (HMC) - Get Honda Motor Company Ltd. Report , a 4.6% injection for Fuji Heavy Industries (FUJHY) - Get Subaru Corporation ADR Report and a 4.4% jolt for Nissan Motor (NSANY) , again according to Nomura. 
Companies in basic materials, commodities and infrastructure are finding fresh favor in China, as I explained last week, having been exiled. They are also attracting attention in Japan.
CLSA equity strategist Chris Wood, who gave his lookahead for 2017 last week, includes several companies in such primary industries in his Japan long-only portfolio.
General contractors Kajima (KAJMY) , Taisei (TISCY) and Obayashi (OBYCF) all have a 4% weighting, as does the train operator East Japan Railway (EJPRY) .
Gold miner Sumitomo Metal Mining (SMMYY) is at 5%, with Haneda airport operator Japan Airport Terminal (JTTRY) on the same weighting. Electrical-wiring and air-conditioning provider Kyudenko T:1959 (6%) would also benefit from a step-up in infrastructure spending.
Truck maker Isuzu Motors (ISUZY) (5%) and carmaker Suzuki Motor (SZKMY) (4%) both find their way into the Wood portfolio as well. In machinery, optical-sensor maker Keyence (KYCCF) , heavy-machinery manufacturer Toshiba Machine (TSHMY) and robot maker Fanuc undefined are all at 4%, while precision-gear maker Nabtesco (NCTKF) sis at 3%. 
After the summit, Abe and Trump headed south to Trump's Palm Beach club Mar-a-Lago, which recently doubled its joining fee to $200,000 as Trump took office. With black plastic plastered over the doors, the two leaders shared a round of golf.
Abe and Trump deliberately sidestepped any talk of Trump's decision immediately on taking office to pull the United States out of the 12-nation Trans-Pacific Partnership, the trade pact championed by Japan, the only nation to ratify it already. And Trump pulled back from his previous assertions that Japan manipulates its currency to the benefit of its exporters.
In terms of concrete details, the main commitment out of the summit came from Trump. He pledged to strengthen the mutual-defense treaty that calls on the United States to help defend Japan. Trump had criticized the pact on the campaign trail, saying Japan should do more to foot the bill for its defense. This time, he expressed his support, and said the deal includes the disputed Senkaku Islands, known as the Diaoyus in China, which also claims them.
There was less stress on trade. The key outcome was that Vice President Mike Pence and Deputy Prime Minister Taro Aso agreed to establish a framework for dialogue aimed at promoting free trade and expanding investment.
That's not to say Trump won't talk behind Japan's back now that it's gone. Nomura said that Japan "was unable to completely eliminate the possibility" that Trump would launch another broadside on unfair trade or currency manipulation. Trump said, although he was talking about China, that avoiding currency depreciation is the only way to compete fairly in trade.
Japan is of course a vital counterweight in Asia to China, and a key U.S. ally. Now that Trump is actually in office, I expect him to back off any criticism of the country, looking to it politically for support and seeking a bilateral business pact to offset the U.S. withdrawal from the TPP. Deals await to be made on trade.
At the time of publication, Alex McMillan had no positions in the stocks mentioned.