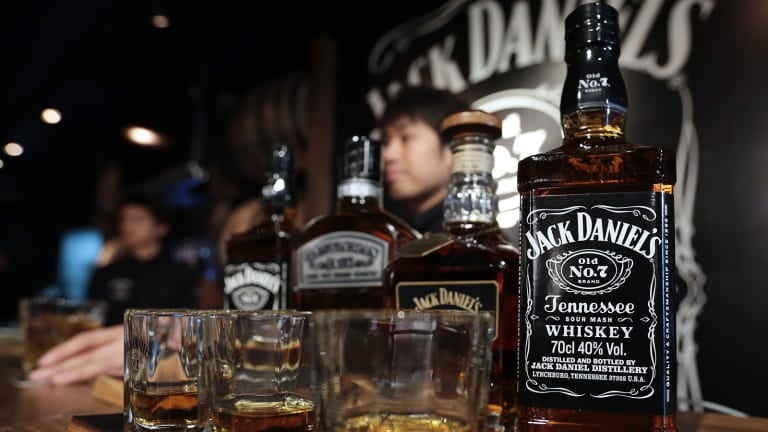 Sales at Brown-Forman, Jack Daniel's Owner, Miss Expectations
The Jack Daniel's owner has lost 15% of its value this year as tariffs have hurt sales.
The owner of Jack Daniel's posted disappointing fiscal second-quarter earnings, adding to a year that hasn't been great for the alcohol maker. 
Brown-Forman Corp. (BF.B)  posted sales of $910 million, a 3% year-over-year increase, but missed Wall Street expectations of $940 million. It managed to meet earnings-per-share expectations. Brown-Forman had EPS of 51 cents, exactly in line with analysts' estimates. Net income was an adjusted $249 million. 
The poor sales number was largely a result of "tariff related buy-ins" from the first quarter. In the first quarter, companies in the European Union were buying beverages ahead of tariffs, as the EU had retaliated earlier this year to U.S. tariffs on EU goods. That caused second-quarter sales to decline as the EU tariff on U.S. goods kicked in. 
"Tariff-related buy-ins helped power first quarter results, while the anticipated giveback materialized in the second quarter," said Brown-Forman CEO Paul Varga. Still, Chief Operating Officer and incoming CEO Lawson Whiting said the company was "confident in the long-term growth potential for our brands as we continue to build awareness with new consumers and increase our global distribution." He added, "Our premium portfolio of American whiskey brands, led by Jack Daniel's and bolstered by Woodford Reserve, continued to deliver balanced geographic growth." 
The $23 billion market-cap company has had a rough year, down 15.06% year to date, to $46.66. It shed 4.78% Tuesday as Wall Street plunged.