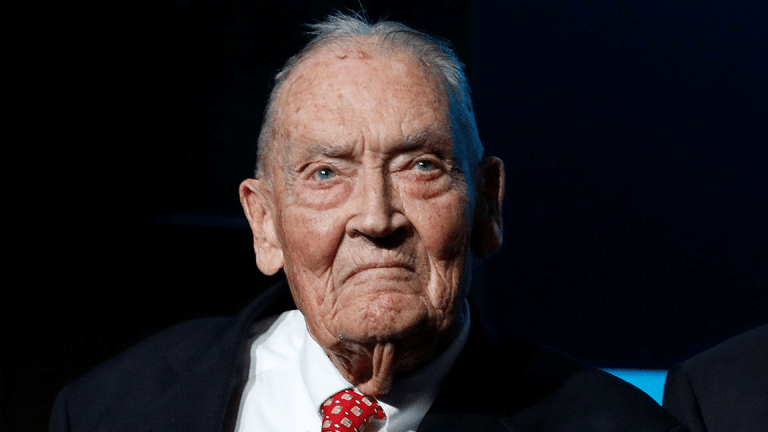 John Bogle, Founder of Vanguard and Creator of Index Fund, Dies at 89
Wall Street legend John Bogle championed individual investors, creating tools to help them access American growth.
John "Jack" Bogle, the founder of Vanguard Group Inc. and inventor of the index fund has died at the age of 89.
Bogle has been credited with doing more for individual investors than anyone on Wall Street, while in the process creating whole new branches of the financial services industry.
"Jack was the ultimate titan," said TheStreet's Jim Cramer. "He democratized investing and gave everyone a chance at investing in the progress of America. We are all indebted to him for his selfless championing of a low-cost way for people to save and he will be missed. What a gent he was," Cramer added.
As a child growing up in the depression, Bogle suffered hard times financially and used the experience to fuel his drive to provide practical and prudent investing advice. He authored several books on investing.
Vanguard, founded in the early 1970s grew to hold $5 trillion in assets under management. 
In a statement, the Vanguard's current CEO  Tim Buckley said "Jack Bogle made an impact on not only the entire investment industry, but more importantly, on the lives of countless individuals saving for their futures or their children's futures."
Investment Company Institute President and CEO Paul Schott Stevens said in a statement that Bogle "had a truly profound influence on the shape of the modern fund industry, and was tireless in his commitment to fund investors."
Bogle died of cancer, the Philadelphia Inquirer reported, citing family members.
Robert Powell, editor of TheStreet's Retirement Daily, said, "Jack was a legend for his contribution to investors in the form of low-cost mutual funds, which is well known and needs no further amplification. But I also got to know a Jack that few others got to experience -- a person ever willing to give back to the community and a person grateful for the chance to live a longer life because of an organ donor.
"Years ago, I co-founded the Nicholas Green Scholarship Fund, which awarded scholarships to gifted and talented children who wanted to study abroad. The scholarship was created to honor the memory of Nicholas, the son of a Reg and Maggie Green who was tragically shot by gunmen in Italy in 1994. Before Nicholas died, Reg, (who was once a PR person for the Investment Company Institute) and Maggie decided to donate Nicholas's organs. In the wake of that tragedy, those of us in the mutual fund industry decided to create the Nicholas Green scholarship and hold a luncheon at the ICI's annual general membership meeting. Jack was either the first or among the first keynote speakers. He also came back - after his heart transplant in 1996 - to deliver a keynote address at the final Nicholas Green Scholarship Fund luncheon sometime around 2005.
"In that speech, he talked about his ability to continue living because of an organ donor. Suffice it to say there wasn't a dry eye in the room. His words of wisdom that day, his appreciation for a second chance at life had those in attendance searching for tissues to wipe the tears from their eyes. How I wish I had recorded that speech. How I wish there's a copy of that speech somewhere in his papers, and that it gets published someday. Everyone should get a chance to get to know that Jack Bogle, a Jack who was more than the founder of low-cost mutual funds."
Leaders in the investing world shared with TheStreet their recollections of Bogle:
Bob Glovsky, vice chairman and principal at The Colony Group, former chair of the CFP Board: "The industry has lost a giant. Jack Bogle was always on the side of the investor. He 'invented' the low-cost way to build wealth." 
Stephen Horan, managing director and co-lead of education at CFA Institute: "Jack Bogle was more than the father of indexing. He was vocal critic of misaligned incentives, financial excess, and sloppy logic wherever he saw it. He knew the difference between a practitioner and professional. Our profession will benefit from his bold  leadership and incisive thinking for generations to come."
Matthew P. Fink, former president, Investment Company Institute: "American investors and the mutual fund industry have lost a good friend. I personally owe Jack a great deal. He was one of the people who hired me at the mutual fund industry's association, the Investment Company Institute, almost 48 years ago. Jack taught millions of Americans the advantages of low cost investing. He brought the idea of indexing from the pension world into the mutual fund industry. Jack helped build the modern mutual fund industry, which today is the largest financial industry in the world."