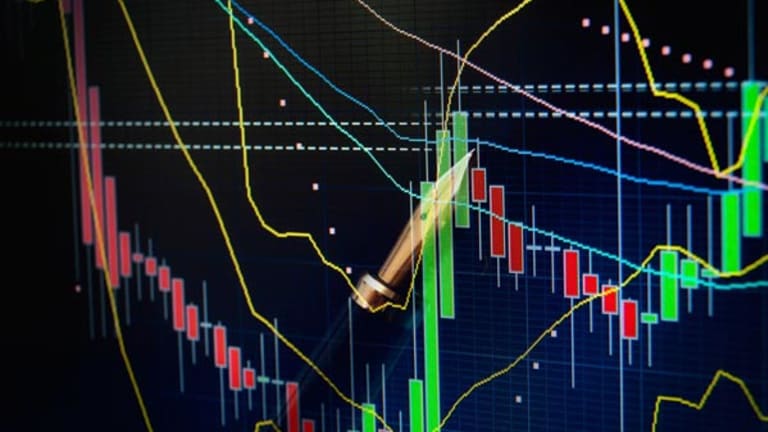 It's All About the S&P Futures
They have topped out within a point of the same spot every day this week.
This column was originally published on RealMoney on April 13 at 2:09 p.m. EDT. It's being republished as a bonus for TheStreet.com readers. For more information about subscribing to RealMoney, please click here.
As usual, the story of the week has been the
S&P
futures. Yes, there's been the usual noise about crude oil prices, earnings, worries about earnings and same-store sales, and today it has been about the producer price index and consumer sentiment. Oh, and this week's news has also been about Don Imus. But how can you trade off any of that?
In fact, when it's all said and done, the market has gone nowhere for the past five sessions. But certainly, there has been plenty of movement and lots of opportunities for those who know what to look for and what to tune out.
In
last week's column, I explained that the breakout above the prior sextuple top at 1450-1451 had short-term bullish implications, but I added that I wouldn't be placing big bets on a continued rally. While the pop above 1451 in the futures did suggest an eventual retracement of the big gap from the Feb. 26 close at 1465.80 in the June contract, the question was -- and still is -- "When?"
The numbers have now changed a bit, given the futures' new resistance level at 1458, but the issue remains essentially the same. We now have another short-term barrier to sell against. But if this level is breached, then the market should come even closer to its ultimate target for this move: the filling of the Feb. 27 gaps.
As you can see in the chart below, the S&P has stalled within a fraction of a point of 1458 in four of this week's sessions (including today so far, though not shown on this chart). In fact, if we give it a little wiggle room, we could make the case that yesterday's high of 1456.90 marked a fourth top in this current pattern, making yesterday a quadruple high, and now it's working on a quintuple top. This resistance level may be blown out by the time you read this column. The point, however, is that these numbers are affecting the market every day, and if you are not paying attention to these patterns, especially those in the S&P futures, then you're missing out on countless opportunities and probably losing money at the same time.
June S&P
Now a quadruple top at 1458, but for how long?
Source: Lind Waldock
If the S&P pops above the current quadruple top -- call it 1457.70-1459.00 -- then it should be headed somewhat higher, most likely back up to the top of its Feb. 27 gap at 1465.80. Maybe it won't do so today, but it should eventually get up there to fill that now-infamous gap. In the meantime, until this resistance is taken out, the 1458 area is the level to sell against. It's the new line in the sand.
I can say one other thing with a high degree of confidence: If and when the 1458 quadruple top is taken out, that is also a level that will be revisited as support in the not-too-distant future, just as the previous 1450 resistance had to be revisited as support this week, which was broken on Wednesday.
Similarly, regardless of how convincingly the resistance at 1458 may be breached, we should expect the 1458 level to be revisited from above, either before or after the overhead gap from Feb. 27 is filled. Maybe this level holds on the pullback that converts this level to support, or maybe it won't. But it will get the opportunity to act as support, at least for a while.
The Nasdaq 100
Adding to a slightly bearish tone for the near term is that the
Nasdaq 100
(NDX) has been unable to get back up to fill its gap from Wednesday's down opening at 1817, never mind returning to Monday's highs or getting back up to fill its Feb. 27 gap at 1831. In addition, the chart below reveals a little declining tops pattern from Monday's highs. With the
Nasdaq Composite
making slightly higher highs, this must be rated a minor bearish non-confirmation.
NDX
Unable to fill Wednesday's gap
Source: Lind Waldock
Finally, there's the sentiment picture. Though we've seen more extreme readings in many of the indicators, the current relatively low reading in the VIX (lately at 12.40) is not conducive to a sharp rally from here. Such a rally could happen, but it's certainly not a slam dunk that it will.
VIX vs. S&P
Still no sell signal, but getting closer
Source: OptionsXpress
At the time of publication, Schiller was long Dow Jones mutual funds, long bull spreads in DJX calls, QQQQ calls and SPY calls, and short SPY call credit spreads, although holdings can change at any time.
Dr. Harry Schiller is a Registered Investment Advisor with the California Dept. of Corporations. He holds a Series 7 General Securities license as well as a Series 4 Options Principal license. He has been owner and editor of the Short Term Consensus Hotline since 1988. For more information, see www.harryschiller.com. Under no circumstances does the information in this commentary represent a recommendation to buy or sell stocks. While he cannot provide investment advice or recommendations, he appreciates your feedback;
to send him an email.